Startups are often short on funds. Even with millions in investor funding, you can't afford to spend frivolously if you want to see a return on your investment. The bulk of the budget is typically spent on salaries, office space, and tech tools like servers and SaaS services. Since investors expect short-term results, the marketing spend is mainly allocated to PR and PPC ads.
Many startups think of SEO as a long-term strategy that only large companies should use. There's a grain of truth in their thinking — SEO does take a while to deliver results. But it doesn't have to eat up half of your marketing budget to do so.
Even a young startup with a minimal budget can afford to lay the foundations for search engine optimization. This complete guide will walk you through the basics of SEO for startups.
Why is SEO important for startups in the first place?
Paid ads can generate revenue fast, but it's a pay-to-play scheme. Stop ad spending, and the very few leads you're left with are coming mostly from referrals of existing clients.
SEO produces long-term results. Once a blog article with the right page SEO starts bringing leads, it will continue to do so, requiring little to no upkeep. This makes SEO a decent investment in the future lead-generation capabilities of your company.
SEO for startups goes hand-in-hand with PR. A lot of PR efforts, like giving interviews, appearing on podcasts, and distributing press releases, can be improved by implementing SEO strategies.
It doesn't take many resources to implement a very basic SEO strategy for a startup website. The bulk of the work goes to planning.
How to start planning SEO strategies for startups
When preparing your website for SEO, setting the right SEO goals is important. You can start to figure out those goals by thinking about your business goal.
Let's say you're aiming to receive 50 leads per month from your blog, but your website is newly registered so you're limited by low-competition, informational keywords. Let's also assume a low-range conversion rate of 1%. At this rate, you'll need 5000 monthly visitors to receive 50 leads. Assuming that your blog pages are focused on low-competition keywords and get around 200 monthly visitors, you need 25 such pages to achieve your goal.
In each individual case, the conversion rate and the amount of traffic may differ, but running this type of calculation can give you a rough idea of what your SEO goals should be.
From there, you can determine what metrics you should track. At the very least, you should track the number of backlinks and their growth dynamics, the amount of traffic, conversion rate, and rankings for select keywords.
A variety of SEO tools are available to help you determine which keywords to track. Picking the right set of tools to use for SEO is the last preparatory step in setting up a strategy for a startup.
At the very least, your toolset needs to have the ability to do competitor analysis, on-page analysis, keyword discovery capabilities, and the ability to track page ranking in the SERP for multiple keywords. The ability to write SEO-optimized content with an online editor is also a good addition.
It's ideal to have an all-in-one tool as SE Ranking, that combines all of these features. This can save both expenses on subscriptions and time spent switching between apps.
5 Basic steps for startups to leverage SEO and grow business
Once you've figured out what your goals are and what metrics you want to track for your website, it's time to get down to the technical aspects of SEO. Start with keyword research.
Do keyword research for your niche
The main way your website is going to attract traffic is through writing and publishing content. Ideally, you want your main page and services pages to rank in the top ten for keywords with commercial and transactional intent, like "best CRM for restaurants" or "sales software." But since your site is newly registered and Google doesn't know you have topical authority, it's unlikely that you will rank for these keywords.
Instead, a viable strategy is to focus on informational keywords that are easy to rank for and create informative content covering the search intent for those keywords. Once users discover your website by searching for information related to the product you sell, you can try to convert them down the sales pipeline by promoting your company, offering a newsletter, or a free content-gated eBook.
This strategy can fall apart without the right keywords, so finding keywords should be your first step in creating a strategy for your website. Enter your main set of keywords in a keyword discovery tool and look for keywords with high search volume and conversion potential. Those are your core keywords that can be used on your money pages.
SE Ranking also provides a list of low-volume, low-difficulty keywords. These are the keywords you can use for producing content since you have much better chances of ranking well for them.

Source: SE Ranking
Supplement the search for content ideas with tools like AnswerThePublic, which show informational keywords. It's best to check the keywords you pick with an SEO tool to see how hard it is to rank for them.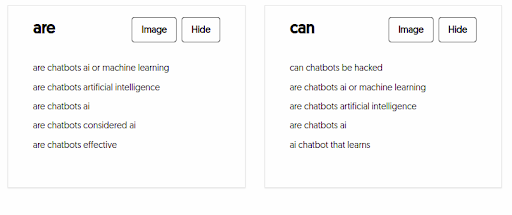 Source: AnswerThePublic
Save the list of keywords you end up with and group them into clusters of similar keywords. A single page can contain multiple keywords, be it a service page or a blog post. Your task with clustering is to figure out which keywords are similar enough to describe the same page.
Judging from the screenshot above, "are chatbots ai or machine learning," "are chatbots ai," and "are chatbots artificial intelligence" should appear in a single article. "Can chatbots be hacked" begs for a completely different page.
Analyze your competition
Analyzing your competition is a quick way to find new keyword opportunities. You can run your competitors through SEO tools to find out what keywords they rank for that you do not. This gives you a lot of keyword ideas that you wouldn't have come up with on your own.
Source: SE Ranking
You could also see what pages give them the most traffic. This shows two things: it confirms that this type of SEO works for your competitors, and it gives you an idea of what types of keywords and content tend to attract traffic.
Source: SE Ranking
This won't cost you more than $30-$40 for a monthly subscription to an SEO tool and a couple of hours of work with the tool.
Identify content to create (or update) based on the results
Once you have set up a list of keywords based on keyword research and competitor research and clustered them, it's time to create a content strategy for your business. Generally, you want to save commercial keywords like "AI chatbot" for service pages and informational keywords like "how to create a chatbot" for blog pages.
If you encounter a very complex topic that calls for a lengthy explanation, you can create a hub article. A single article that answers the main search request and briefly talks about 5-10 topics should contain all the relevant keywords. It's surrounded by 5-10 articles that go in-depth on each of the subtopics and contain only keywords related to that subtopic.
For instance, if you're making a hub article that covers the keyword "are chatbots AI," you'd want to explain what AI is, what machine learning is, what algorithms are, how chatbots are made, etc. Explain all these topics briefly, and then create articles that explain each of them in more detail.
If you already have articles targeting certain keywords or keywords that don't rank well, you can update them with more keywords from the cluster you've created, add NLP terms, or rewrite the article to better answer the search intent.
Ideally, you'll be left with an editorial calendar that contains topics to cover and keywords associated with them.
In terms of costs, you're looking at 15-20 hours spent on creating a strategy. The final price depends on whether you're doing it yourself, delegating to an employee, or hiring an outside consultant. Creating a piece of content from the editorial calendar takes 5-10 hours.
It may seem pricey when you consider the hourly rate you're paying, but when you implement the next two tips, the long-term ROI will compensate for that.
Spend time for on-site optimization and fixing technical issues
Producing content that fits search intent for keywords related to your business is only part of a startup's SEO efforts. Another major part is having an SEO-friendly website. This means sticking to Google's recommendations and SEO best practices when creating your website.
For startups that are only developing a website, this would cost next to nothing in addition to the regular cost of setting up a site. For those that already have a website, improving it to be more SEO-friendly doesn't usually incur a steep price either.
On-site optimization mostly includes optimizing your images and scripts to ensure the website loads as fast as possible and is easy for Google to crawl. In terms of structure, it's best if your blog pages that are attracting traffic are as close to the home page as possible. For instance:
yoursite.com/how-to-create-chatbot
Instead of
yoursite.com/resources/blog/2023-01-09/how-to-create-chatbot
There are hundreds of smaller things that won't hurt your ranking that much individually but may have an impact if they pile up. You can discover what they are by doing a website audit with SE Ranking. It will give you a checklist of things you want to improve.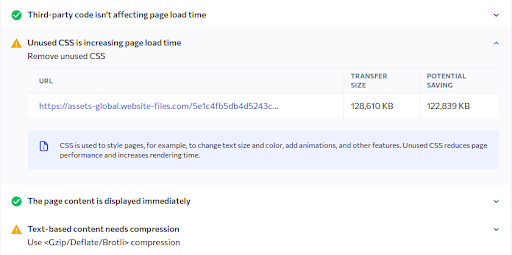 Source: SE Ranking
Another thing you could do to improve your website is to interlink the content you create on it. Simply referencing the content pieces that feel natural to reference is enough, but you could take it a step further. This could help with customer engagement.
Create a list of pages that are already doing well in terms of ranking and a list of pages that are related to them. Then, link from those pages to pages that rank to boost their ranking on the search engines.
Do cost-effective link building
Google uses hundreds of factors when determining which website to display for a given search query. One of the key factors is who talks about the website. If sites that have already established themselves in the eyes of the search engine reference yours, it serves as a signal that your website is credible too.
Google primarily judges that based on links leading to your website. The easiest way to work on link-building is by pairing it with your PR efforts. The odds are that your startup already works on obtaining mentions from the media and prominent websites in your niche for PR. If you make sure that every mention gets a backlink to your website with the brand name as the anchor, your website's authority will grow.
Another thing you could do to harness the authority of other websites is to exploit listicles and reviews. Look for articles that already rank in the top 10 of Google, reach out to the editors, and offer your company for review. Sometimes, you can get a mention for free, other times, it comes with some sort of an affiliate marketing deal.
When those options are out, you can utilize email outreach. Find blogs and companies that write about similar topics and reach out to their editors. You could offer to have your expert write a piece of content for them or share an expert article they can refer to when writing. Either way, you get a backlink out of it, and the only price you pay is for someone to find these types of websites and write content.
The last low-budget link-building strategy is appearing on podcasts. It doesn't cost you any money, but your CEO or another executive has to spend an hour talking to the host and another couple of hours preparing their presentation. In the end, you not only get publicity but also a free backlink from the podcast's website.
Over to you
SEO is a great way to cut costs on marketing in the long term, but it takes a lot of time to set up. Contrary to what many startup founders think, it won't take a large chunk of your budget.
An enormous amount of SEO efforts can be incorporated into already existing processes like PR and website development. Many other processes are essentially free because there are no external marketing costs associated with them, only internal labor costs.
If you want to lay the foundation for the long-term success of your business, begin SEO early. That way, once you hit the financial targets that allow you to increase your marketing spend, you'll have all the necessary pieces to grow your organic traffic quickly.
Author bio: Alina Tytarenko is an Outreach Team Lead at SE Ranking, SEO platform that allows you to automate every search engine marketing task. When Alina's not playing her part in a consistent web presence, she's either working on her cooking skills or watching another Netflix documentary.