Chatbots have become a powerful tool for enhancing customer experience and boosting conversion rates as businesses work to remain ahead of their competitors and meet the requirements of their consumers. Chatbots replicate human communication using artificial intelligence (AI) and may answer clients' questions, provide tailored suggestions, and lead them through the purchase process. 
Yet adding a chatbot to a website or mobile app does not ensure that conversion rates will go up. Businesses must adopt particular procedures that might enhance their chatbot's effectiveness and increase its capacity for client engagement if they are to get the intended outcomes. In this article, we'll look at a few recommended practices that companies may use to implement conversion rate optimization with the help of chatbots.
How Can Chatbot Usage Help Conversion Rate Optimization?
We tend to look at chatbots as an instrument for customer support improvement and let customer support specialists solve more complicated issues. However, chatbots may be the answer to the 'how to increase eCommerce conversion rate' question. Let's find out how exactly it works.
Helps Capture Quality Leads
Your website may receive repeated visits from prospective customers, boosting traffic. Yet, high visitor volumes do not always guarantee a high conversion rate. Even if you invite visitors to fill out forms in return for gifts, it won't result in the desired outcomes. Often, customers don't have the time or motivation to fill out such lengthy forms. So chatbots can be helpful here.
They engage in conversation with your prospects while politely gathering data. Instead of asking for a lot of information at once, they may divide it into smaller bits to make it manageable for the users.
Improves Customer Support
Providing adequate customer assistance is one of a company's main challenges. At any given time, one customer service representative can only respond to a maximum of two consumers. Those who have lined up to get their questions answered will now have to wait longer for responses. When response times increase, clients frequently become irate, leave, and never return. Mistakes might still happen even if a human service representative does their job well.
All of these issues are resolved with chatbots. They respond to simple questions, handle complex ones, and provide the appropriate resources. The best thing is that they are accessible 24/7.
Screenshot taken on the official Babylon Health website
Guides Customers through the Buying Process
People enjoy being treated differently and feeling special. Your role is to use the resources at your disposal to facilitate this therapy. A chatbot can assist in guiding a potential customer from the beginning to the end by doing the following:
Displaying specialized offers: 76% of customers believe that personalization increases the likelihood of using a brand. A chatbot can leverage user information and browsing patterns to suggest the most appealing goods to the consumer. It may result in a sale as it helps the consumers feel appreciated.

Comparing products: By displaying comprehensive information about each product, such as its features, pricing, and user reviews, a chatbot may assist customers in finding items and making an informed selection.

Guiding consumers at the checkout process: Let's say someone is interested in learning about the status of their account, shipment predictions, prices, and other details. Chatbots can research this data, eliminate unpleasant surprises, and streamline the shopping process as much as possible.
Collects Valuable Feedback
Using chatbots, you can effectively request customer reviews. Also, chatbots let you get bad reviews before they are posted publicly. They enable you to respond to a customer complaint before it becomes public.
To shorten the wait time, you may utilize a chatbot to gather client information before directing them to the proper support staff. You may modify your goods, services, or chatbot process to make interactions more seamless with the aid of this bot-powered feedback. This is what a survey chatbot may look like. See how Landbot manages customer reviews.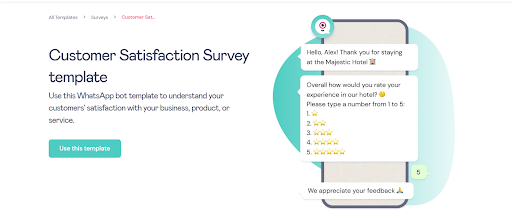 Screenshot taken on the official Landbot website
Builds Trust
Customers' choice to convert is directly affected by the level of trust. Customers are more likely to feel confident in the value and quality of a company's goods and services when they have faith in it. Conversion rates may rise as a result of this enhanced assurance.

Also, a reliable company is more likely to obtain customer data like phone numbers and email addresses. This information may be used to focus your marketing efforts and increase consumer conversion. Building customer trust may also be accomplished via increasing referrals, repeat sales, brand loyalty, and chatbot conversion rates.

By providing timely and valuable information, chatbots may gain the respect and trustworthiness of their users. This is how it works:

Chatbots are constantly accessible to clients and can recognize and address their demands and problems.

The organization has a trustworthy, reliable, and competent reputation since chatbots exhibit a high degree of knowledge and skill.

You may demonstrate your dedication to clients' needs and how much you cherish and care about them.
Screenshot taken on the official Zendesk website
Best Practices on Boosting Conversion Rate with a Chatbot
Having all the benefits described above in mind, you can start optimizing the operation of your chatbot to improve conversions. Further you'll find some advice on what can be done to achieve your objective. 
Make Your Chatbot Talk Like a Person
Including personality in your chatbot may increase user interaction and make it more entertaining. Make consumers feel as though they are conversing with a friend or coworker by using inclusive, kind language. Additionally, don't be hesitant to ask users to repeat their inputs to make sure they understand. By doing this, you gain the users' loyalty and may see an uptick in repeat purchases.
A good trick to strike up a discussion, create a favorable first impression, and develop a connection is through welcome letters. By introducing your company to the visitor and offering immediate help, you add a personal touch to the connection.
Also, chatbot systems let you personalize the welcome message, so you can choose the wording by hand, set a delay, and change the wording to match the location of the target audience.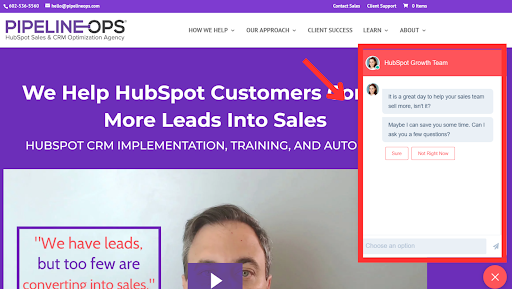 Screenshot taken on the official Pipeline Ops website
Use Lead Magnets
A lead magnet is a freebie you provide your clients in exchange for information like their email addresses. It might be anything, from a checklist to a blog. Lead magnets are proven to increase conversions, and a chatbot can help you apply this strategy quite effectively. The bot may easily obtain the user's email address by using conversational marketing in return for a resource.
Ensure Easy Access to the Answers on the FAQ
Visitors quit a website when they can't locate what they're looking for. As a result, as a business owner, you must improve the user experience (UX) of your website and provide content that grabs visitors' attention right away.
Chatbots can be useful here. When potential customers visit a website, they are very likely to search for information. A conversational AI chatbot may be able to provide them with the appropriate responses straight away. This turns out to be a game-changer for companies that depend on prompt and effective responding to client inquiries. For example, Mailchimp chatbot offers you to ask any question and suggests choosing from the frequently asked ones.
Screenshot taken on the official Mailchimp website
Remind about Abandoned Cart
Customers are highly encouraged to visit the store's website again once they have added items to their shopping carts. However, people tend to quickly forget about the goods they left in the cart. Customers will be more ready to study the items they've selected, reassess their decisions, and ultimately determine whether they're still interested in the products when you remind them of the abandoned cart.
Integrate with other Platforms
The conversational information that you receive from the chatbot should be put to use. In order to monitor the data in your analytics tool continuously, you need to connect your chatbot with your sales funnel. By acting as a pathway for data to build over time, seamless integrations help you get a better understanding of what's occurring with your online business and how it can be improved.
Use Chatbot Together with PPC Model
A chatbot may effectively replace a traditional landing page, increasing conversion rates. Your prospects will be more interested in your brand when they are greeted with friendly dialogue. The principle is very simple: when a customer clicks on your advertising, they are sent to a chatbot that continues the conversation. With a PPC bot, your conversion rates will rise, allowing you to wave goodbye to the tedious online forms. 
Final Word
Chatbots have established themselves as effective tools for companies willing to conduct conversion rate optimization. Chatbots may aid in boosting client engagement, establishing trust, and eventually increasing conversion rates by offering fast, individualized support to consumers. One of the statistics proving this is that 55% of companies using chatbots generate more high-quality leads. And there's so much more. Hopefully, with our tips, you'll be able to use your chatbots in the best possible way to optimize conversion rates.
Author's Bio: Art Malkovich is CEO and co-founder of Onilab, an eCommerce development company providing Magento development services. He has about 10 years of experience in team management and web development for eCommerce. He is passionate about keeping up with recent technologies and working on innovative projects like headless commerce solutions and PWAs in particular.