The role played by live chat apps in boosting productivity and improving customer service for businesses cannot be underestimated. Technology has in many ways brought people closer together, and one way it does that is through using software systems such as Livechat.
As more and more people decide to work from home, we have seen a huge increase in the number of apps that are designed to allow easier communication and sharing of information.
What is LiveChat?
One of the most easily recognized names in the business is LiveChat, a highly diverse and useful free-chat-on-website app that has been the go-to interaction solution for many organizations.
Its wide range of features allows you to solve customer problems quickly and anticipate their needs faster than ever before.
When having a busy day and trying to handle multiple customer requests at the same time, LiveChat allows you to save time and leave your clients with the impression that you are both competent and highly efficient.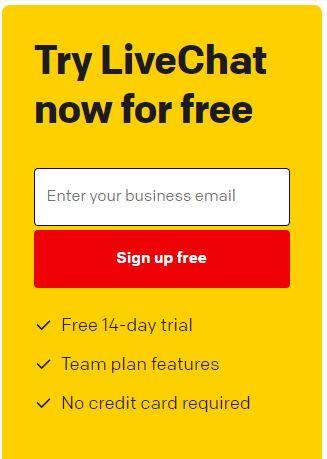 With features such as the message-sneak-peek, which allows a quick look at customer questions before you have to answer them, it is easy to see why LiveChat is such a popular chat plugin for website applications. However, there are other equally good LiveChat alternatives to consider.
Best LiveChat Alternatives
1. Chatway
When it comes to seeking the best live chat alternatives to Live Chat, Chatway stands out as a formidable contender. It takes the lead by offering a comprehensive range of features that streamline and enhance the customer service journey, revolutionizing the way businesses connect with their valued clientele. Boasting a contemporary and intuitive live chat interface, Chatway ensures a hassle-free user experience from the moment it's employed.
Within this dynamic platform, the role of support agents transcends mere assistance – they become architects of personalized experiences, carefully crafting each customer interaction to leave a lasting impression. As inquiries pour in, Chatway equips agents with the tools to swiftly respond, expertly addressing the unique needs of each individual.
Additionally, Chatway's versatility shines as agents seamlessly route queries to specialized departments, ensuring that customers receive the tailored and precise support they deserve, whether it pertains to sales, technical intricacies, or product insights.
Key Features
Real-time messaging for quick responses
Customizable chat widgets that give a professional look
Chat transcripts that offer a context-rich support experience
Canned responses for providing consistent answers and speeding up resolution
File and image sharing
Agent availability status that sets clear expectations
Pricing: Chatway is available for free. Try it here!
What makes it a great LiveChat alternative: It is free to use and can be accessed on mobile as well.
First on our list is Chaty, a chat button so good that it is likely to rival even the bigger names in the industry, such as LiveChat. The fact that this app is now used by more than 150,000 users, with more adopting it each day, is a testament to how highly it is regarded by businesses.
The developers of this LiveChat alternative put a lot of emphasis on helping you to build strong relationships with your customers, rather than simply answering questions and moving on to the next one.
To make it easier to interact with your clients, Chaty can be integrated with various social media platforms, such as Facebook, WhatsApp, Telegram, Instagram, and Twitter. This means the customer is free to communicate with your support team using whichever platform they are most comfortable with.
One thing that will immediately catch your eye, and set Chaty apart from the rest of the alternatives to LiveChat is the user interface. The level of detail on this chat app is very surprising for a free chat-on-website tool. Your customers will appreciate how easy it is to use the platform, while you can take advantage of the branding feature to add a personal touch to how Chaty looks.
It is very easy to change the appearance of the Chaty plugin, meaning you can add your company colors and unique design elements so that customers can easily recognize you. This is another way that Chaty goes beyond simple customer services and actually becomes a marketing tool.
The targeting features on this alternative to the LiveChat app will allow you to choose which customers to reach out to and the right time to do so. This means if, for example, you are running a promotion on medical products, Chaty can help you target relevant customers which will boost your sales potential drastically.
If yours is a small business, then you may appreciate the fact that Chaty is free for the first 50 visitors. This will give you a chance to get used to the app before having to pay, which will save you money down the line.
Key Features
Supports 20+ social media platforms
Fully customizable
Great user interface
Awesome triggers and targeting features
Works out of the box
Supports Whatsapp plugin for website
Pricing: Free up to 50 visitors then starts at $9/month
What makes it a great LiveChat alternative: The best option on this list for building a strong relationship with your customers, and promoting your brand.
3. ProProfs Chat
This alternative to LiveChat is a great option if you are looking for a quick and responsive chat plugin for your website. Using this chat button, your support team can respond to multiple queries at the same time with such ease that your customers will not even notice any delays in response, thanks to the real-time messaging option.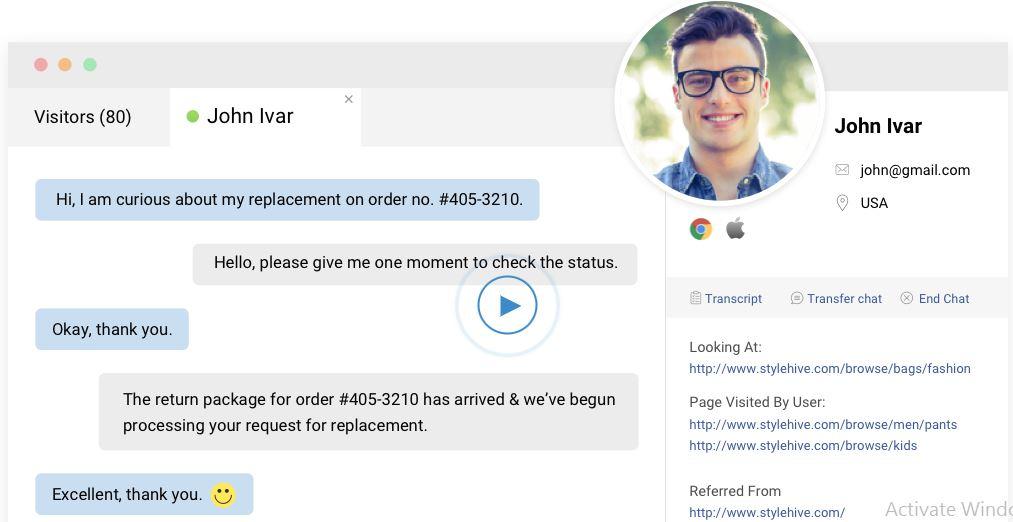 Customizable branding means that not only can your customers instantly recognize you, but you can also take the opportunity to display some items that your clients may be interested in so that you can combine customer support and marketing.
ProProfs also has a canned response option, which is yet another way for this LiveChat alternative to reduce the time that customers spend waiting for a response from your team members.
Key Features
Canned responses
Real-time messaging
Access controls
Customizable Branding
Data import and export
Pricing: From $20 per month
What makes it a great LiveChat alternative: Canned responses are one of its most useful features for ensuring quick customer feedback.
4. Chaport
In this competitive business, you need a tool that will allow you to identify the type of customer that you are dealing with, so that you can better structure your responses to their needs and perhaps sneak in a few sales promotions while you are at it.
Chaport is one such chat plugin for website users that allows you to do this easily, which is why it is a firm favorite among users who require the best LiveChat alternative for customer interaction and service delivery.
Sometimes, customers can present your support team with very tricky problems that are difficult to solve for one individual. In such cases, the diversity of Chaport shines through, allowing your team to help each other out using the group chat option.
If you are worried about the time you will need to set aside to train your team on how to use this chat button, then rest assured that it will not take as much time as you think. The Chaport user interface is specifically designed to be easy to use and understand for both customers and support team members.
Key Features
Easy and free signup
Great user interface
Live chat
Group chat option
Customer Targeting
Knowledge base
Pricing: Free
What makes it a great LiveChat alternative: It is a free chat on website app that is a great option if you are working on a tight budget.
5. Chatwoot
Based on the customer feedback and user reviews, Chatwoot is definitely living up to its promise of helping businesses to please their customers with excellent client support. If your business is highly dependent on effective customer interaction, then we recommend Chatwoot as a LiveChat alternative.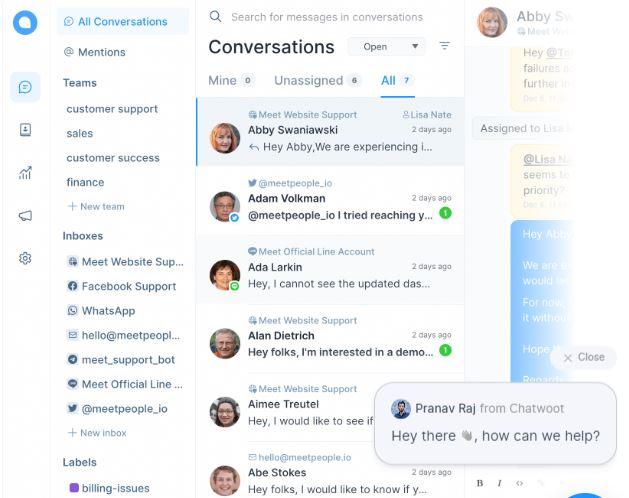 With its omnichannel feature, this chat app will allow you to reach your customers on a wide range of the most popular social media platforms, such as WhatsApp, Facebook, and Twitter.
You can also integrate the Chatwoot platform with various chatbots, which will significantly cut down on response times, and allow you to handle multiple conversations in real-time without making customers wait for too long.
Another interesting feature that is not found in all LiveChat alternatives, is the command palette, which is a tool designed to facilitate quick actions, such as hitting the snooze button when you need time to sort out an issue. These seemingly unimportant functions are what saves a lot of time in the end for both customers and the support team.
Key Features
Shared inbox
Chatbot compatibility
Mobile version
Omnichannel
Pricing: Free for the first two agents, with limited features
What makes it a great LiveChat alternative: It's one of the most effective customer interaction platforms, thanks to features like the omnichannel and use of chatbots.
6. MobileMonkey
MobileMonkey is a live chat app that is in equal parts, a customer support tool and a means for effective marketing. With this chat app, you can make sure that your customer's needs are all met, while at the same time using the opportunity to drive sales.
The app allows you to acquire the email addresses of potential clients so that your marketing efforts can produce better results by targeting potential customers who are likely to be interested in your product.
Your presence on social media platforms, such as Facebook and Instagram will also be a lot more visible because MobileMonkey allows you to constantly engage with your fans daily. This not only allows them a platform to air their issues but also gives you the chance to keep them informed about new products.
Key Features
Social media presence
Acquire emails for potential customers
Qualify and convert leads
Improve your sales figures
Pricing: Not Available
What makes it a great LiveChat alternative: Great social media integration
Final Word
If you want to take your business to the next level, you will definitely need to consider having a free chat button on your website for customers to use when reaching out to you. While for a long time now, LiveChat has been the go-to app for customer service, there are other options you can consider.
Chaty is the best LiveChat alternative to boost your business in 2022. It is affordable, easy to use, and comes with a host of useful features.