Having a live chat app for your business can go a mile in ensuring the sustainability of your business operations and customer service.
If you are one of those businesses that have realized how having a live chat solution can enhance your brand, you've landed on the right article.
In this article, we will quickly explore what a live chat is and the impact it has on your business.
Find everything you have to know about the 10 best live apps you can choose from to meet your customer needs.
What is a Live Chat?
A live chat is a messaging app that enables you to communicate with your customers in real-time on an online platform. For businesses in this era, characterized by massive digital transformation, a live chat is an important customer service tool.
Following research that shows that almost 80% of tech-savvy customers opt for instant customer support, businesses in 2022 are expected to respond by using chat support.
Live chat hits on two main concepts being: 'online' and 'real-time.' Real-time chats are now the new norm in the business space just as most people cannot do without instant messaging apps in their everyday lives.
Live chat support is a quick and convenient way for clients to communicate with businesses regardless of their geographical location. 
Customers can easily ask for refunds or clarify issues to do with the delivery of their products or services by using live chat.
Live chats, when compared to the traditional emails and often annoying call centers, provide greater customer service. It is believed that live chats cost businesses between 15 to 33 percent less compared to call centers.
In terms of customer satisfaction, live chats rank the highest with over 70% satisfaction rate, followed by emails with a satisfaction rate of around 50%, and then lastly phone support just over 40%.
How a Live Chat App Boosts Customer Service and Support
A live chat's role in boosting customer service can't be understated. In the US, around 80% of companies noted that live chat has increased their sales and customer loyalty to their businesses.
The use of a live chat can help distinguish your business as it provides premium quality business support. Here are several live chat benefits that can be achieved:
1. Reach More Customers
In this modern-day end age, a live chat allows for proactive customer engagement. Statistics show that customers between 18 and 49 years old prefer live chats and around 75% of customers prefer live chats as a means of communicating with businesses.
Live chats have become the standard customer service channel and customers expect to find a chat widget on any company website. It is also faster compared to emails and call centers thereby allowing your business to address more customer needs instantly.
2. Improves Customer Experience
Chat support supersedes phone support as it offers more unique benefits to your customers. Phone support to many is a pain in the neck as most times your call would need to be placed on hold whilst the reps find a solution for your query.
Live chat widgets, however, tend to be different as though the reps can take a little bit of time responding to customer queries, they have in between the responses to address customer concerns. This improves customer experience.
3. Connection and Loyalty
Installing a live chat app for support allows you to establish a connection with a potential customer, which boosts brand loyalty.
Customer queries support about your business's products or services or a mere follow-up after purchase through chat apps establishes a connection with customers. After such a service, customers are prone to be loyal to your business.
4. Expanding Your Business
Often, customers share with their friends and family a wonderful live chat experience. Phone calls tend not to work efficiently for customers from different time zones.
Live chat apps offer personalization and a response to all the queries a customer can have with your business. This support expands your business and can boost revenue as it is often 24/7 support.
5. Convenience and Easy to Use
In an era coupled with instant messaging, live chats are easy to use as they work just like the instant messaging apps used by almost everyone in everyday life.
It is simply clicking a chat widget in the lower corner of a business's website and the customer's problems are solved as there is often an almost instant response.
This support to customers goes a long way in the growth of a business's customer base as it is timely, delivers useful context, and is conversational.
The 10 Best Live Chat Apps
Chaty is a live chat software that allows you to show a chat button on your website to assist your business in connecting with your customers.
Chaty is compatible with other applications including Telegram, Viber, Telegram, Facebook Messenger, WhatsApp, and more applications well over 20.
Having live chat support allows you to establish a connection with a potential customer which boosts brand loyalty.
Customer queries support about your business's products or services or a mere follow-up after purchase through chat apps establishes a connection with customers.
After such a service, customers are prone to be loyal to your business.
This makes it easier for customers to get back to your business in one click and faster. The wider choice of platforms to use when communicating makes it easier for customers to get hold of your business as they can communicate to your business from their preferred messaging platform.
Should your business want to add any platform not supported by Chaty, you can customize and add the platform with no hassles. This improves the quality of support your business offers to your customers making them feel valuable.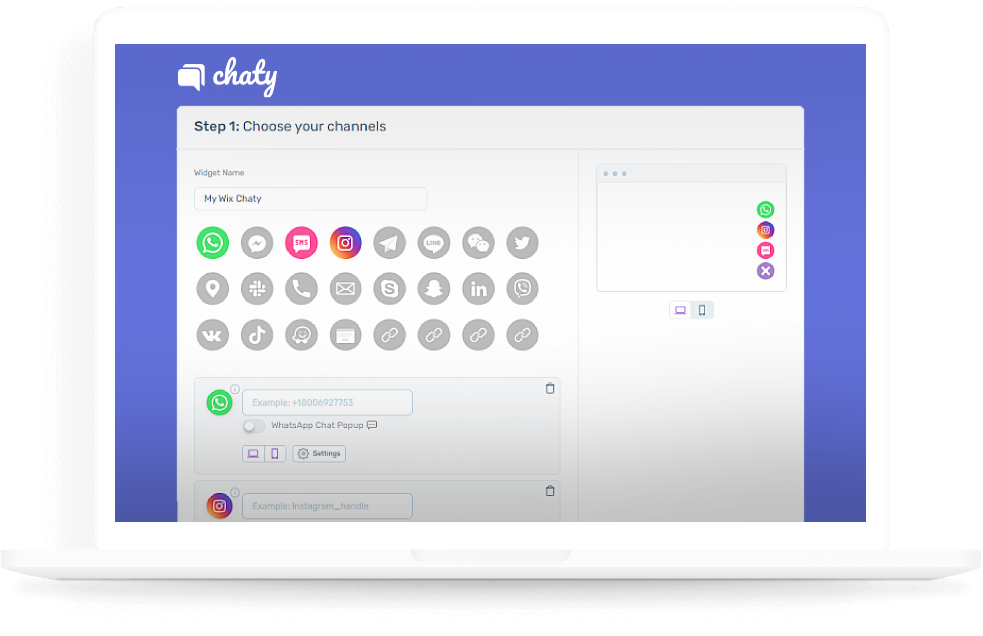 The conveniences offered by Chaty help your company build a strong relationship with your business as well as build a loyal customer base.
Customization. Chaty allows for full customization of the plugin to meet your business's identity. You can easily change colors, replace buttons, change the font and make all the necessary changes to give your customers an unmatched user experience.
WhatsApp Preset Messages. Its customizable preset WhatsApp messages are a great feature to offer great customer support. Your business can set greeting messages to customers when they get in touch with your business on your website through the Chaty.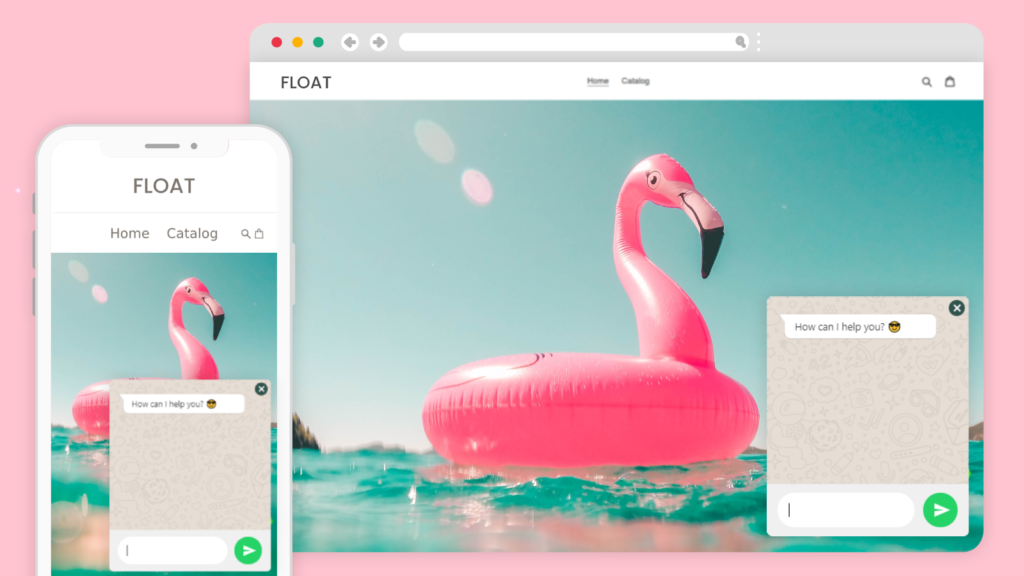 Tags. When customers are interested in products or services they would have seen on your website, tags for the product they want on the website will be shown so that your operator does not waste the customer's time asking them about the products they need.
Lightweight and fast loading. Chaty is a lightweight live chat plugin hence it is faster to load on your website and can be used on any website. Should you require any support on using the plugin, you will access our qualified and experienced support team. Our team will assist by providing premium and fast responses to enable you to swiftly get back to work.
Integration with Google Analytics. This plugin has a tracking metrics feature that is integrated with Google Analytics. It helps in tracking traffic sources which helps in improving customer needs and how to please your customers. This plugin is one of the best and deciding to use it should not be hard.
See more Chaty features here.
It is simply clicking a chat widget in the lower corner of a business's website and the customer's problems are solved as there is often an almost instant response.
This support to customers goes a long way in the growth of a business's customer base as it is timely, delivers useful context, and is conversational.
2. Hubspot 
HubSpot is a free service hub that can be used to enhance customer service and support. It has an exceptional customer portal where customer reps and customers securely chat. It also provides customers with a knowledge base, omnichannel messaging, live chat, inbound calling, and VoIP calling.
Its live chat feature and conversation box enable its users to sort email, phone, and chat message cases into one centralized inbox. Service reps do not have to switch to multiple platforms on any customer support case as HubSpot has all the tools and data the reps need centralized in one inbox.
HubSpot has a ticketing software function for complex support cases that go beyond the live chat. Service reps can create a ticket to log interactions that follow the live chat which either the rep or customer can return at any time. 
This app is good for customers as it can allow your customers to return the ticket should they require further assistance with their queries. This live chat app delivers customer service with authenticity.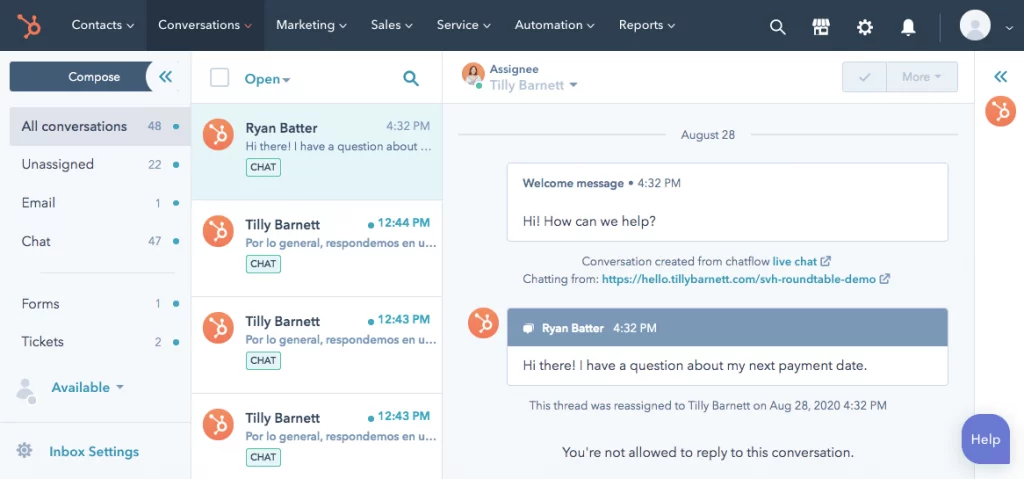 3. Chaport
Chaport is a free, powerful, and simple app designed for effective customer support, sales, and engagement all in one platform. This app offers a distinctive fast chat experience to customers.
Its distinctive auto-invite tool allows our business to send automatic chat invites based on customers' usual website activity.
The Chaport app also allows for group chats in instances where a customer rep can invite another operator to assist the customer together in real-time. This speeds up the service and is a convenient way of resolving customer queries. It also creates a personalized customer experience that leaves your customer needs fully met.
The detailed customer information on customer name, location as well as website activity can be found using Chaport. Using such information can assist the reps in efficiently assisting the customer where they might get confused.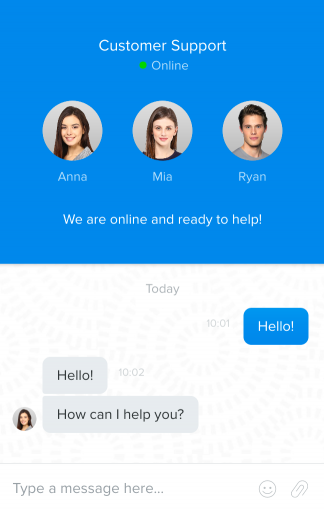 4. Olark
This is a great chat software for sales and customer support. Its packages start at $15 per user every month. This software solves support issues across industries. You can save and use chat transcripts for other times if you cannot assist the customer instantly. 
It is also easy to link this software with other CRM platforms as well as social media platforms. Chatbox forms can be customized to meet your business needs. Olark provides in-depth chat analytics to assist enhance customer experience and support.

5. Tidio
Tidio is a versatile live chat software that allows your business to make a real connection with your customers. This software has a free version and other packages ranging from $39 to $399 monthly. With this software, you can enhance customer experience and boost your revenue by turning visitors into customers.
This app allows for integration with other leading platforms like Shopify and WordPress even without any coding expertise. It can be customized to meet your desired look on your website.
Tidio provides a feature that allows you to explore what customers have viewed on your website to assist in you tailor-making your response to them, for a good customer experience. The software also allows you to view your website visitors in real-time.
6. Freshchat (now Freshdesk)
Freshchat, which was renamed Freshdesk, is an intelligent live chat software that generates leads and offers great customer support through its automated chatbot. Freshdesk charges each user $15 per month. You will be able to manage customer messages sent on various platforms on a single platform in a unified view if you use this software.
This software allows for the processing of bulk multiple conversations such as add, edit, or delete all in one go. More queries about our company will be served at a lesser cost and time by using the feature that automates repetitive customer questions.
The use of its custom analytics on the software enables you to track your team's performance. This enables bottlenecks to be identified and resolved faster. In the process, great customer service will be delivered to the customer.
7. Propofs Chat
This is a live chat application that enables businesses to engage customers who visit their website in real-time. Propofs start at charging $10 per user monthly. This award-winning software allows for chat routing facilitating customers getting the desired help faster from the correct department of your organization. 
Customer service experience with your business will be improved as this software develops chat reports on response time, missed chats, the customer rating on service offered as well as operator ratings. Reports allow your business team to identify areas that need improvements so that overall customer service is on a greater level.
The Chatbot function automates the customer support process by assisting your customers with frequent questions before they get assisted by operators. Its easy synchronization with other features like Knowledge Base makes ongoing chat inquiries faster. 
8. Manychat
Manychat is a good live chat app for better customer support. With this software, you can improve customer engagement and offer instant personalized conversations on various social media platforms.
No coding experience is needed and it is easy to automate conversations with customers using this software using its drag and drop feature. Manychat works more as a  marketing platform.
9. Getbutton
This Getbutton software allows your business to chat with your website visitors across many social media platforms by clicking on the chat plugin on your website. This is a free website.  It supports over 20 platforms including WordPress and Shopify among others platforms. The message us button will direct the customer to the messaging platforms.
The software is fully customizable to meet your desired standards and specifications.  No coding experience is needed when it comes to installing and linking this live chat platform to your website.
10. Callbell
This application allows your business to sell as well as support your customers on social medial platforms like WhatsApp, Messenger, Instagram, Telegram and Facebook. All these platforms will be accessed on one integrated platform. Callbell charges 14 euros per user every month.
Callbell allows you to divide your operators into teams according to their specific functions through its chat routing. Automatic routing will allow customers to experience the best customer support as they will be assisted by knowledgeable personnel who can assist them better. 
Callbell can help take your business to the next level and assist in building a strong brand through the convenience it brings to your business.
Summary
Live chat applications can enhance customer experiences by helping your business reach more customers. The importance of these plugins in bringing customer convenience cannot be overstressed as discussed earlier.
The various applications above help build a strong connection with customers and assist in creating a customer base loyal to your organization.
The importance of customer service can never be disputed in this day and age of digital transformation.
Having a live chat app for your business can go a milestone in ensuring the sustainability of your business operations. It can assist in ensuring that your business can communicate even with businesses in other geographic locations.
The convenience offered by these applications is unmatched and would be important in expanding your business.
Live chat apps like Chaty are an excellent, affordable, and easy-to-use example of a tool to take your business operations to a greater level. Increased revenue and sales can result from using this software. Try it here!