Customer service can make or break a business. That is why every business needs to take its customer service seriously.
This does mean that the chat support should be top tier with its responses because no one likes a chat box that is annoying or can't help a customer. That is where canned responses come in.
To learn more about canned responses and how they can help customer service, continue reading below.
What is a Canned Response?
A canned response is an automated response that has been generated for the customer. People can usually find these responses with a business that has an online presence.
Understandably, many businesses want an automated response to a customer through the chat feature because there are too many people online.
Businesses use canned responses because they are easy to take care of a customer and the team.
How Do Canned Responses Work?
Canned responses help a customer service team save time. There are so many pieces of text that they are typing out every day, so creating a text template and saving that to a chat system can help with streamlining problems.
Samples of Canned Responses
Below are examples of canned responses that work well in many scenarios.
The examples have been categorized, so you will have an easier time finding the response you need for your live chat.
1. Greetings
Greetings are important when working in customer service. However, they should also not be too overbearing. Many people who go onto a website will want a simple greeting that is still human-like.
2. Apologies
Apologies are needed when working in customer support because the customer is always right. It is best if the apology is not riddled with excuses, but it is straightforward because the customer will know it is genuine.
We acknowledge this mistake. We apologize for any inconvenience.
3. Technical Issues
Technical issues happen, so the response must be ready for when it does. This is critical if the service you provide happens to be online software.
We are experiencing issues with our servers; our team is working hard to get it back up for you. To monitor our progress, please go to [x].
4. Delegating/Forwarding Query
When a query needs to be forwarded, the customer must know that. Also, they must understand that the query has been received and that the correct team is looking at it.
We have forwarded your query to [DEPARTMENT NAME]. Please hold on while we look into it further.
5. Booking Appointment
Booking an appointment does happen through canned responses, which is why they should be focused on what the customer wants and not on the company.
Following up on your request to speak to an agent. What day and time best suits you for an appointment?
6. Asking for More Information
Asking for more information is needed when handling a query. This is because not every problem can be fixed right away.
Apologizing before asking for more information is an excellent way to break the ice. It shows the customer that the live chat knows this can be an inconvenience, but they are working to solve the problem.
We are sorry for the inconvenience, but we will need more information to proceed.
7. Asking for Feedback
Feedback is the best way to know if the business is doing well and if the customer support is helping the customers.
How would you rate our customer support?
Were you happy with the resolution?
8. Explaining a Product/Service
Customers may need an extra explanation on a product or service, but it is best to give them more than just an automated response sometimes.
Here is a pre-recorded demo that will guide you through the functionalities of our software. I will be happy to answer any related questions about our product.
9. Lending a Hand to Fix an Issue
Lending a hand can make a big difference when it comes to an issue because customers will see that the company does want to help them.
Here's what we can do for you.
10. Offering Discounts/Refunds
Everyone loves a good discount and refund regarding the product or service. Customers will greatly appreciate this because they will like that they can save money.
You will get a refund within a few working days.
We want to offer you a discount on [PRODUCT] for the inconvenience.
11. Policing Queries
Customers can become agitated quickly, so it is important to remind them that they cannot use abusive language.
We understand you are frustrated, but we do not tolerate bullying or abusive language toward our staff.
12. Offline Message
People may message the live chat when there is no one available. However, giving them an offline message will inform customers that they will be responded to. 
We will get back to you as soon as we are open.
You can email us for any other queries and information.
13. Roadmaps
Roadmaps are useful for any business, but they are also a good way for customers to know where the business is with its continued progress.
When they have made a suggestion, consult with the roadmap to see if this suggestion is useful.
The feature you're asking about is on our roadmap, and it should be added to your toolkit by [ETA].
Unfortunately, the feature you are asking about will not be added to our toolkit because [INSERT REASON].
14. Mistaken Messages
It looks like you have written to us by mistake. We are [INSERT COMPANY NAME], and we do [WHAT YOU DO]. If you have any questions about our service, we are happy to help.
People would be surprised to find out that it is very common to mistakenly message the wrong live chat on the wrong website. This isn't an issue, though. Instead, briefly explain what the business does because you never know, that mistake could turn into a potential customer.
15. Better Than Competitors
When customers are trying to figure out who to go with regarding services or products, they will sometimes go straight to the source. That way, businesses have a chance to state why the competition does not compare to itself.
We get asked this question a lot, and there are many reasons why we differ from [COMPETITORS NAME]. The most important part that makes us different is [THE REASON]. To learn more about how we're different, please go here [LINK]. Also, you can sign-up for our service and see for yourself!
16. Can We Do Anything Else?
At the end of a conversation, it is helpful when there is a canned response prompting the customer to disclose any other problems they may be having. This will remind them that their problems matter to the business and that the team wants to help.
I'm glad I could help! Are there any other questions regarding our product?
17. Clarification
Before moving on to the next step, clarifying that all of the appropriate information has been gathered is the best way to ensure that the customer has been heard. This shows them that they are being listened to by customer support.
Let me see if I have this correct, you would like to [ACTION]?
18. Alternative Solutions
Offering customers alternative solutions to their problems will show them that customer support does want to help them, which is why they are coming up with different ways to solve the problem.
[NAME], I'm sorry to inform you that we cannot complete your request now. However, I wanted to reach out to provide you with some alternative resources [LINK].
19. Admitting a Mistake
Mistakes happen, so instead of hiding from them – it is better to own up to them. That is why a canned response can make all the difference when an error occurs. It can show customers that customer support is always looking at ways to improve their service.
[NAME], I have realized that I gave you the wrong price for the service/product we spoke about. My apologies. The correct price is [PRICE].
20. Putting on Hold
When a customer needs to be put on hold with their query, it is proper etiquette to inform them that this is happening.
Would you mind holding for [TIME] while I check this with [DEPARTMENT NAME]?
21. Guiding Customers
Sometimes, customers need some guidance when it comes to sorting out an issue on their end. Laying it out in simple steps can be a great way to help them.
Of course, I am happy to help you with that! First, please go to [STEP] and [STEP]. Then, [STEP].
Canned Response Apps to Use
People can use some great canned response apps to help them with their canned response needs. Below are five apps that every business should check out.
Klutch is one of the best canned response apps out there. Many businesses use it because it can help their team save time when replying to customers.
People no longer need to worry about repeating themselves all day because they can now send the responses they need right away.
Also, the canned responses can be accessed from any device, which gives people more flexibility regarding where and when they can use their responses.
Klutch will also save useful links and snippets that your team may use frequently, which will help them save time.
Install Klutch on Chrome or Edge today!
Chaty is a chat widget that enables you to communicate with your visitors through the channels they prefer. You can include up to 20+ messaging platforms, including WhatsApp, Facebook Messenger, Skype, Viber, emails, and more. You can install it on any websites you have.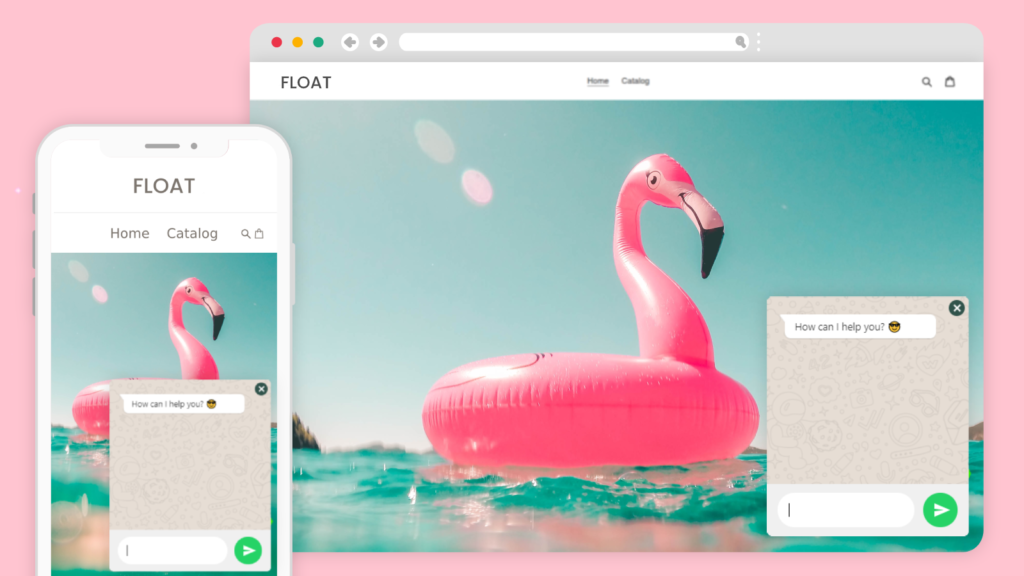 When you have Chaty, you can achieve better customer support and experience. You can generate more leads, calls, messages, and even sales.
With canned responses, you can reply to your visitors and shoppers faster and easier.
3. Zendesk
Zendesk is another app that helps customers achieve a better experience when it comes to customer support. It can be scaled to match your business, so it is always growing and improving with you. Having this flexibility with its features allows businesses to use only what they need.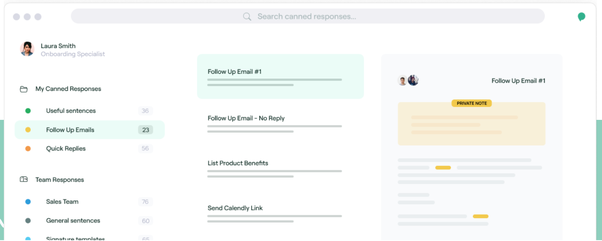 Businesses can choose from a large library of resources, so there is bound to be something that will suit your customer service team.
4. LiveChat
LiveChat is here to help businesses with their live chat services, so customers can have an experience that is a combination of human and AI interactivity. It is used for capturing leads and making buying easier for customers, but the customer service options are also a great way for people to use the app.
The system can help with tickets, greeting, and quacking moving customers to the right department, so there is less hassle on the team. That is why many people are looking at LiveChat.
5. Acquire
Acquire can quickly streamline customer service, which is why many people have looked into using this app. It allows all forms of conversation like voice chat, video, and co-browse, so customers and agents can work together to solve the problem. Since everything can be found in one app, it helps keep costs down.
Also, the streamlined approach that the app offers helps with keeping friction to a minimum within the customer service team.
6. Ada for Chat
Ada for Chat has been working with a lot of popular platforms because of its framework. The company believes that support does not need to be reactive and that the software will be able to anticipate what the customer needs as the conversation continues.
An intuitive software is always an interesting option for online chat functions.
However, businesses need to ensure that this is what their customers want because if they feel like the AI is not helpful, this could frustrate them even more.
Conclusion
Regarding canned responses, it is best to have responses that are helpful to the customer and the team. There is no point in having responses that are meaningless to everyone involved because then, customers may feel like they do not matter to the business.
However, that is not true. A way to combat that feeling is to have a healthy mix of canned responses and human interaction.
Also, this mix will help customer service teams streamline their work, so customers will not need to wait as long to speak with the right agent. That is also why people have been using Chaty. It is a great app that is the perfect combination between humans and tech.
All of this combined will help customers with their experience with the business. A happy customer means more business.