Omnichannel communication platforms that integrate messenger apps are progressively becoming a part of business communication strategies.
How convenient is implementing a chart plugin for your website to communicate with customers using different platforms from a single location?
This is the kind of functionality Chatwoot provides. Below, you get a quick synopsis of Chatwoot and five alternatives you may want to give a second look.
What is Chatwoot
Chatwoot is one of many chat app options you can integrate into your WordPress or Shopify sites. The ability to modify the platform to fit your brand allows you to connect with potential and existing customers using a third-party application while preserving your brand imagery and feel.
The intention is to help you respond and categorize communication requirements quicker, thanks to the integration of automated chatbots that take advantage of customized workflow functionality.
Other platforms offer similar features to Chatwoot, each with its appeal. Look at the incredible alternatives below to get a better idea.
Best Chatwoot Alternatives
1. Chatway
If there's one thing to expect from live chat interactions on Chatway, it is that it's simple and reliable.
Chatway presents itself as a strong alternative to Chatwoot. It stands out from the competition by offering a full set of features that make customer service encounters easy and smooth. Its live chat design is modern and easy to use, which makes it easy to use from the start.
With Chatway, support agents have the tools they need to make every contact with a customer more personal and meaningful. As questions come in, support agents are ready to answer quickly and answer specific wants and concerns right away.
Key Features
Chatway boasts of amazing features that can enhance any business's customer service game.
Real-time messaging for quick responses
Customizable chat widgets that give a professional look
Chat transcripts that offer a context-rich support experience
Canned responses for providing consistent answers and speeding up resolution
File and image sharing
Agent availability status that sets clear expectations
All these features make for a reliable partner in customer success. What's better is that your support team can take this experience beyond their desktops with the Chatway mobile apps. This helps them offer superb support and keep in touch with customer enquiries and queries on the go.
Pricing: Chatway is available for free. Try it here!
The first Chatwoot alternative to be covered is Chaty. This chat app allows you to use various messaging channels to reach and respond to your audience. It's meant to be comprehensive in terms of the features and branching automated paths it offers while being incredibly simplistic on the back end, so setup is not a chore.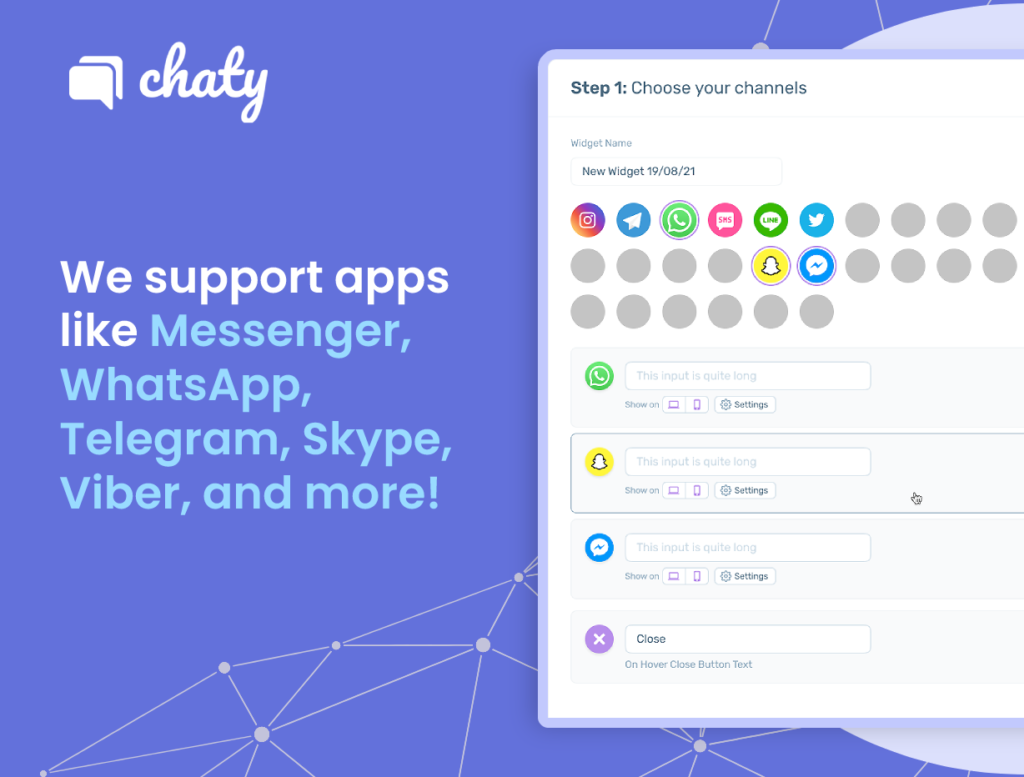 Without a feature offering free chat on your website with messaging platform integrations, you may find that the flow of communication has a host of hurdles preventing it from working as smoothly as it should.
Chaty eliminates these, demonstrating carefully composed design tropes and the ability to be as white-label as needed to preserve your brand's identity.
Additionally, you can maximize the returns on your investment in the platform with a series of traffic source targeting insights.
Key Features
If you are ever selecting a chat app, you want to do so based on the feature set it offers and the extent to which these align with your business needs. Chaty has a broad base of functionality, which includes but is not limited to:
Seamless integration with all popular social networks as well as obscure ones
Custom channel support to extend capabilities beyond Chaty's channel limitations
Incredible, intuitive, and customizable user interface
Customizable preset messages, such as greetings
Little configuration is required, as Chaty works out of the box
Triggers and targeting features that allow you to fine-tune the way the plugin should behave
KPI tracking thanks to a Google Analytics implementation that provides data on channel opens, traffic sources, clicks, and other important engagement metrics
Pricing
If you want to join the over 150,000 websites that use this alternative to Chatwoot, there are four Pricing tiers that you can choose from based on your business use case. These are:
Free tier – As the name implies, there is no cost here, and you can cover up to 500 users a month. Some features you get include widget and channel customization with unlimited use, triggers, page targeting, an attention effect, and custom channels.
Basic tier – The cost here is $9 monthly, and you're allowed up to 10,000 visitors for the period. In addition to the free tier features, you get Google Analytics tracking, traffic source targeting, country targeting, date scheduling, and custom CSS functionality.
Pro tier – At $25 a month, the pro license allows you up to 50,000 visitors monthly. The features are the same as those of the basic tier, with the value-based here on the number of visitors your site will be accommodating.
Growth – Again, the feature set is the same as the pro and basic tiers. However, this $49 monthly value allows you up to 150,000 visitors for the period. Bear in mind that if you need a bigger plan, it is certainly available.
What Makes It a Great Chatwoot Alternative?
So, why would you want to use Chaty instead of Chatwoot? if nothing else, the ability to use custom channels and the general lack of a configuration effort needed to make chat effective are some of its most vital selling points.
3. Manychat
Aimed at small businesses, ManyChat offers a great chat app alternative to Chatwoot through its implementation involving marketing campaigns that utilize text messaging and social media.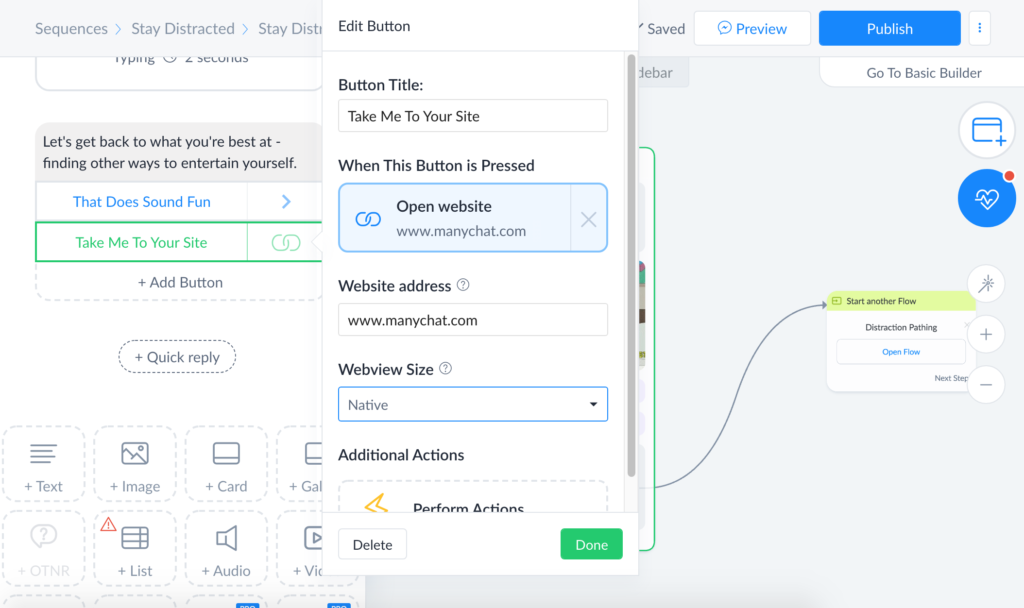 Key Features
Key features of ManyChat include:
Speedy automation designs with the FlowBuilder feature
Maintenance of conversation flow through SMS and e-mail combination.
Handy integrations with platforms such as Google Sheets, Zapier, and Shopify
Advanced campaign designs with unlimited tags, custom fields, and more
Pricing
As far as pricing tiers go, ManyChat offers two plans, which are as follows:
Free tier – As the name implies, there is no monthly charge here. The plan allows you to engage up to 1000 contacts for free. You're allowed channel access to common messengers, contact segmentation, e-mail support, and conversation automation.
Pro tier – The cost here is $15 monthly; this plan scales with the number of contacts you need. Free tier features, SMS and e-mail channel functionality, performance optimization, custom branding, integrations, and advanced campaigns are present.
What Makes It a Great Chatwoot Alternative?
ManyChat's strength is in its simplicity. Again, it's built for small businesses, meaning it sticks to its core functionality and executes it well.
4. HelpScout
HelpScout is a customer communication platform with a bit of a twist, as there is a clear focus on eliminating duplicate work and improving team collaboration.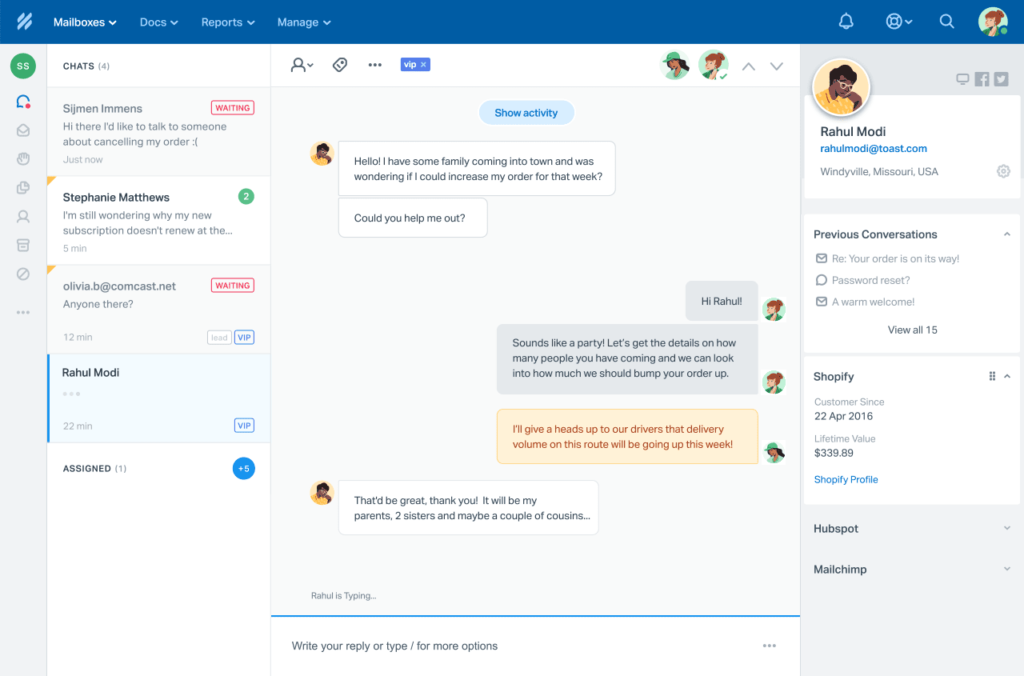 Key Features
The key features of HelpScout are:
A shared inbox to help with managing conversations regardless of their scale
Workflow automation to prevent manual execution of redundant tasks
Customer management with VIP tagging
Ability to design, populate, and update a running knowledge base
Real-time reporting with easy accessibility
Pricing
HelpScout doesn't have a free plan, but you can get a 15-day free trial. Its three pricing tiers are as follows:
Standard tier – For growing teams, this plan, with its $20 monthly charge, includes one documentation site, up to 25 users, two mailboxes, live chat, custom reports, API integration, and customer property reviews.
Plus tier – The price doubles to $40 per month here, including all standard features, some of which have been improved. New features include Salesforce, HubSpot, and Jira apps, and a HIPAA compliance add-on if desired.
Pro tier – This plan costs $65 monthly for larger teams. Again, plus tier features return with some improvements. Additions include a dedicated account manager and a concierge onboarding service.
Note that all monthly prices are quoted per user.
What Makes It a Great Chatwoot Alternative?
While HelpScout is undoubtedly pricey, it makes a great alternative to Chatwoot for those who want to balance customer outreach with team collaboration.
5. Tidio
Tidio is a chat app that takes advantage of custom fields, bots that can evaluate conditional statements, natural language processing, and artificial intelligence elements. This package is beautiful considering the reasonable price of the platform.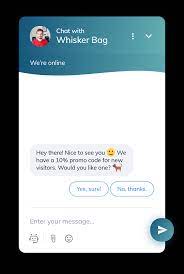 Key Features
Tidio's most important features include the following:
Automated responses to common questions
Custom-built chatbots that you can design from the ground up
User segmentation
Integration with existing and common platforms
Live typing allows you to see what your customers type in real time so you can be prepared to reply quickly and efficiently.
Pricing
As far as pricing goes, Tidio offers three different tiers.
Free tier – You don't incur any charges here. You get three operators, unlimited chats, visitor info, 100 unique reachable visitors, third-party app integration, and e-mail support on this plan.
Chatbots tier – All free features are included here. Now, however, the unique reachable visitors are unlimited. There is also the addition of chatbot templates, Zapier integration, and live chat 24 hours a day on weekdays. The cost here is $49 monthly.
Communicator tier – This is a branching path upgrade from the free tier instead of an upgrade from the chatbots tier. Therefore, all free tier features are included here. Additions include live typing, live visitors list, notes, team departments, and 24-hour chat support on weekdays. The cost here is $19 monthly, billed per operator.
What Makes It a Great Chatwoot Alternative?
Suppose automation is near the top of your priority list as you seek a Chatwoot alternative. In that case, the ability to customize a chatbot from the ground up certainly makes Tidio a tremendous option.
6. HelloBox
HelloBox is specifically designed for enterprise use where an end-to-end Windows solution may be needed as the back end to a traditional chat button.
Key Features
The key features here are:
Live status and business hours display
Focus button for calls to action
Contact bar that makes it easier for your audience to reach you
Analytics to track interactions, engagement, channel usage, and more
Pricing
There is a free trial available, but all plans are paid.
First, there is the single-user plan which costs $15 monthly or $10 monthly when billed annually. You get one project, all contact channels, white label branding, priority support, and unlimited interactions with it.
Next, there are agency plans, which are as follows:
Starter tier – For $45 monthly, you get five projects, priority agency support, and all other features included in the single-user plans.
Freelancer tier – The cost here is $82 monthly, and all features remain the same as the starter plan, except you now get ten projects and a backlink on the HelloBox partner directory.
Agency tier – This $212 monthly plan gives you access to 30 projects and all other features included in the freelancer tier.
What Makes It a Great Chatwoot Alternative?
The ability to reach your customers while growing your business on the HelloBox partner network is a huge asset.
Conclusion
All five alternatives presented are pretty solid. Consider what appeals to your business the most, then you can make your final decision.
If you're looking for a free, user-friendly chat app that you can customize, try Chaty now!