How does Chaty fare in comparison to Tidio?
The Tidio platform prides itself on being one of the best customer relationship-building tools on the market. It achieves this by helping businesses deliver value through customer service by combining chatbot tools and live chat for websites.
Integrations are present with Capterra, Shopify, WordPress, MailChimp, Wix, G2.com (formerly G2 Crowd), GetApp, and more. Therefore, you could certainly use Tidio as the base for your WordPress chat plugin or Shopify chat plugin if needed.
Nevertheless, Chaty's offerings make it a superb Tidio alternative.
Like Tidio, it can play the role of a WhatsApp WordPress plugin, Messenger WordPress plugin, a chat widget on just about any HTML5-based web page, and more.
There is a solid feature set to capitalize on going well beyond offering a chat button and a central point of communication with customers.
Chaty commits to delivering value through more leads, increased customer happiness, and increased revenue through an engaged customer base.
So, how about we take a quick look at why Chaty may be a better chat plugin for your website than Tidio?
Reason One – Experience a Better Feature Set
Tidio undoubtedly has a solid feature set making it suitable for the service it provides to its users. Using it allows you to empower your customer support team with the following features:
Chatbot
Visitor's list monitoring
Email, Instagram, and Messenger integrations
Shared inbox for teams
Multichannel tool
While this is a very respectable offering, there is no denying that Chaty's suite of features is more expansive, allowing for greater business flexibility and integration of brand identity.
For reference, these are the features you get as a Chaty user:
Live chat
Google Analytics tracking metrics
Customizable preset messages
Completely customizable white-label user interface design
Multichannel chat support for Twitter, e-mail, Telegram, WhatsApp, WeChat, Instagram, Skype, Messenger, Contact Form, etc.
Custom channel support for an unlimited number of customer channels
Frictionless communication
Seamless integration with any website
Reason Two – A More Affordable Pricing Model
Beyond the free tier, Tidio offers two paid subscriptions. The first is known as the chatbots level and costs $49 per month.
Alternatively, you can opt for the communicator subscription billed per operator at $19 per month. Bear in mind that the Chatbots subscription has three operator seats available.
Neither of the two subscriptions is a step up from the other.
Instead, they both have baseline features that they provide access to, with each offering independent functionality to build on it. Annual billing is available and offers savings by giving you two months free on either license type.
The first thing to note about Chaty is that the licensing is not operator based, opting for a much more cost-effective model instead.
Your Chaty license is dependent on the number of visitors to your site monthly. This allows you to plan for a single cost that doesn't need to increase based on the number of internal platform users you have.
Chaty offers four license tiers. The first is the free tier, and the other three have all free tier features plus the same set of additions. The difference is the supported number of visitors per month.
The basic plan, which costs $9 a month is for sites expecting 10,000 monthly visitors. The pro license is next, coming in at $15 monthly and covering up to 50,000 visitors in the same period.
Finally, there's the growth plan that costs $29 monthly and is for pages expecting up to 150,000 visitors for the period. Bigger plans are available as needed if your visitor count exceeds the maximum amount.
In essence, using Chaty offers a richer set of features much more affordably.
Reason Three – Seamlessly Bring out Your Brand Image
There's a lot to be said for being able to customize a chat button or any other chat plugin visually.
For example, even if you're using a messenger plugin for your website, being able to adjust it to fit in with your brand image helps convey your identity to your customers.
Tidio allows you to adjust the placement and color scheme of your chat. Undoubtedly, color manipulation allows you to match whatever aesthetic you already have present.
Chaty also puts the control in your hands where color manipulation and placement are concerned. However, it goes a lot further to ensure that your brand identity and the plugin are indistinguishable.
If you so desire, you can take advantage of granular customization including custom icon placement, font adjustments, button placement, color, etc.
There is simply no comparison with the look and feel functions offered by both platforms, especially considering what the allowed changes mean for the customer experience.
The more control you have, the more user-friendly you can make guest interactions.
Reason Four – Speed and Performance
Both Tidio and Chaty offer convenient JavaScript-based web page integration, allowing you to get either platform set up in only five minutes.
Be that as it may, Chaty goes the extra mile, ensuring to place a dedicated focus on a lightweight design.
Even if you're not necessarily familiar with the more technical behind-the-scenes implications, what you should know is that each subsequent interactive element can negatively impact the performance of a web page.
However, when you have a plugin that's as lightweight as Chaty, the net effect on your site's performance is seemingly nonexistent, which means loading speed is preserved.
Reason Five – Custom Channels
This was briefly mentioned in the features section, but it needs to be highlighted, even for a moment.
Both Chaty and Tidio have support for known communication channels. We've already established that Chaty can accommodate a lot more of these than Tidio can.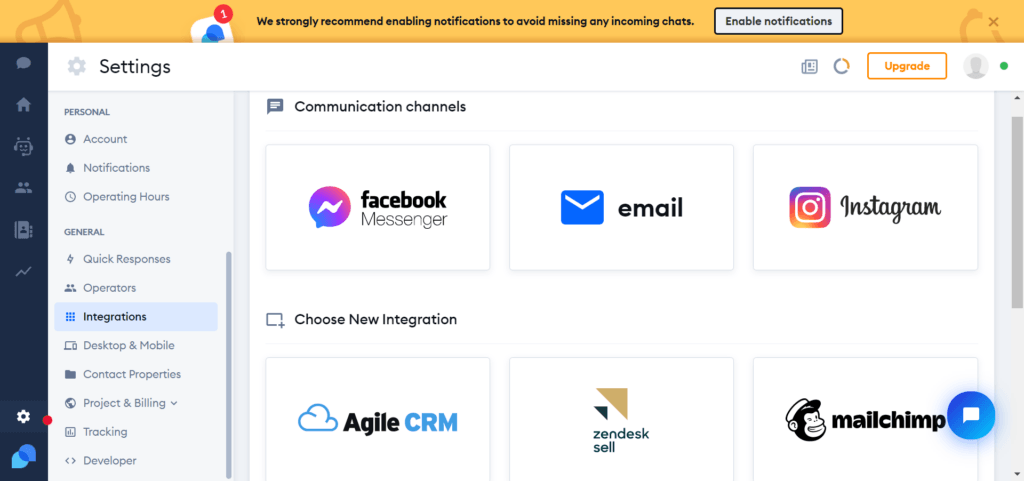 The question is, what do you do if you want to support your customers on a channel that's not included by default?
While Tidio has no answer, Chaty supports an unlimited number of custom channels with the click of a button, enabling reachability for customers anywhere.
Final Remarks
Undoubtedly, both Tidio and Chaty are great platforms that businesses can use to drive greater engagement by communicating where customers are comfortable. either can be your WhatsApp WordPress plugin, Messenger WordPress plugin, chat widget, etc.
However, Chaty is a better alternative to Tidio as it has a more expansive offering and is priced more affordably. Try Chaty for free!