Communicating with your customers is essential to create a loyal community that will stay with you for as long as possible.
Formilla Live Chat is the must-go option for companies looking for customer messaging platforms, but it's not the only available alternative.
Read on to learn about seven other customer messaging platforms you can use for your business!
What is Formilla Live Chat?
As its name suggests, Formilla Live Chat is a customer messaging platform that allows clients to communicate with you.
You can use what Formilla Live Chat offers to improve your customer service, digital marketing strategies, or your company's communication channels. However, there are also other Formilla Live Chat alternatives that can offer you the same (or way better) features and tools at the best value possible.
Let's learn about them here:
Formilla Live Chat Alternatives
#1 Chatway 
Overview
Chatway is another great Formilla live chat alternative that bests the competition because it packs a whole lot of features that make customer service smooth and easy when businesses build connections with their customers. Its modern and simple live chat interface makes it easy to use right out of the box.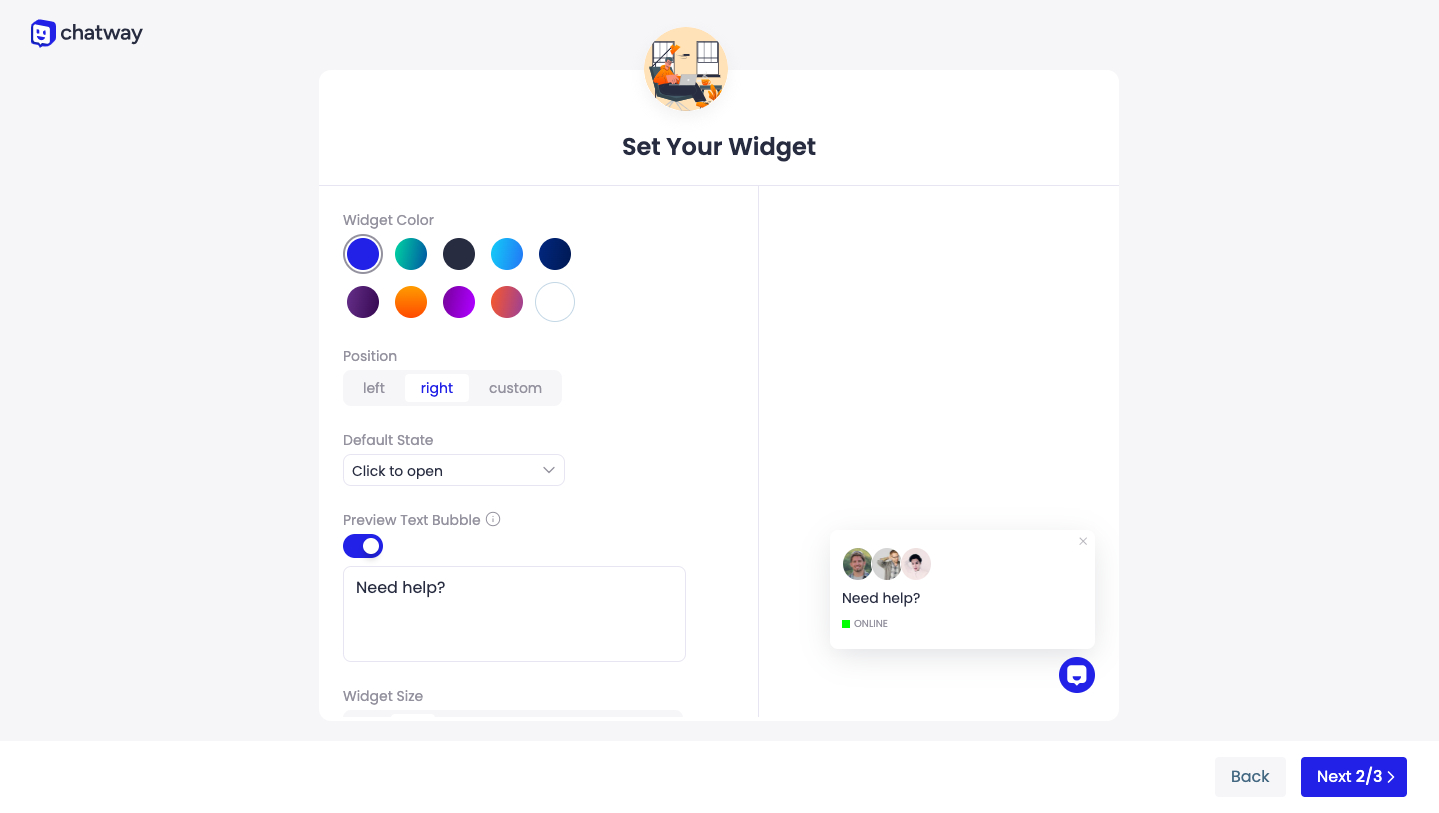 Support agents can transform each customer interaction into a personalised experience. When enquiries are made, support agents can reach out with an immediate response to address specific needs.
Depending on the questions or enquiries made, support agents can easily assign customer interactions to the right department (sales, technical, product) for specialised service. They can also share images, or files to illustrate issues and offer improved service.
Here's a breakdown of Chatway's features:
Real-time messaging for quick responses
Customizable chat widgets that give a professional look
Chat transcripts that offer a context-rich support experience
Canned responses for providing consistent answers and speeding up resolution
File and image sharing
Agent availability status that sets clear expectations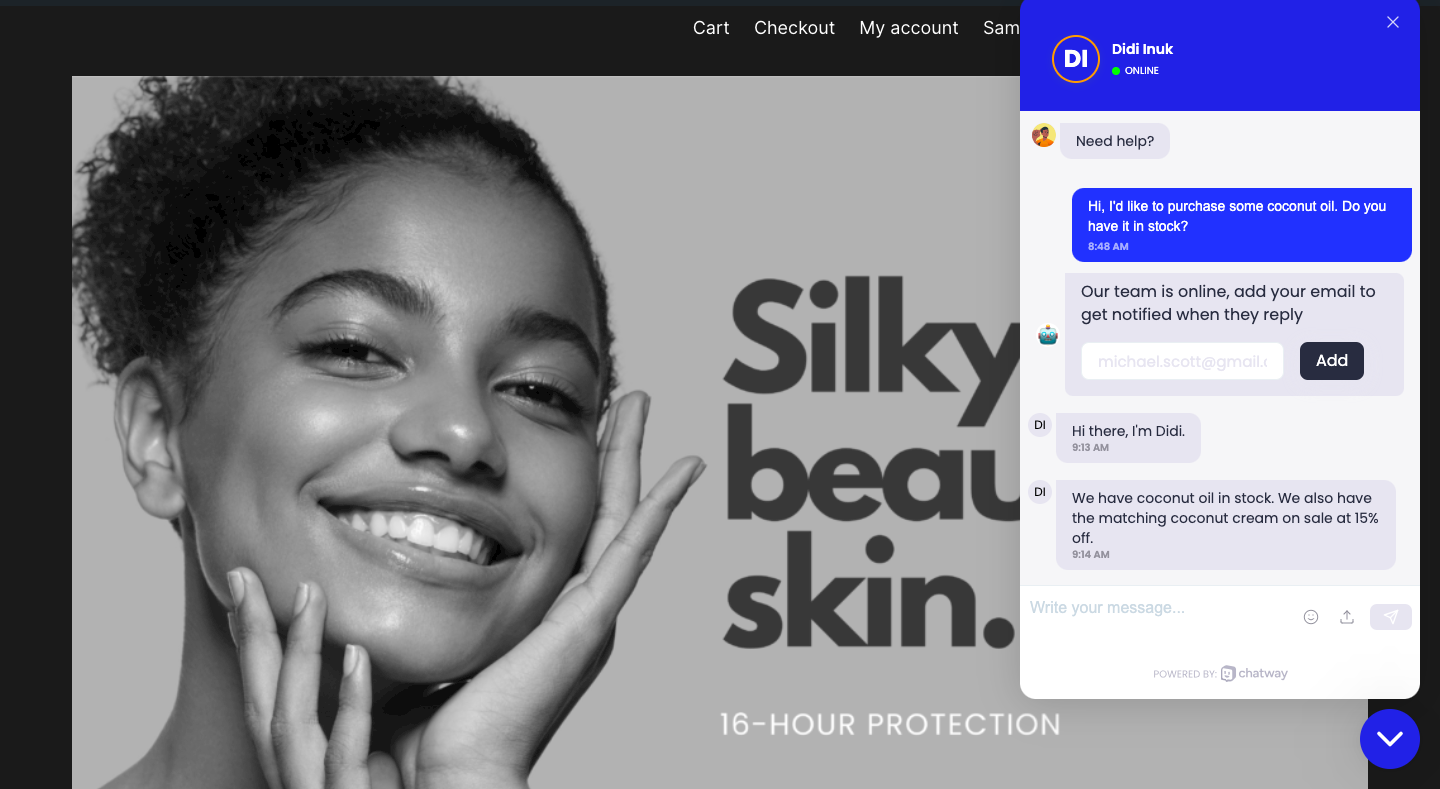 Pricing
Chatway is free for everyone to use.
Chaty is one of the best available live chat apps on the market and an excellent Formilla Live Chat alternative.
Among other features, Chaty allows you to connect to more than 20 social apps and custom channels, which is especially helpful if you want to try multi-platform digital marketing strategies in the future.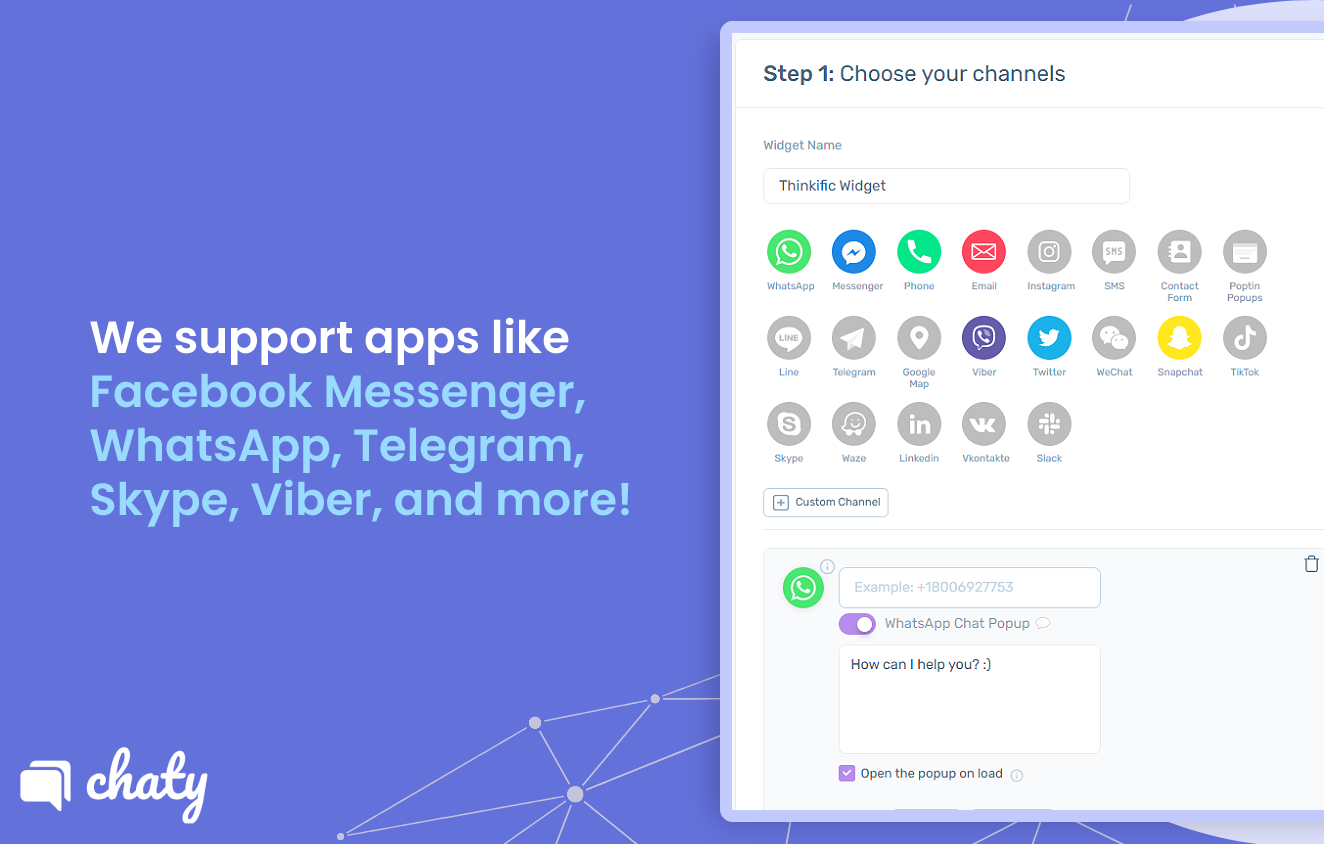 Overview
Chaty lets you set a chat button on your website for your clients to text you any questions or complaints.
This platform has many strengths, one of which is that it gives you access to most social media and communication apps. You can, for example, redirect clients to a WhatsApp chat, Facebook Messenger chat, Telegram chat, Instagram DM, and even a TikTok chat.
Features
The primary and most crucial feature Chaty offers you is all the communication channels it can make available for you and your customers.
Using Chaty's chatbots is as easy as clicking on them and typing the message you want to send.
Chaty lets clients choose which chat app to use to text your customer service team, making things more straightforward and comfortable.
These are some other Chaty features:
Custom channels

Customizable UI

Customizable preset messages

Custom triggers and Notification

Targeting

Google Analytics integration
Pricing
You can still sign up for Chaty if you want an affordable chat widget since it has four different memberships that adapt to people of all budgets.
The four membership plans are:
Free plan – $0/mo

Basic plan – $9/mo

Pro plan – $25/mo

Growth Plan – $49/mo
Chaty VS Formilla Live Chat
Firstly, Formilla Live Chat is slightly more expensive than Chaty, which already makes Chaty a better option for people who don't want to spend that much on a live chat.
You could say Chaty gives you more benefits than Formilla Live Chat for a more affordable price.
#3 Pure Chat
Pure Chat is not as popular as Chaty, but it offers a fast and straightforward way to add a live chat to your website.
Overview
This live messaging platform works a bit differently than other chat widgets since it uses visitor analytics and contact history to give you all the insights you know to have a smooth and beneficial conversation with each customer that contacts you.
Features
Since Pure Chat focuses on analytics, most of its features head that way. However, it still offers you the main features each chat widget should provide.
Do you want a more in-depth list of Pure Chat's features? Here are the most important ones:
SMS notifications

Unlimited chats

Realtime analytics

Account statistics

Customer reports

Visitor tracking
Pricing
The price of having modern analytics features is that Pure Chat is much more expensive than others on the list, and it only has two membership plans.
Those membership plans are:
Growth plan – $49/mo

PRO plan – $99/mo
Pure Chat VS Formilla Live Chat
Although Pure Chat is more expensive than Formilla Live Chat, it's an ideal Formilla Live Chat alternative if you want to collect as much information as possible for digital marketing purposes.
#4 Chatango
Do you want to create a strong customer community of people who can talk to each other about your products or services? Then, Chatango might be the chat widget you need for your business.
Overview
What makes Chatango different from others on this list is you can use it for free, and it doesn't have any paid membership.
Features
Chatango doesn't offer any features apart from creating chat boxes. Nonetheless, you can give several uses to those chat boxes since they let customers talk to other clients, which can help create a community of faithful customers.
Read some of the benefits Chatango offers you here:
Desktop and mobile compatibility

Chat rate limit customization

Chat auto-moderation

Chat community moderation

Option anonymity of chat users
Pricing
Chatango is free for everyone to use.
Chatango VS Formilla Live Chat
Although Chatango doesn't let you lead your customers to any other chat app, such as Facebook Messenger, it allows you to create different chat boxes that can easily blend into any site.
#5 GetButton
Following up, we have GetButton, perfect for businesses that want to expand their company to a multi-lingual community.
Overview
Through GetButton, you can get a chat button that allows you to keep conversations with your clients going even if they leave your website.
Features
GetButton's features are not as complex or innovative as the ones from other chat widgets, but they still are everything you would look for in a live messaging platform.
Check this list of GetButton's main features:
Quick installation

Mobile and desktop compatibility

Compatible with Facebook Messenger, WhatsApp Chat, Line, Telegram, WeChat, Viber, and Snapchat

Unlimited channels

Preset greeting messages

Multi-lingual network support
Pricing
GetButton has a free and a Pro version. The Pro Version is worth the investment since it's one of the most inexpensive platforms.
These are the Pro version's payment plans:
One-Year License – $2.99/mo

Two-Year License -$2.39/mo

Three-Year License -$1.99/mo

Lifetime License -$99
GetButton VS Formilla Live Chat
GetButton is a decent Formilla Live Chat alternative if you want to save money for other things and don't want access to any advanced feature another platform may offer.
#6 HelloBox
While some live messaging platforms are perfect for eCommerce, others focus on getting leads and turning them into sales. HelloBox is one of the latter.
Overview
As we mentioned before, HelloBox does its best to help you get leads and turn them into sales, and you can see that by studying how its social proof features work.
Features
HelloBox aims to make your conversations with clients the smoothest they can be, and its features work altogether to achieve that goal.
When you sign up for HelloBox, you can use the following features:
Instant conversation boxes

Live status and business hours available for clients

Social proof and reports

Analytics

Focus button
Pricing
One of the benefits of HelloBox is that it has payment plans for single users and agencies. The single plan for single users is $15/mo.
As for agencies, these are the different HelloBox versions you can get:
Starter – $45/mo

Freelancer – $82/mo

Agency – 212/mo
HelloBox VS Formilla Live Chat
We recommend you use HelloBox as a Formilla Live Chat alternative if you want a tool to turn your leads into sales.
#7 REVE Chat
If you want different ways of communicating with your clients, REVE Chat is the one for you.
Overview
REVE Chat offers you different chat options such as live chat, video chat, and using other chat apps such as Facebook Messenger or WhatsApp Business.
Features
When we say REVE Chat offers you different ways to communicate with customers, you can give your business a multi-channel approach to talking to your clients and prospects.
Here are some of the best REVE Chat features:
Live chat

Chatbots

Video chat

Multi-channel approach

Chat API

Chat SDK
Pricing
REVE Chat is less expensive than one would think due to its features.
These are the different REVE Chat memberships you can get:
Standard – $13.5/mo

Advanced – $22.5/mo

Enterprise – $45.0/mo
REVE Chat VS Formilla Live Chat
REVE Chat is the only platform on the list that allows businesses to have video chats with their customers, so you should get it if that's what you want.
#8 Chatwoot
Getting to the last live messaging platform on this list, have Chatwoot. Nonetheless, being the latest on the list doesn't make it a bad Formilla Live Chat alternative, let alone a wrong product.
Overview
Chatwoot works as an omnichannel support center that connects you with your customer regardless of which communication channel you want to use.
Features
If you sign up for Chatwood, you won't need any other platform for eCommerce or customer support since it includes analytics and automation features.
Are you interested in using Chatwood? Here are more of its features:
Analytics

Productivity boosts

Integrations

Website live chat

Chatbots

Omnichannel inbox
Pricing
Chatwoot offers four different membership plans, including a free version.
If you want to sign up for Chatwoot, you should know its membership plans:
Hacker – $0/mo

Startups -$19/mo

Business – $39/mo

Enterprise – $99/mo
Chatwoot VS Formilla Live Chat
Chatwoot has different resources on its website to help you use it, so you should consider it a fantastic Formilla Live Chat alternative.
Bottom Line
As you can see, there are many different alternatives on the market if you don't want to use Formilla Live Chat, so it's up to you to decide which one suits you better. However, if you're looking for a free and user-friendly live chat app, head on to Chaty. It has various intuitive tools and features that can get you started with your live chat performance and conversions. Sign up now for free!