A chat widget is a great asset to any eCommerce website. It makes it simple and easy to contact your customers and for them to contact you. GetButton is just one chat widget, however. There are many others to choose from. This article looks at the five best alternatives for GetButton.
You can learn more about the pros and cons of each widget and who they are best for. If you want to learn more about the best GetButton alternatives, just keep reading!
What Is GetButton?
GetButton is a handy chat plugin for a website. It allows your customers to contact you quickly and conveniently, and you can use it for any of your websites. GetButton works well with WordPress, Shopify, Joomla, and many other website platforms. With GetButton, your website visitors can chat with you from many of their favorite apps, such as WhatsApp and Facebook Messenger. 
The GetButton widget also allows you to place a contact button on your website, so customers can contact you right then and there. It is convenient and very easy for customers to use and see.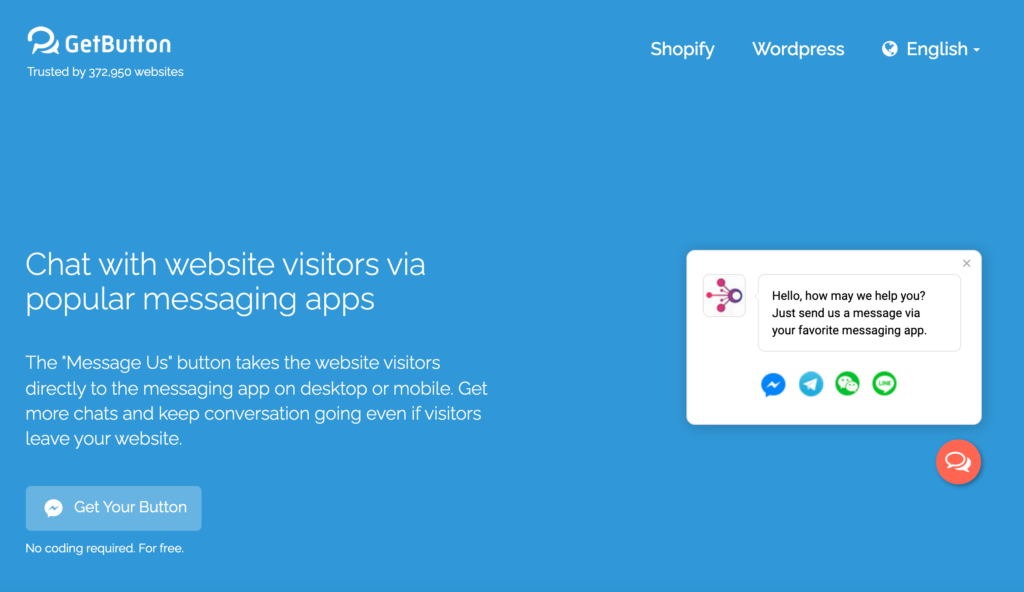 With many chat widget options out there other than GetButton, it is important to look at your options. Here is a list of the best alternatives you can use today:
Best GetButton Alternatives
1. Chaty
The Chaty plugin allows you to communicate with your customers through many different social media platforms. Let's take a look at its pros and cons.
Pros
It has frictionless communication because your customers can talk to you from any of their preferred channels. This includes Facebook, WhatsApp, and Twitter.
If you want to add a custom channel to your chat widget, Chaty fully supports this. It is also easy to do and doesn't take much time or effort. You can add as many custom channels as you want, so the sky's the limit. 
This chat app is fully customizable, so you can match it to your brand's website. You can change colors, fonts, and more. The customization section has an impressive user interface, so you shouldn't find it too difficult to use.
Preset messages are another pro of this chat widget. You set it so that your customers receive an automated message right after they contact you. Not only is this helpful for you, but it's helpful for the customer too.
You can trigger Chaty to appear during certain times of the day or at certain scroll points on the webpage. This is great if you don't want to have the chat widget visible at all times and want to target specific times or web pages.
One of the other great things about this chat app is that it can be used on any website. Whether you have your own website or a WordPress website, you just need to add in the code, and you're good to go.
Chaty features a Google Analytics tool, so you can track all your analytics. You can track open clicks and engagement, which is great if you want to find ways to improve your chat widget.
Cons
The only main con of Chaty is that if you want access to all the best features of this messenger plugin for a website, you need to pay for the Pro plan. Although you can use the basics for free, anything extra needs to be paid for. Despite this, the plans are not too expensive and there are different options. The Basic plan is only $39 a year and the Plus plan is $89 a year.
2. Trengo
Trengo can be used as a Shopify chat plugin and a WordPress plugin, but you can also enter the code into your own website. The average pricing for Trengo is around $30 a month, so it's significantly more expensive than Chaty.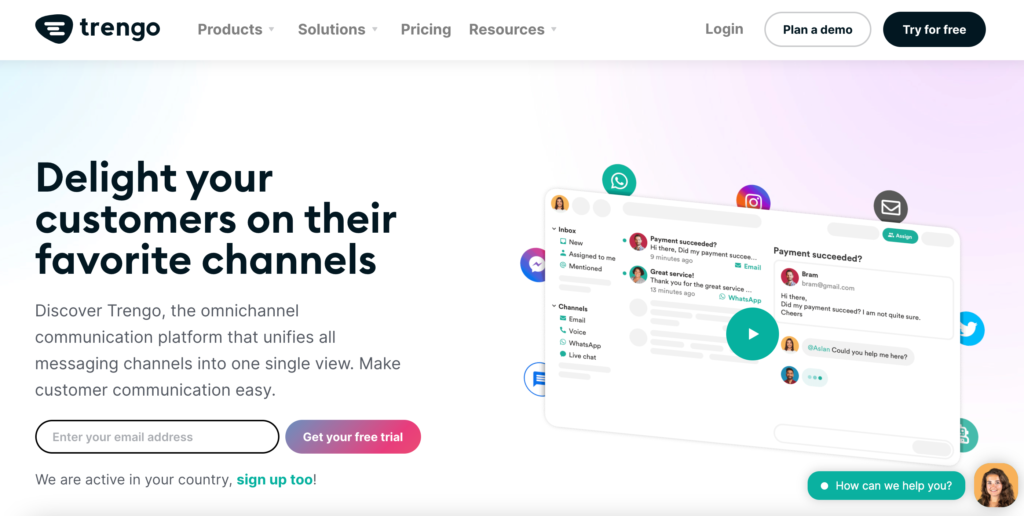 Let's take a look at the pros of Trengo.
Pros
Trengo offers all your shared channels in one place. It is easy to manage all your different messaging apps, so it has a great user interface.
You can assign certain messages to certain people, which can help you run your business more smoothly. This can even be done remotely and without having to switch tabs.
You can build your own chatbots, and they don't require any coding. It's an easy drag-and-drop situation, so you don't need to be a programmer to do it.
Trengo also offers customers a self-service help center. This is a good feature if you want your customers to have ultimate satisfaction with your website. Additionally, it reduces your need for customer support, so it saves you time and money.
Just like Chaty, you can track analytics on Trengo as well. You can identify trends, track customer satisfaction, and keep yourself updated with the latest data.
Cons
It is tedious to find a chat history, and sometimes, you may not be able to find it at all. If a customer was speaking to you some days ago, and now they're speaking to you again today, they may need to explain their issue once again. This is not only a hassle for the customer, but it's a hassle for you or your customer service staff as well.
If you use it as an email tool, it doesn't have as many features as other tools, such as Outlook.
3. HelloBox
HelloBox works with any popular website platform, such as WordPress, Shopify, Wix, and Joomla. Its pricing starts at $8 a month, and there is no free option. Read ahead if you want to see the pros and cons!
Pros
Like many others, this messenger plugin for a website allows for instant conversations with your customers via different channels.  
You can display your live status and business hours, which can help customers know the best time to contact you. 
HelloBox has a social proof feature. This means the customers see the most relevant conversations based on your HelloBox statistics. This helps add credibility to you and your website.
Analytics are important, and HelloBox has an analytics tool that you can use to track the latest data. It allows you to see how customers interact with your HelloBox chat widget, so you can make updates or changes based on your findings.
A focus button is another great feature of HelloBox. You can have this button as your call to action, which makes it easier for customers to do what they need. You can place the focus chat button on your contact widget for easy visibility.
Let your customers contact you easily with the HelloBox contact bar. This is the quickest way for your customers to visit you as you can make it clear and visible on the website.
If you don't want to commit to the service right away, HelloBox offers a free trial. This is perfect to test that out free chatting for your website.
Cons
There are not many cons for HelloBox. The main one is that it can take a little time to get used to the interface. However, once you get used to it, it becomes much easier to adjust the settings.
4. Zendesk Chat
Zendesk is good if you're looking for a WordPress chat plugin, but it also works with other websites such as Shopify and Joomla. Chat for websites is important for the ultimate customer experience, and Zendesk is one of the most popular products to choose from. 
Its team price plan is $19 a month. However, if you choose add-ons and other features, you can spend as much as $45 a month. 
Let's look at the pros and cons of Zendesk.
Pros
Customers can use some of their favorite social channels to get in contact with you via Zendesk. It acts as a WhatsApp plugin for a website, but it also supports Facebook, Twitter, and other social channels.
Many big-name brands use Zendesk, so you can be sure it's reliable. Some brands that use it include Dropbox, Etsy, and the Zoom help center.
Zendesk features a ticketing system, so when a customer reaches out, a ticket is automatically created. Customers also receive a notification that establishes that help is on the way, so you don't have to worry about updating these tickets yourself initially.
You can customize your messaging tools, or you can use the standard Zendesk version. Customers can reach you wherever they are, and you can enable a no-code chatbot. This ensures your customers have 24/7 support.
With Zendesk, you can have an interactive help center available to your customers. This is great for the customers who prefer to help themselves and don't want to speak with an agent.
If you want to track data, Zendesk has a built-in analytics tool that you can use. Here, you can track real-time and historical data. Tracking data is a great way to get ideas on ways to improve your customer's Zendesk experience, so it's a handy tool.
Your customers can chat while on the go if you use Zendesk. Zendesk works as a WhatsApp plugin for a website, so customers can chat with you easily. This mobile chat software ensures you can talk to your customers right at the moment with no delays.
Cons
Zendesk certainly does not provide free chat on your website, as it is on the pricier side. Having said that, it is a reliable chat widget for your eCommerce website. Many people view this as a reason to spend the extra money.
It is also difficult to track the progress of tickets, so it can be time-consuming trying to find what you're looking for.
5. LiveChat Unlimited
LiveChat Unlimited is great as a regular messenger WordPress plugin and a WhatsApp WordPress plugin. It's a handy and easy way to contact your customers and for them to contact you. Its beginner pack starts at $16 a month, but you can spend as much as $50 a month with different plans.
Below, you can look at the pros and cons.
Pros
Customization is easily done with LiveChat. You can change the language and accessibility, for example. This is great if you want to match your chat widget to your brand image.
With LiveChat Unlimited, your customers can pick up right where they left off. All their chat history is saved, so this reduces the need for them to ask the same question more than once. You can also send customers specific messages, depending on their profile and behavior.
LiveChat Unlimited features a notification tool, so you don't have to worry about a message going unnoticed. You can set your own notification preference; your team can do it too. There is also a transfer option; if someone needs to transfer a chat to someone else, it's easy to do.
If you want to track analytics, LiveChat Unlimited has the resources for that. You can check reports on many different things such as chat summaries, data reports, agent reports, customer reports, and many more.
Security is a priority for this chat widget. It features encryption and card masking, so your customers can rest assured that their data is safe. Additionally, it features access restriction, which allows your agents to use the chat app only when they are on a secure network.
Single sign-on (SSO) is another feature of LiveChat Unlimited. This allows your agents to use the same login details for all platforms, so it makes their lives a lot easier. LiveChat supports Okta, OneLogin, and Auth0, to name a few.
Cons
Sometimes, if the system is busy and there are lots of customers trying to chat, it can slow down. However, this is rare and shouldn't be cause for concern.
There may be times when you open a new tab and your chat gets lost. This is not ideal, but again, it doesn't happen often.
Conclusion
GetButton is just one of many chat widgets that you can use for your eCommerce website. Every alternative chat widget mentioned in this article is suitable for any eCommerce, Shopify, or WordPress website. 
When choosing which chat plugin to use, take all the features available into consideration. Having a useful chat widget can help your business grow through easier customer interaction. When you have an effective chat widget, you and your customers can reap the benefits!