https://www.creditdonkey.com/best-website-builder.html
Having a chat widget on your website is one of the best things you can do regarding your online business's marketing and sales. With the help of chat widget software, your business presence can be boosted exponentially.
A chat widget such as Chaty adds a small window on a website that lets visitors communicate with a company's representative. It does a great job of helping people get the answer they require in real-time. These days it is all about how fast you can get information and how accurate those details are.
Chat widgets are typically seen in the lower right corner in the form of a chat button. Once the user clicks "Chat." Website visitors can use this button to get through to one of your business's customer service agents.
This article explores how to add a chat widget to your site and highlights why using chat for websites is essential. You will also learn to add a chat widget to various platforms, such as Wix, Shopify, WordPress, etc.
Without further ado, let us begin this piece.
The Importance of a Chat Widget
There are some exceptional reasons to install a chat widget on your website. One of the primary areas of your business that can be improved through Shopify chat plugins.
Chaty has a Shopify chat plugin version that is user-friendly and feature-packed. With fast and effective communication, customers will be engaged when they pose their questions.
If a person uses a chat app and does not get assistance in a reasonable amount of time, it will be fair to say they may purchase the product or service elsewhere. A best practice would be to have your support crew on shifts that they can always assist your clients. Remember, happy customers, leave positive reviews.
Chat widgets also help improve customer experience because you can solve or answer the clients as soon as possible. The overall mood of the customer will improve by communicating with them quickly and efficiently.
Another great thing about different chat apps is that you can handle all customer queries through a single dashboard. You can assign a single person to handle all requests during a particular time of the day when you are busy so that your other employees aren't tied up responding to clients.
That means that you don't need to have an extensive team of people working in your customer service department, saving costs on that side of your business too.
Even if you don't have any people to respond to your customer, you can program some chat applications to react via a chatbot. It's important to note that not all chat widgets are created equally, so do your research before adding one to your website. You can create it like your logo design, keeping the consistency and colors.
You can see many important reasons why you should have a WhatsApp WordPress plugin for your online business. A chat widget such as Chaty lets your website visitors contact you through their favorite channels, making them automatically feel more comfortable using your company.
How to Install a Chat Widget on WordPress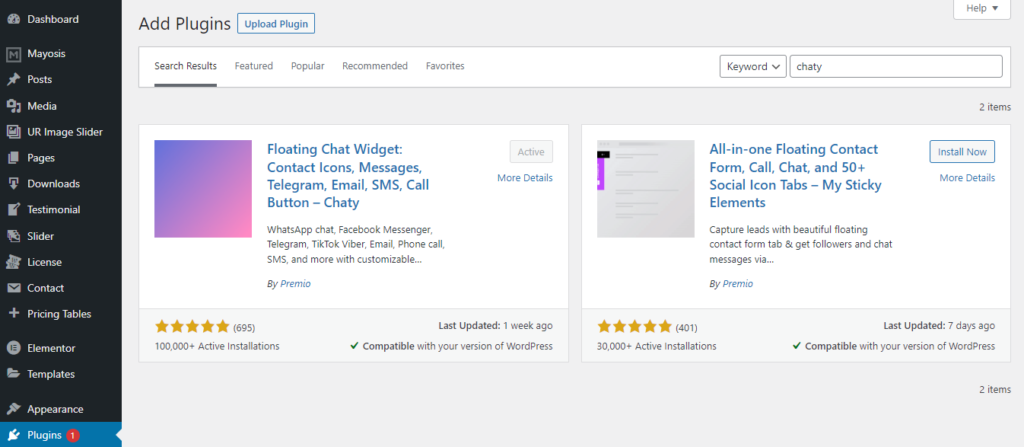 Installing a chat widget on WordPress is an easy task that only requires a few steps, and it should not take you longer than a couple of minutes.
First, head over to your WordPress dashboard and click on "Plugins."
Then click "Add New."
When you get to the next screen, you will search for your desired plugin.
If this is the first time you are installing a chat widget on your WordPress site, we recommend checking out Chaty on WordPress plugin.
Once you have selected the most suitable chat app, click install.
After it has been installed, you can enter the settings and adjust the application's parameters accordingly.
Please remember that some chat widgets require that you embed their code in the footer or header of your website's pages.
How to Add a Chat Widget on Shopify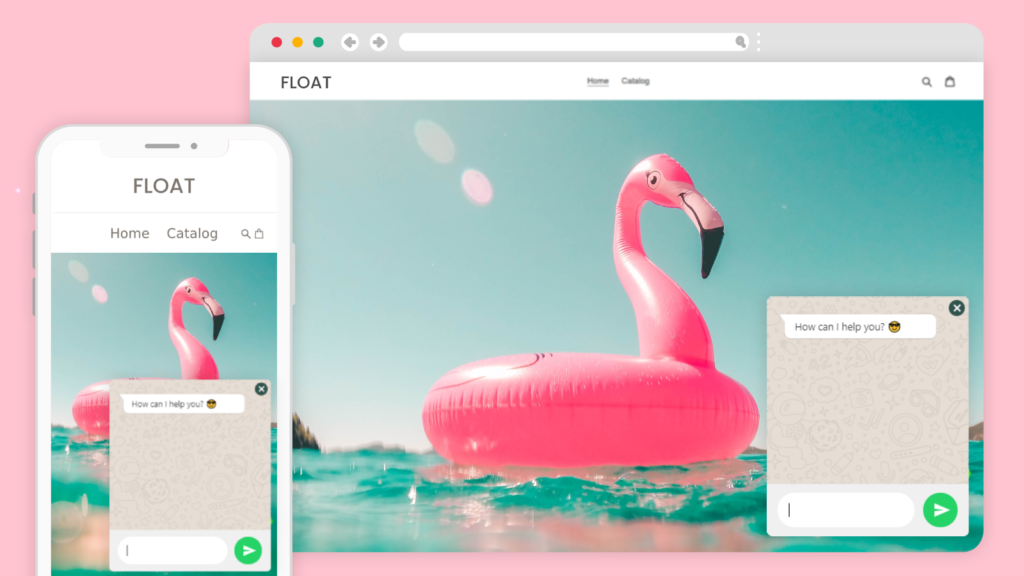 If you own a Shopify online store, this section explains how you can add a chat widget to it.
Head over to your Shopify backend and login.
Head over to the "Themes" tab once signed into the dashboard.
Choose the best Shopify chat app for your requirements and install it from there. It is essential to note that most applications require that you sign up for their services.
After signing up with your email address, you can now access all the great features a chat widget offers.
Decide where you want the chatbox to appear on your site and get the code ready to be embedded into your Shopify store.
Once you have the code, head over to your online store's dashboard, click "Themes," and hit "Edit Code."
Paste the new code in the line recommended by your selected chat app (most will have some form of instructions when you sign up.
You are complete and should now know how to add a chat widget to your Shopify website.
Furthermore, you can change the parameter of the Shopify chat plugin in the "Settings" tab and make your customer relations as effective as possible.
How to Add a Chat Widget to Wix
Adding a live chat app to a Wix website is simple, much like the previous two platforms mentioned.
Log into your Wix dashboard and click the "Add Apps" icon on the left-hand side of the Editor.
Next, use the search bar to find the widget you prefer to use; an application like Chaty can work perfectly on Wix.
Once you have found the best software, click "Add to Site." This will install the application and allow you to alter its settings
Now, all you need to do is copy the code and paste it into the footer of your website.
A chat button will be displayed in your chosen location, and you will be able to start helping your customers straight away.
How to Add a Chat Widget to Any Website Builder
The good news is that most website builders have a similar style backend. Most dashboards have a tab that offers the same options but may just be named differently.
If you want to know how to install a chat widget on any website, follow this:
Head to your website service provider's backend and continue to log in.
Once you are signed in, you can head over to your website's plugin tab. It's good to remember that it may be named various things, including "Add Apps," "Plugins," "Apps," so don't be confused about it if you don't see one of those; keep looking around.
You can look for your favorite chat app in the plugins menu through the search bar.
Proceed to install the application and decide what settings you would like to use with it.
One of the best ways to go about it is to use Chaty which can be used to communicate with multiple customers in real-time. It is a SaaS version of the Chaty plugin by Premio that you can install on any website. Try it for free!
How to Choose the Best Chat Widget for Your Website
There are multiple chat widgets, making it challenging to find one that you enjoy using. This section explores what you should consider when choosing the best chat widget for your website.
Businesses that want to use chat apps for customer relations should consider a few critical aspects before investing in one.
Below we break down some of the most important things to look for when deciding to use live chat for your company.
1. Pricing
Your budget dictates what you can spend on a chat widget each month.
Please be aware that most live chat apps offer a free trial or free plan at no cost for newcomers to the industry. Chaty is one of those service providers with a free tier that works for 500 visitors per month.
You don't want to be stuck paying an arm and a leg for your customer support application, as you will already be paying staff to manage that department.
Chaty has a well-priced basic tier that is only $9 a month for a website with up to 10k visitors per month, which we think is a great deal and perfect for a growing eCommerce store.
However, it would be best if you remembered that not all chat apps charge the same, and there are some that charge more than the above price.
Keep a looking out for high prices and minimal features, as that is what you want to stay away from when it comes to chatting widgets.
2. Multiple Channel Support
You need a chat app that has multiple channel support. Why is that, you ask? Well, that's because your customers don't only use their browser to access your website. Studies have shown that more than 80% of people use their mobile devices to search for things on the internet.
With smartphones becoming so prevalent and various social media plus communication platforms popping up, it only makes sense that you adapt to where your customer spends most of their time.
Applications such as Skype, Viber, Telegram, Facebook, and WhatsApp should be included in your chosen chat widget's channel list.
3. Country Targeting
You will need country targeting if you have a South African company but are dealing with an audience in Europe or America. By restricting your chat widget to specific locations, you can prevent necessary spam messages and limit customers to your servicing demographic.
4. Chat Widgets Allow for Frictionless Communication
The conversations with your customers can flow when using a chat app to deal with their needs. It makes the client feel like they are talking to a friend rather than a company representative.
As most chat apps can support multiple integrations, there is no need to worry about the person's favorite social media platform. Chaty even supports custom channels and can be coded to fit in with your choice of messaging platform.
5. User-Friendly Interface
If a chat app doesn't have a user-friendly interface, it may be difficult for users to set it up correctly. You want a dashboard that is amazing and customizable, giving you the ability to perform simple yet effective tasks at the click of a button.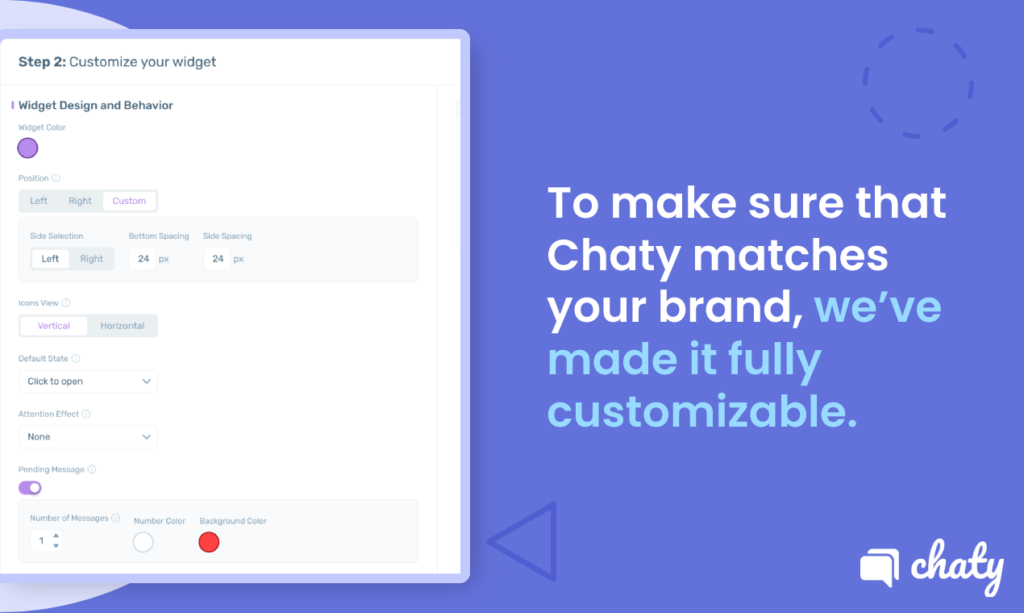 Make sure the chat box is fully customized to suit your brand identity better. Everything from the font, button placement, colors, and more can be edited in the dashboard.
Be warned that some other inferior applications do not include personalization options. We highly recommend staying away from these products if you want more for your customer.
Summary
Chat widgets are the best way for your customer to get acquainted with your business, and rightfully so. It gives the client a direct line of communication with your support agents and lets them feel like they are being taken care of.
The Chaty app is an excellent option if you are looking for something reliable and affordable at the same time. People love using this intuitive software for its user-friendly interface and easy embedded coding process for any website.
Remember that using a chat app will boost your customer retention and increase the trustworthiness of your website. Another great thing about adding a chat widget to your website is that it will help boost your SEO score.
A low SEO score is the downfall of many online businesses, so don't you think it is time to consider adding a chat app to your website?
Find a chat platform that provides various chat button features to build solid customer relationships that last a lifetime.