Although Intercom is a popular live chat app, most features focus on marketing and sales.
A communication platform with sales-based tools can be a game changer if you have an online store. However, there's something you can't forget when defining your business strategy: customer support.
Keeping your customers happy is crucial if your business grows or survives. Therefore, you need a chat support solution.
When considering their communication needs, people often think about Intercom. However, there are some cheaper alternatives with features to optimize your customer service. Find a list of the best ones below!
What is Intercom?
Created as a multi-feature communication platform, Intercom is an "engagement OS" that works as an open channel between businesses and their customers.
Intercom first enabled users to add a website chat button, but it has evolved to add many other marketing-related tools.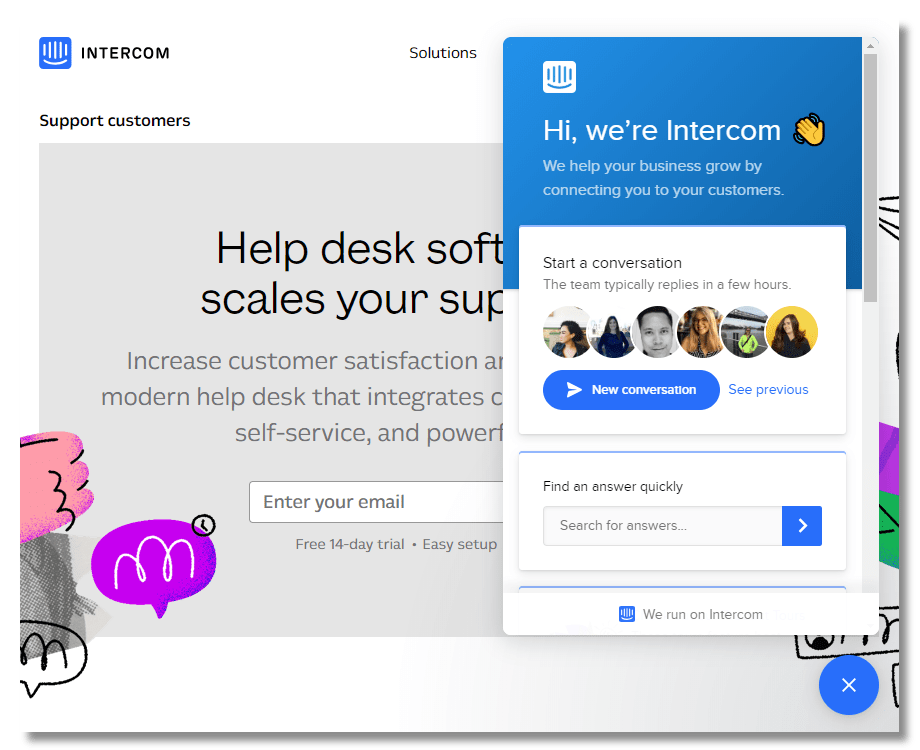 This chat solution facilitates personal communication with customers through conversational support, targeted content, and behavior-based messaging. That's what you often need in terms of customer support.
However, the platform now includes features for knowing who is using your products, converting visitors into leads, filtering and segmenting customers, providing self-service support, and more.
Intercom promises many benefits to sales, marketing, support, customer success, and product development teams. Therefore, it's a good choice if you want an all-in-one solution.
However, many of these features will be useless if you only need a chat plugin. Also, Intercom is more expensive than other alternatives you can find on the market, with prices starting at $65 per month.
Top 7 Best Intercom Alternatives in 2022
If you need a click-to-call solution or add a chat button to your website but want to save money, consider some of these Intercom alternatives!
Chatway
Chatway presents itself as an impressive alternative to Intercom's live chat, outshining the competition with its rich array of features designed to facilitate seamless and effortless customer service interactions. Its contemporary and intuitive live chat interface ensures user-friendliness from the moment it's deployed.
Empowering support agents, Chatway allows for the transformation of each customer interaction into a uniquely personalized experience. As inquiries are received, support agents promptly engage with tailored responses that address individual needs, fostering a sense of attentiveness and care.
Tailoring the support experience further, Chatway provides support agents the flexibility to appropriately route customer interactions to specialized departments—be it sales, technical, or product-related. This ensures that customers receive precise and expert assistance for their specific queries. Furthermore, the platform enables support agents to enhance communication by effortlessly sharing images and files, aiding in the visual representation and resolution of issues.
Key Features
Real-time messaging for quick responses
Customizable chat widgets that give a professional look
Chat transcripts that offer a context-rich support experience
Canned responses for providing consistent answers and speeding up resolution
File and image sharing
Agent availability status that sets clear expectations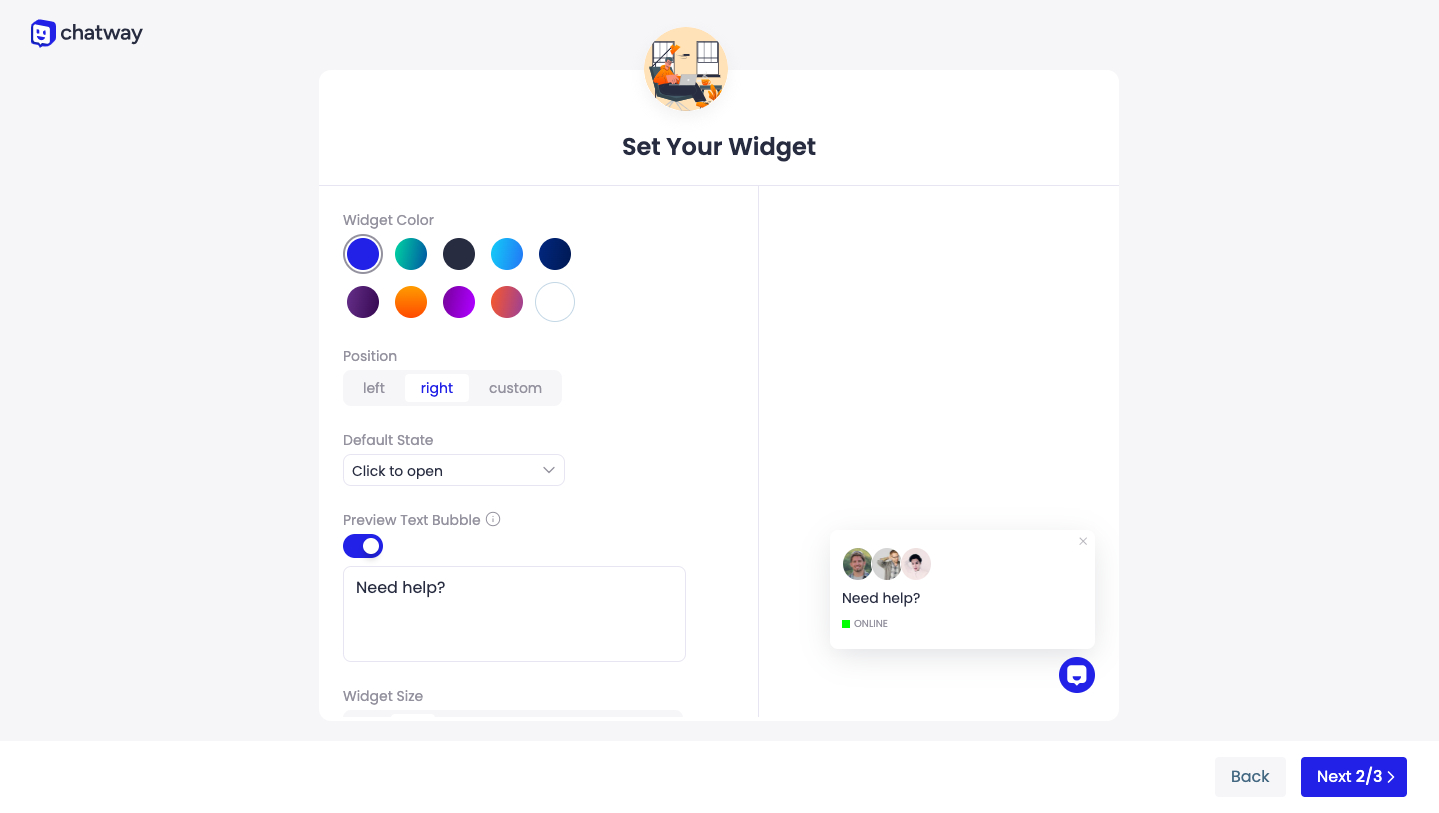 Pricing: Chatway is available for free. Try it here!
It's a tool that offers communication solutions to individuals, online stores, and companies. Those who use Chaty can enjoy an innovative chat plugin adapted to the latest technologies to reach the new generation's customers.
Overview
Chaty adds a chat button to your website to connect with existing and potential customers over their favorite messaging apps. It supports the most popular social media platforms today, including WhatsApp, Skype, Facebook, Messenger, Telegram, Instagram, TikTok, Twitter, and more!
With Chaty, you can add a WhatsApp chat button to connect with people through this popular free mobile app. This way, besides providing support, you can build lasting relationships with your customers, significantly benefiting your business.
Also, Chaty is customizable. This chat plugin allows you to tweak a few things to make your live chat match your brand. Thus, you can change the theme color, button icons, fonts, button placement, and more.
Features
These are some of the features you can leverage if you use Chaty:
Connection to 20+ social media platforms
Custom channels support
Independent live chat app for frictionless communication with customers
Customizable UI
Improved support service through chat channels
Triggers and Targeting
Customizable WhatsApp preset messages
Lightweight chat plugin with the best coding convention
Integration with Google Analytics to track clicks, traffic sources, and more
Why Use Chaty?
Chaty is the ultimate solution to bring the best social media platforms to your business or website.
In addition to offering various features, this tool is available at a low cost, and you don't need to spend much effort to use it.
Over 180,000 websites around the world are using Chaty right now. Furthermore, based on 800+ reviews, it has a 5-star average rating, proving that it is reliable and practical!
Pricing
Chaty offers a free trial with multiple features, including widget customization, unlimited and custom channels, triggers, and more.
You can purchase one of their three paid packages if you want to use more tools, such as custom CSS, data scheduling, or Google Analytics. Prices start at $9 per month.
Chatango
If you are looking for an Intercom alternative for live group chats, Chatango is an option you should consider.
This chat app works with almost any website and offers businesses or individuals customizable chat boxes that can be monitored and moderated in only minutes.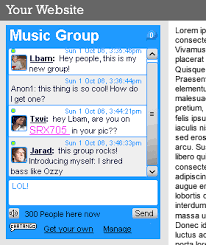 With Chatango, you can host live events for live conversations with your customers, create and keep a community online, turn your site into a social hub, and more. Check out its features below!
Features
Community moderation and self-moderation
Optional anonymity
Available in different fully customizable form factors, such as box, tab formats, and compact tricker
Compatibility with various devices, including smartphones, tablets, and computers
Message rate limit per user to handle spikes in traffic and keep large groups readable
Pricing
Chatango is available at no cost!
Trengo
It's an omnichannel communication platform that combines all messages from email, social media, SMS, and other channels into a single central hub.
Trengo was designed to make it easier for businesses to communicate with their clients and offer innovative communication solutions to improve customer support.
With this tool, you can have all your messages from multiple channels in a shared view.
Choose your customers' favorite channels to stay in touch with them, including email, WhatsApp Business, Live Chat, Instagram, and more!
Trengo has a portfolio of top clients ranging from Google to Capterra. Some of its features are listed below.
Features
Over 20 integrations
Omnichannel inbox
World-class support
Automation options to create workflows
Automatic responses
Chatbots without code
Automation of conversations across all channels
Automation of repetitive tasks
Pricing
Trengo has a free 14-day trial with limited features. If you want to test its full potential, you can purchase its annual packages. Prices start at $18 per month.
Tidio
Another chat app created to improve companies' customer service includes features to increase sales.
Tidio combines live chat with chatbot tools to help you provide your clients with the necessary solutions while boosting your sales and growing your client base.
Using this chat plugin, you can collect data about your customers' needs and expectations while getting closer to your audience.
Tidio is one of the most popular chat support solutions that you can find today. Among its clients, there are WordPress, Shopify, and GetApp.
Features
All Tidio users enjoy the following features:
Email inbox integration
Visitor List live preview
Shared inbox integration
Multi-channel tool
AI Response Bots
Ticketing
Integrations with social media platforms and apps, such as Messenger, Instagram, and more
Pricing
Another of Tidio's highlights is that it offers a free trial with live chat conversations limited to 60 users. You can also purchase its paid plans starting at $15.83 per month.
Zendesk Chat
Are you looking for a communication tool focused on business growth? If so, Zendesk Chat is what you need.
It's a live chat software with everything you need to reach your customers instantly through their favorite channels, including social media platforms, mobile apps, and more!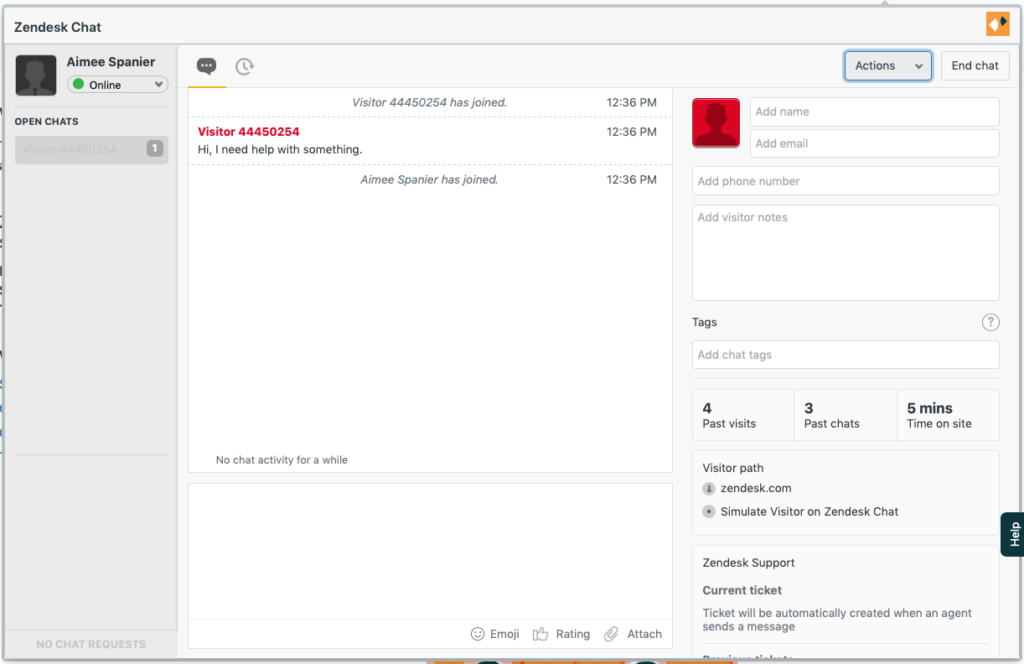 Also, the Zendesk chat plugin can help you increase your sales by proactively engaging your site's visitors.
Features
Zendesk Chat's most important features are:
Real-time conversations with proactive engagement
Metrics and analytics to measure success or identify issues
Quality support
Workflow management features, including chat routing and operating hours
Customizable website chat button
Mobile chat widget
Compatibility with all laptops and mobile platforms
Pricing
Zendesk Chat is available in three packages with prices starting at $49. Before investing, you can also use its free trials to learn about its features.
MobileMonkey
Do you want an innovative tool to improve your marketing strategy? You should consider MobileMonkey.
It's a communication solution with marketing-focused features that can help you automate outbound sales outreach and collect data to create demand.
In other words, MobileMonkey is the perfect ally to stay in touch with your audience while boosting your marketing efforts. Check out some of its features below!
Features
Dozens of messaging tools
Drip campaigns creation
Alerts when hot leads are on your website
Automated messaging
Grow email lists
Integration with other business systems
Personalized interactive chatbots
Pricing
MobileMonkey offers a free chat plugin for websites, but you can purchase their paid plans if you want to use their marketing tools.
Crisp
Another communication tool that you should check out if you want to add a chat button to your website is Crisp.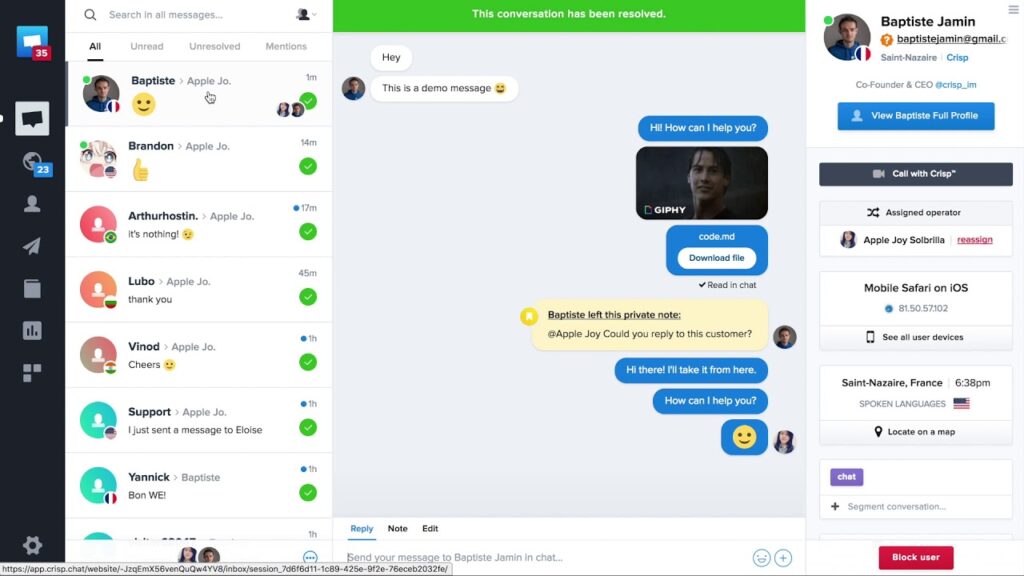 It's an all-in-one business messaging platform that allows you to gather teams and conversations in one place.
Crisp has a shared inbox that centralizes conversations and enables companies to keep in touch with their customers through their favorite communication channels. However, it provides more than customer support.
This tool offers users cross-channel experiences through modern messaging while helping businesses automate their sales pipeline through bots and retarget customers through emails and in-app messages.
At least 400,000 brands use Crisp now, including Boston University, CallHippo, and ClearTax.
Features
Crisp's most popular features are:
Live chat to engage websites' visitors
CRM to improve leads
Chatbots for automated conversations
Ticket system
Shared inbox
Knowledge base
Email and in-app campaigns
Status pages to monitor issues
Pricing
Crisp is available in a free trial version and in three paid packages. Prices start at $15 per month!
Good read: Intercom vs. Crisp: Which is Better?
Final Thoughts
As you can see, there are several Intercom alternatives worth checking out. They all offer many benefits to businesses and individuals.
However, Chaty takes first place among them for several reasons. Besides connecting with 20+ social media platforms, it has several tools to help you grow your business and boost your sales.
Furthermore, Chaty is available at various prices depending on your needs and requirements. It's the best budget-friendly chat app you'll find! Try it out for yourself.