HelpCrunch and MobileMonkey are two popular solutions within the business world. These tools are often compared, even though they have slightly different purposes.
Here's a quick comparison between HelpCrunch and MobileMonkey. We hope it helps you understand the variations to choose the right software for your brand.
Let's take a closer look at both products:
What is MobileMonkey?
MobileMonkey is the leading Omnichat platform in the world. Businesses can connect with their customers through WhatsApp, Instagram, Facebook Messenger, SMS, and web chat. 
It offers many exciting features, such as a chatbot builder that lets businesses reuse their marketing materials on all chat platforms. You also get a unified chat inbox with MobileMonkey, which helps you manage inbound and outbound conversations from one centralized hub.
Overall, the Omnichat feature allows instant text and chat with fans, offering opportunities to customers and potential clients. Automation and integration are a huge part of this. Filter conversations, assign people to a specific agent, and follow everything that happens. 
You're sure to appreciate the drag-and-drop editors to help you create and launch your message campaigns within minutes. Plus, there's no experience needed to use the tool.
What is HelpCrunch?
HelpCrunch is a comprehensive and interactive platform that helps you create messages and notifications through email, SMS, and live chat. With it, you can add your branding through colored themes, chat button types, customized CSS styles, representative avatars, automated greetings, and logos. 
Promote your visitor's journey with helpful tools, such as pop-ups, automated alerts, email marketing, a helpdesk, a knowledge base, and mobile apps.
A Comparison of MobileMonkey vs. HelpCrunch
Now that you know what HelpCrunch and MobileMonkey are, it's essential to see how they compare. 
We've focused on different points to compare these tools.
Check out the table below to get a quick comparison.
A more in-depth analysis follows in the rest of the article:
| | | |
| --- | --- | --- |
| | MobileMonkey | HelpCrunch |
| Features: | Pop-up chats | Alerts/Escalation |
| | Notifications | Offline forms |
| | Targeted emails | Live chat |
| | In-app Messaging | Geotargeting |
| | Co-Browsing | Full-text search |
| | Customization | Email management |
| | Lead Development | Decision support |
| | Knowledge Base | Customizable branding |
| | Team Inbox | Content management |
| | Sequencing | Collaboration tools |
| | AI | Cataloging and Categorization |
| | Customer Profiles | Canned Responses |
| | Customer Targeting | Call Center Management |
| | Email Automation and Tracking | Appointment Management |
| Free Trial | N/A | Yes; 14 days |
| Pricing | $19/month | $15/month |
MobileMonkey Messaging vs. HelpCrunch Messaging
MobileMonkey allows you to make broadcasts and sequences. Plus, you can create conditions within the dialogs to build personalized chat experiences for all users.
Like other chatbot platforms, it works in all languages. However, it's not as easy to translate the chatbots to others because you must manually copy/paste everything. 
HelpCrunch is similar because it offers tons of live chat features. You can drive sales, build leads, and offer customer support quickly. This software lets you pre-categorize leads by collecting contact information beforehand.
You may also boost agent efficiency with tools such as Merging Conversations, Assigning, Tagging, and Saved Responses.
Email marketing is another excellent choice on HelpCrunch.
You can share your email newsletters, promote specials to the right targeted audience, and collect feedback with surveys. It offers pre-designed templates and can help you automate the triggers for targeting.
Customer Support Comparison for MobileMonkey vs. HelpCrunch
The goal of using live chat programs is to make it easier for the customer service team to provide the best support to your customers and potential ones. Let's look at each option to see how they're different for this particular use case:
MobileMonkey uses widgets to offer many elements when building a chatbot. Forms allow you to add a form in the chatbot, which is asked in a more conversational tone. You have these options:
Delays
Video
Images
Attachments
Emojis
Gallery (as a horizontal list)
Free text input
Buttons
Quick replies
Persistent menu
Phone number validation
Email validation
HelpCrunch also offers many ways to provide customer support to your clients. However, it doesn't feature its chatbot, which is crucial to take the pressure off your live chat agents. People might not get answers as quickly as they want.
Generally, the help desk isn't as advanced as MobileMonkey's. That means potential customers searching for answers might not get what they need. They must then contact your customer support team, which is a hassle for some. 
Marketing Features Comparison for MobileMonkey vs. HelpCrunch
MobileMonkey does exceptionally well for marketing, including every feature you could want. The website widget is what makes this brand unique. It's called the Omnichat widget, and it can do these things:
If the user logs into Facebook Messenger, it shows that type of widget.
When a user isn't logged into Messenger, it shows the native website widget.
It's beneficial, and other chatbot platforms don't offer it. Plus, you can customize the native widget to match your website's branding! Also, it's possible to decide when to show the widget.
With MobileMonkey, you get
Custom URLs for the chatbot
Button creator
Facebook comments auto-reply
One-time notifications
Facebook Ads
Landing pages
Native website widget
Facebook widget
HelpCrunch is a little different and only offers email marketing solutions. With this feature, you can promote your one-time specials, sending them to the right audience. Create email newsletters and share them, and use surveys to get feedback.
However, HelpCrunch doesn't offer a chatbot, which is most entrepreneurs' primary goal. Therefore, you must use a third-party integration that lacks in this area.
Analytics Features Comparison for MobileMonkey vs. HelpCrunch
You can use many HelpCrunch analytical tools to check your company's performance and draw statistics based on accurate data. This platform uses reports to help you track customer satisfaction. Therefore, you may determine which articles in the knowledge base should be updated and which questions haven't been answered.
The analytic tool also helps you examine each agent's performance based on various metrics. These include average conversation time and the number of closed conversations.
MobileMonkey also offers good analytics. You get a dashboard with important information, such as unanswered questions, triggered keywords, crucial dialogs, daily sessions and contacts, and total contacts.
One of the essential things here is that you're allowed to analyze the questions that weren't answered by the chat. That means you can improve them in the future to help potential clients. 
You can also see conversion rates, open rates, sent messages, and user input.
Pricing Comparison for MobileMonkey vs. HelpCrunch
MobileMonkey has a forever-free plan, which creates a basic Instagram chatbot. This helps you test the features to see if it's right for you. However, you keep the company's branding and can only have 250 contacts monthly. Instachamp Platinum is the next plan, which costs $19.95 a month. You have options for moving to other channels, but you need the most advanced plan.
HelpCrunch doesn't offer a free plan. However, it starts at $15 per month for Chat Standard. You get a single chat widget to set up on as many apps/domains as you want.
There are also three pop-ups and automated messages. The price goes higher based on how many widgets, pop ups, and auto messages you require. Plus, advanced customization is available.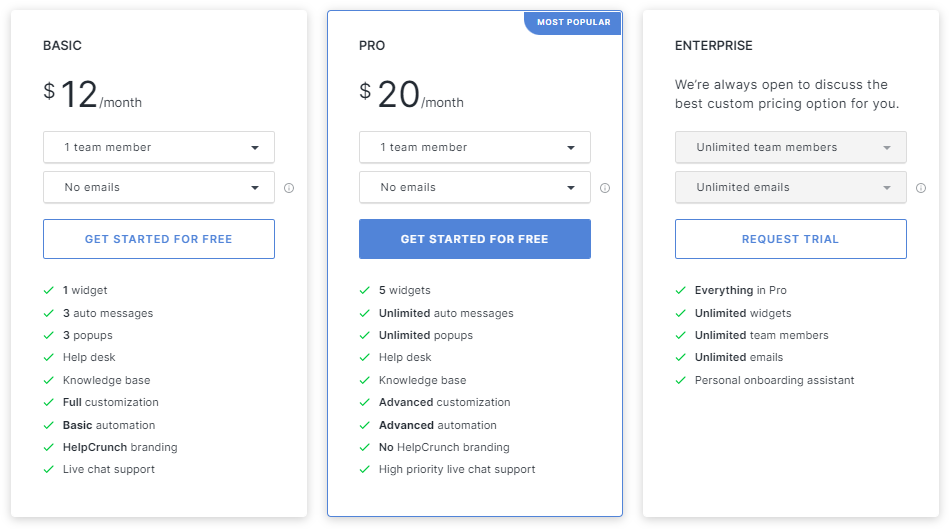 With the above-detailed comparison, what do you think suits you best? We're excited for you to know! However, if you're still looking for a better chat alternative, we have a great suggestion!
Why Don't You Give Chaty a Try?
Chaty is a simple and convenient messenger that helps you chat with customers on their messaging apps. Show chat buttons on your website to connect with them wherever they are. It works on Telegram, Facebook Messenger, WhatsApp, Viber, Skype, and many others.
There's a free version, and the prices are much lower than HelpCrunch and MobileMonkey. Plus, you always get widget customization and unlimited channels/widgets. Give it a try today to see what it can do!