Website live chat apps are fantastic tools that help you upgrade your platform's customer service. It consists of a real-time tool that allows you to answer the questions of anyone who visits your website.
However, there are several live chat apps on the market, and if you're using REVE Chat, we're going to go through some of the best alternatives we could find to broaden your options.
What Makes a Great Live Chat App?
A good live chat app has several features that make sure your clients stay as satisfied as possible. These tools help you turn leads into sales by answering their questions and helping them find the service they're looking for.
Nonetheless, to do this, your live chat app must have the following features.
It must be customizable to fit your desired color palette and branding, as it should blend in nicely with the rest of your website.
The app's code must be compatible with your website's CMS to ensure it gets adequately integrated.
It must provide lead-generating features, such as compiling your visitors' emails and adding them to your CRM.
An opener or trigger option is also indispensable, as this will immediately open the live chat based on the visitor's movements.
Finally, it must be able to create an artificial intelligence (AI) chatbot with automatic responses to frequently asked questions.
What is REVE chat? 
REVE Chat is a multi-channel live chat app that's extremely popular among online businesses for allowing them to provide good customer service and keep their visitors engaged. Moreover, it has helped hundreds of companies to boost their sales, and it has several exciting features that allow its users to customize the app however they prefer.
Some of the things you can do with REVEchat are the following:
Obtain valuable data about your users' behavior.
Provide immediate assistance to your website's visitors and increase the number of sales.
Manage several customers at the same time.
Receive direct feedback from your customers through the live chat feature.
If you're not satisfied with REVE Chat, here are amazing live chat alternatives to choose from.
5 Best REVE Chat Alternatives
Chaty is a live chat app that allows people to integrate a chat button to their websites, which connects with their favorite messaging apps, such as Whatsapp, Telegram, or Skype.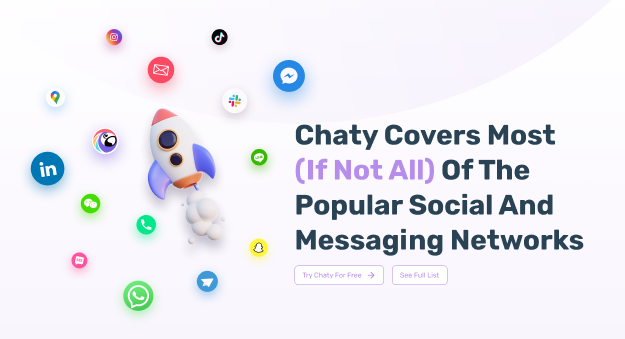 Main Features
20+ social platforms. It is compatible with more than 20+ social platforms to make it easier to manage.
Custom channels. If you want to communicate through a custom channel that isn't supported by Chaty, you can add as many additional channels as you want by just pressing a button.
Broad customization options. It is entirely customizable, as you can change all the colors and arrangement of the app, which ensures a fantastic user experience that blends in perfectly with your website.
WhatsApp preset messages. You can also program preset messages on Whatsapp so your users can get an immediate response.
Triggers and targeting rules. Chaty features several triggers and targeting features that allow you to set automatic chat windows depending on how your users interact with your website.
Compatibility. It is incredibly lightweight, and it is compatible with virtually all websites, which allows you to install it in only a few minutes. This is done by setting up a Whatsapp WordPress plugin on your desired website.
Google analytics integration. Chaty is completely compatible with Google apps, which allows you to track its data through Google Analytics.
Prices
This platform's free version allows you to get all of its basic features, and it supports up to 500 visitors per month. However, if this isn't enough for you, you can check out its other tiers.
The Basic plan gives you access to all of Chaty's features, and it supports up to 10k visitors per month. You can get it for only $9 per month.
However, if you have a bigger website, you can get the Pro plan that supports up to 50k visitors, and it costs $15 per month.
Finally, the Growth plan is perfect for big companies, as it supports up to 150k visitors and costs $29 per month.
Pros
Compatible with over 20 social platforms
It can be installed in about five minutes
You can customize its appearance
Custom plans can be created
It can track data through Google Analytics
Cons
Its free plan doesn't have all of its features
2. Intercom Chat
Intercom Chat is a conversational platform popular among website owners because it allows you to create your own chatbots that cater to your specific needs and tighten your relationship with your users.
Main Features
Team Inbox helps you answer your users' questions through a collaborative inbox in which several members of your team participate.
Its outbound messages make your users focus on the important aspects of your website, which prevents them from not taking action.
You can create a knowledge base for your customers to check whenever they need it.
It also features product tours that explain any novelty added to your website.
Prices
Initially, it features three pricing tiers focused on its three main products: Support, Engage, and Convert. However, its prices are individually calculated for each client, so we can't provide an average estimate. Still, it features a "Starter" package for small businesses, which costs $74 per month, which shows that this is a costly platform.
Pros
Highly customizable Shopify chat plugin for website
Features automatic responses
Extremely popular among users
Cons
High prices
Complicated user experience
It is best for big websites
3. MobileMonkey
MobileMonkey is a social media messaging tool that's meant to catch leads and convert website visitors into sales. It is specifically targeted toward marketers and agencies, but anyone can use this chatbot app to upgrade the quality of their customer service by installing a messenger plugin for websites on their platforms. 
Main Features
Chatbot Builder. This feature lets you create your own chatbots through its intuitive and code-free bot builder area.
Templates. You don't have to build everything from scratch, as this platform features several templates you can use.
Chat Blaster. This clever marketing feature allows you to talk to several clients simultaneously.
Drip Campaign. Through this feature, you can program specific messages to be delivered at certain times to indicate to your users what they should do.
Growth Tools. These are several lead-magnet tools that you can use on all your favorite social media platforms.
Prices
This platform features a free trial and three pricing tiers. One is created for agencies, another for individual marketers, and the final one is designed for brands and creators. However, its prices are customized to suit each customer's needs.
Pros
It was created for marketers and agencies
You can create your bots by following a template
It is suitable for small businesses
Cons
Most of its features are only compatible with Facebook apps
Its packages tend to be overpriced
4. Tidio
Tidio is an incredible chat for websites. It allows you to convert more leads into sales by providing a live chat widget and making your business available 24/7 through AI bots that answer your users' questions in seconds.
Main Features
Live Chat. This WordPress chat plugin allows you to interact with your users 24/7.
ChatBots. These bots can be programmed to interact with your users and answer their questions.
Reporting & Analytics. This is a crucial feature, as it allows you to know how your users interact with your website and make better decisions.
Email Campaigns. Tidio allows you to create your own email marketing campaigns and distribute them to your contacts.
Integrations. This platform is compatible with over 17 network management software for you to be more comfortable when using it.
Prices
You can try out Tidio's free chatting plan, but you should buy one of its paid plans if you want something more advanced. Furthermore, you can get its cheaper plan for $32 per month, its most popular plan for $65, or its most expensive plan for $332.
Pros
Its chatbots are easy to build
User-friendly interface
You can choose the features you want
Cons
It can have several bugs
The reports aren't too extensive
Its integrations are pretty limited
5. HubSpot Live Chat
HubSpot offers several features to its users, and one of them is its free chat on website feature, which allows you to provide better customer service to your users and answer their questions in real-time.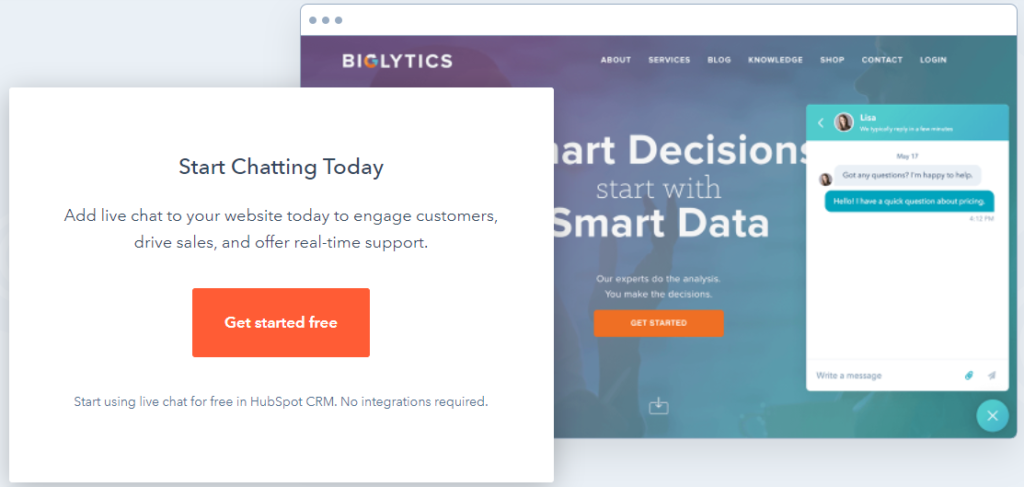 Main Features
Manage Contacts. HubSpot allows you to completely control your CRM by adding and removing as many contacts as you wish.
Chat Widget. This live chat feature is added to any website you desire to allow its users to contact you 24/7.
Chat Transcripts. The chatbot can remember previous conversations with your clients, so they feel more connected to your brand.
Prices
HubSpot's pricing model is highly convenient, as it allows you to have several features for free, including its live chat gadget. However, you can choose to add premium features and upgrades for $50 per month.
Pros
Connect directly with your users and leads
Convert users more efficiently
Check out important insights and data
Cons
It has limited features
Several users claim to experience bugs
Bottom Line
In summary, there are several fantastic REVE Chat alternatives for your website. However, we highly encourage you to check out Chaty, our favorite chat plugin for websites. Upgrade your customer service today and grow your business with us.