Scaling your customer service business with a chat widget is one of the best ways to get the extra revenue you deserve. Many applications can be used to manage your client support department.
You need software that can help you live chat with your client so that you can resolve their problems in real-time. With live chat technology, businesses worldwide have started to deal with customer relations in a different way.
One software that can help you achieve a live chat option is Sirena. It is built on an intuitive backend with many features that allow you to connect to clients through multiple channels.
However, Sirena has a few issues, namely pricing and customer service issues, leading to the emergence of other better alternative live chat software.
This piece discusses the top four Sirena alternatives and highlights their features. Without further ado, let's begin this article.
What is Sirena live chat app?
Sirena is a website plugin that lets you carry out customer service tasks and sell more via Facebook Messenger, Instagram, and WhatsApp. The sad thing is that the plugin is only limited to these platforms and lacks compatibility with other service providers.
However, it gives you a centralized location to perform all your client relations duties. Over 1200 organizations use Sirena for their communications, including Wall Street English, DataSoft, La Positiva Vida.
Sirena comes with a seven-day free trial and then retails the Basic package for $99 per month and the Pro version for $299. That is quite a hefty fee to pay for such limited capabilities, so let us look at Sirena alternatives that are more affordable.
Best Sirena Live Chat Alternatives
Chaty live chat app is an intuitively designed live chat system that can be added to any website. You can use the application to speak to your client through various channels and give them answers to their questions in real-time.
This website live chat tool is compatible with various messaging services and social media platforms, including Facebook, Instagram, WhatsApp, Viber, etc. You can customize each element of the chat button to suit your brand identity fully.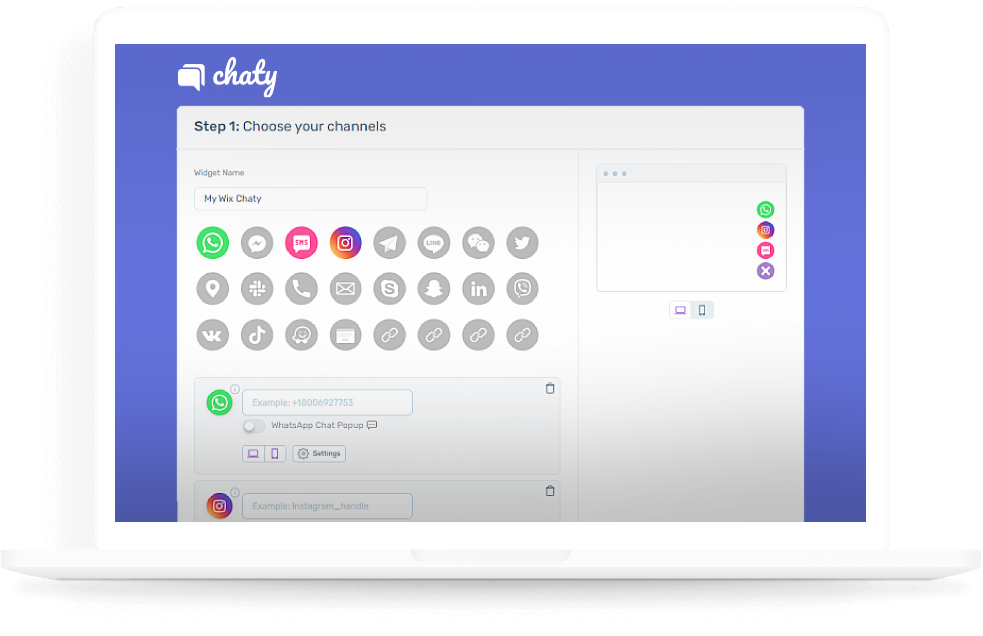 Overall this is an excellent platform that can help you make the most out of your customer service business.
Pricing
Free – $0 per month – up to 500 visitors every 30 days
Basic – $9 per month – up to 10,000 visitors per month
Pro – $15 per month – up to 50,000 visitors every 30 days
Growth – $29 per month up to 150,000 visitors per month
What's great about the pricing structure of Chaty is that as your business grows, you can upgrade your account, which helps you scale your company effectively and keeps running costs down.
Pros
Affordable pricing
Intuitive, user-friendly interface
20+ compatible social media platforms and custom channels
Diverse customization options
Seamless integration to any website
Fast installation
Customizable WhatsApp preset messages
Triggers and Targeting rules for more effective conversions
Integration with Google Analytics
Cons
2. ManyChat
ManyChat makes chat marketing easy and allows you to automate interactive conversation in SMS, Facebook Messenger, and Instagram Direct Message to grow your online brand. The application comes with a free trial period, making it perfect if you want to test out the service before investing in it.
This software can drive sales and get more customers through clever prospect engagement tools. There are over 1 billion conversations powered each year by ManyChat, and rightfully so. The company has been used in over 190 countries worldwide and is a more prominent Sirena alternative.
Pricing
Free – $0 per month – Perfect for those getting started with chat marketing
Pro -$15 per month – Ideal if you want to grow your business and gain access to the advanced features of ManyChat
With the Free version of this software, you only get Facebook, Instagram, and WhatsApp messaging options. It's good to note that the WhatsApp messaging solutions are still in the beta phase at the time of writing.
Pros
Free account for small business
Affordable – $15 per month fee for easy social media chat marketing
Link with the primary platforms that people use
Cons
Minimal integrations options
Slow customer service
3. Pure Chat
Pure Chat is a live chat software package for businesses of all sizes. It offers a free 30-day trial to get acquainted with its features.
The service allows you to customize the live chat button to become an extension of your brand. You will have complete control over the chat widget functions and looks on mobile devices and desktops.
A convenient editor built into Pure Chat has little to no learning curve, meaning that even if you aren't technologically inclined, it will be easy to operate. Another cool thing about Pure Chat is that there is a 30 money-back guarantee in case you don't enjoy using its plugin.
With a host of different integrations, including Mailchimp, Salesforce, and Zoho, you can use Pure Chat's features to grow your customer service business.
Pricing
Growth – $39 per month paid annually – Maximum one website
Pro – $79 per month paid yearly – Unlimited websites
The Growth package caters to up to four users and provides the team with 100 SMS notifications, while the Pro package allows you to use up to ten operators and send 1,000 SMS messages.
Additionally, if you want to add more operators, the Growth and Pro package costs $13 and $8.
4. Formilla Live Chat
Formilla is a real-time live chat WordPress website plugin that offers accessible and premium services to your website. It installs instantly and has an innovative, user-friendly dashboard that you can use to design your live chat button and box.
What's great about the application is that you can use it on an Android device, iPad, or mobile phone. All you need to do is install the app on your device, and you are ready to help your customers whenever you are on the move.
There is also real-time visitor monitoring which can help you track where users are entering and exiting your site. It is a powerful customer messaging software that makes a good Sirena alternative; the only problem is the pricing.
Pricing
Premium – 24.99 per month – Two agents and limited features
Professional $49.99 – Two agents and the ability to install on multiple websites
Growth – $69 – Two agents – real-time monitors and unlimited app messages
The pricing structure of Formilla is pretty aggressive, and it may be more suitable for larger enterprises that need to support their client base. One of the downsides to the pricing is that all packages only support two agents.
If you wish to add more operators to the service, you will need to pay an additional fee, which could amount to quite a bit if you are a larger company.
Pros
Seamless WordPress integration
Real-time visitor monitoring on the Growth package
You can add chat a bot if you want
Cons
Conclusion
Out of all the applications in this article, Chaty is the one that stands out the most. This WhatsApp WordPress plugin has been used by thousands of people worldwide to grow their businesses.
Don't you think it's time you give it a try? What are you waiting for? Check out the free version of the Chaty app and watch your business grow.