A chat plugin for a website can be a critical part of the strategy to make your webpage more responsive and engaging for your visitors. Typically, implementing one requires that you retain the services of an underlying platform.
Whether it's a WordPress chat plugin, Shopify chat plugin, or some other chat widget on a custom site, having these buttons can do wonders for your numbers and customer relationships.
Tidio and LiveChat are two options you may consider for this service, and both have created satisfied customers. The question, however, is, how do they stack up against each other?
Here's a look at several elements to help settle any ambiguity.
What is Tidio?
Tidio is a chat plugin provider that helps create value through a series of well-designed elements combined into a streamlined tool. A couple of the big inclusions include live chat and chatbot functionality, which both drive engagement with your website visitors.
The chatbot is supported by included AI templates, as well as the ability to customize your own workflow to create unattended yet personable communication.
With a host of integrations and broad communication channel support, you get the ability to use a single point of contact to answer customer queries and tackle concerns, regardless of the platform that site visitors feel comfortable communicating on.
The inclusion of custom views and performance monitoring metrics means qualifying and routing critical queries and adjusting your communication strategy in real-time.
What is LiveChat?
LiveChat, while offering the typical chat widget functionality, aims to be a part of your strategic goals. Its chat-based offerings can be segmented into chat tools, customer engagement, chat widget customization, reports and analytics, and security.
While its base offering is very well designed, the true strength of LiveChat comes out in its integration capabilities. It has over 200 of these, and each one sees the possibilities expand greatly.
As you would expect, you get the ability to be everywhere your customers are, while only having a single dashboard to manage. One of the key elements that make LiveChat attractive is its ability to support multiple websites, allowing control and oversight from a single account.
With incoming message sneak peeks, the ability to view customer details at the click of a button, team performance monitoring, and a broad base of different channels, the platform demonstrates an incredibly diverse approach to driving engagement.
LiveChat vs Tidio: A Comparison
Though LiveChat and Tidio operate within a similar industry, there are some key differences in the way both platforms approach their customer offerings.
Now that you understand a bit about both, it's time to dive a little deeper into each comparison element, allowing you to see how each stacks up against the other at different levels.
Features
The features LiveChat has on offer are as follows:
Customer service analytics
Customer support
E-mail management
Live chat
Chatbot
Escalation and alerts
Call center management
Knowledge base management
Geotargeting
Feedback management
Multi-channel management
White label implementation
Categorization of queries
Screen sharing
Self-service portal
Social media integration
Third-party integrations
Performance metrics
Survey creation and publishing
Routing and transfers
Queue management
Tidio offers the following set of features to its customers:
Chatbot
Live chat
Geotargeting
Canned responses
Artificial intelligence/machine learning
Escalation and alerts
Customer support
CRM
White label implementation
E-mail management
Complaint monitoring
Automated routing and responses
Query suggestions
Third-party integrations
Virtual assistant
Multi-language support
Lead capture and qualification
Natural language processing
Multi-channel management
Both platforms have a ton of tremendous features to offer their subscribers. In comparing the two, it's hard to deny that Tidio outperforms LiveChat where base functionality is concerned.
The areas that contribute to this include support for multiple languages, machine learning capabilities, and query suggestions.
Nevertheless, LiveChat has an edge where third-party integrations are concerned since these allow for tremendous functionality expansion.
User Interface
Both Tidio and LiveChat get a lot of points for the considerations made in their user interface designs. This is especially true considering that both platforms have also included customizable controls.
Intuitiveness, color coordination, button locations, etc., were all expertly designed and placed. LiveChat, however, does get a slight edge for its consistent attention to modularity in its interface.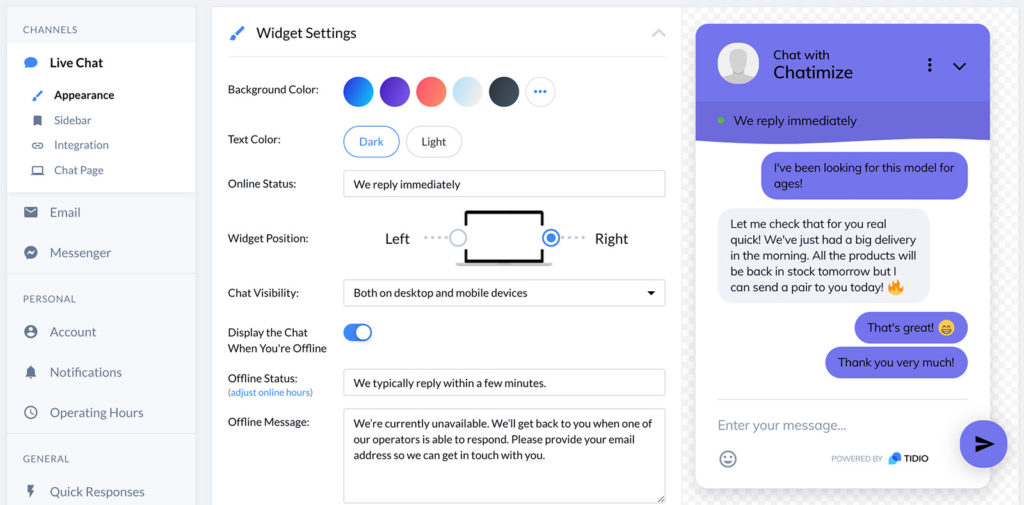 This is likely a side effect of designing the platform to support multiple integrations from a single interface. It means that related elements are logically grouped for easy access.
While Tidio does this to some extent, the LiveChat workflow feels slightly more fluid.
Pricing
Beginning with Tidio, there are three plans available. The first is the free tier, and it allows for up to three operators with basic features.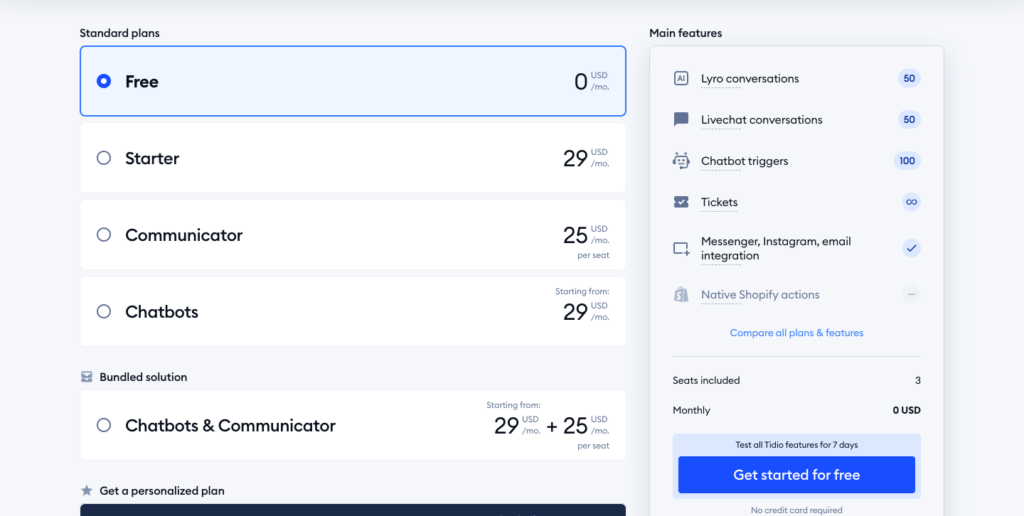 Next, there is the Starter plan. The cost here is $29 monthly. All free features are included, as well as chatbot-specific feature improvements such as automated templates, multiple active bots, visual chatbot editing, etc.
Next, there is the Communicator plan that goes for $25 monthly per seat and finally, there is the Chatbots subscription starts from $29 per month.
LiveChat doesn't have a free tier. Instead, it has a free trial, which is a 14-day test run of its Team tier subscription. Note that billing costs are per agent.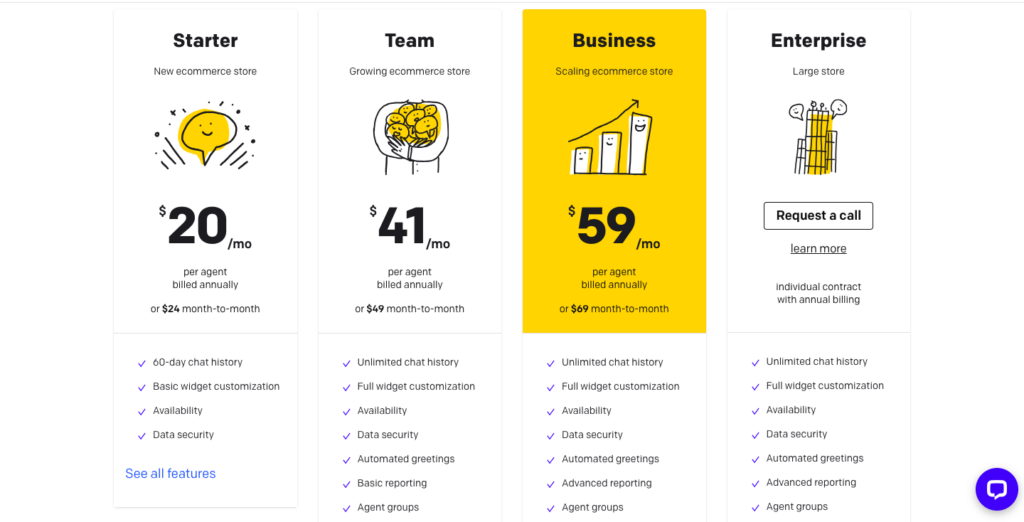 The first subscription is the Starter tier and costs $20 monthly. As you would expect, only basic features are offered here. One of the most crippling limitations is the fact that chat history is only maintained for 60 days.
Second, there's the Team tier which costs $41 with monthly billing, respectively. Starter tier offerings are improved, as there is now unlimited chat history, automated greetings, basic reporting, and more.
Next, there is the Business tier subscription, which costs $59 per month with monthly billing. Team tier offerings, such as the basic reporting, are improved, and new features, such as the work scheduler get added.
Finally, there is the Enterprise subscription, which is tailored, so you will need to request a call to get this individual contract subscription that only supports annual billing. New features are introduced, including a dedicated account manager, product training, HIPAA compliance, single sign-on, etc.
From a cost-effectiveness standpoint, Tidio wins, as its multi-seat licenses allow for cost savings when compared to the single-agent costing scheme that LiveChat uses for comparable tiers.
You would need to select the Starter plan from Live Chat and compare it with the Communication tier from Tidio for the former to be more cost-effective. At that point, however, you compromise on features.
Why Not Give Chaty a Try?
No one can take away from what LiveChat or Tidio has to offer. However, you may want to consider Chaty as your messenger WordPress plugin, WhatsApp WordPress plugin, or whatever other custom chat widget you may need.
Chaty supports over 20 different social platforms, offering you a convenient single point of management. Custom channels are also supported with the click of a button, allowing you to be reachable from just about anywhere.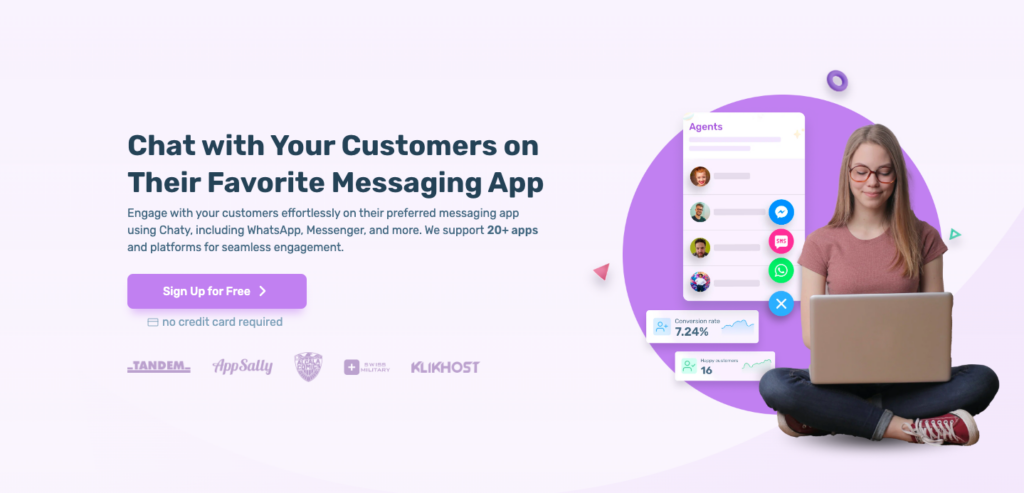 A white label implementation is present too, so the look and feel match your brand. With triggers and targeting features, you can train the plugin to yield the behavior you want.
As far as measuring performance against KPIs goes, Google Analytics tracking features are also available. Finally, you don't need to sacrifice your site performance, as the chat button plugin is incredibly lightweight.