Customer service software for digital companies is always evolving. Installing a chat app to connect with customers in real-time is one of the most popular methods of the decade so far.
Chat apps allow people to communicate with each other, no matter what part of the world they reside in.3 One of the most significant advantages of chat apps is that they enable real-time communication. In other words, users can send and receive messages instantly, allowing them to have a conversation in a manner similar to that of a face-to-face conversation.
Trengo is certainly one of the best-known names, but it is far from the only option. Here are five excellent Trengo Alternatives and similar website chat apps that could have the perfect solutions for your business.
What is Trengo?
First, let's take a quick look at what makes Trengo such a popular chat app. It is essentially an omnichannel for communication before website owners and their consumers.
Offering free chat on website pages directly via Messenger, WhatsApp, Instagram, and other leading channels is what helped Trengo become such a big name in the digital customer service industry.
It works on three price tiers from $18 to $40 and has flexible add-ons available for those who want them.
5 Best Trengo Alternatives and Similar Chat Apps
1. Chatway
Chatway rises as an exceptional alternative to Trengo, boasting an impressive array of features that redefine the art of customer engagement. As businesses strive to forge meaningful connections with their customers, Chatway stands out with its modern, user-friendly live chat interface that promises a hassle-free experience right from the start.
Within the heart of Chatway lies a transformative power – the ability of support agents to effortlessly turn every customer interaction into a personalized journey. When inquiries land, Chatway equips agents with the immediacy to respond swiftly, addressing specific needs with precision and empathy. This responsiveness forms the cornerstone of exceptional service, cultivating a sense of care and dedication that resonates deeply with customers.
Key Features
Real-time messaging
Customisable chat widget
Automated greetings
Multi-channel support
Chat routing through multiple agents
Pros
Free to use
Excellent customer service
Available on mobile and desktop
Pricing: Chatway is available for free. Try it here!
Chaty is a chat plugin for WordPress, Shopify, Ecwid, and many other website builders that focuses on creating an efficient, streamlined customer service that brings owners and consumers closer together.
It lets businesses add a free chatting element on the website for instant connection, service, and complaint resolution to their site. The Chaty software unites and manages all the most popular social platforms for free chatting.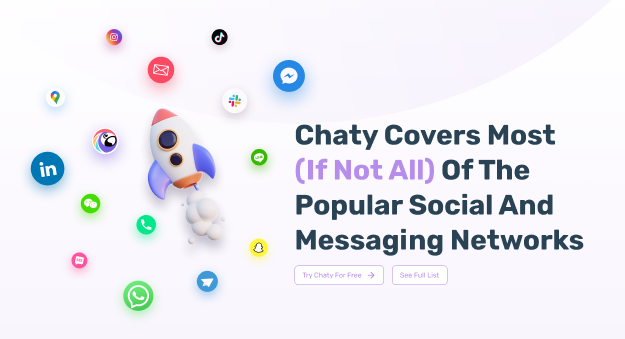 Chaty also provides customizable templates to help you merge your own brand and aesthetic with mainstream social platforms- keeping the focus on your product and the client experience.
Key Features
Seamless integration with any website
Automated messages and canned response
Widget customization
WhatsApp WordPress plugin
Messenger WordPress plugin
Multiple Agents per channel
Contact lead forms
A/B testing
Analytics
Triggers and targeting rules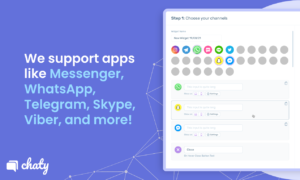 Pros and Cons
Pros
Around the clock customer support available for subscribers
Training materials are provided for new teams
Integrates with more than 20 leading free chat platforms and social media giants
Fully customizable
Cons
Limited monthly users on each plan
Complicated setup but well worth it in the long run
Pricing
Chaty has a free plan available for businesses that expect fewer than 500 website visitors per month. This is a great option for locally run operations or small freelance companies on a budget.
There are also three paid tiers. With each price increase, you gain access to more features. The tiers are:
Basic Plan for $9 per month: maximum 10,000 visitors.
Pro Plan for $15 per month: maximum 50,000 visitors.
Growth Plan for $29 per month: maximum 150,000 visitors.
Who Is It For?
Chaty is great for anyone who wants to engage with clients and boost their company's profile. It does everything from generating leads to saving customer relationships, all at the touch of a handy chat button.
Any business can benefit from Chaty. Whether you work in e-commerce, health care, education, or mechanics- it doesn't matter! Chaty has your- and your customer's- back.
It is also the best choice for WordPress users, thanks to the many smooth integrations on offer.
3. Intercom
Intercom is a premium blend of AI technology, human-based customer engagement, and advanced data tracking. It combines automated messaging services with tailored communications to take a company's people engagement to the next level.
Key Features
Live chat plugin for website
Shopify chat plugin
Help desk feature
ChatBot automation
Data tracking and management
Pros and Cons
Pros
Excellent customer service
Many strong integrations with essential sites (more than 300)
Quick and easy access to data
User-friendly interface
Cons
Some users complain about hidden costs
The help desk feature is not very flexible or customizable
Pricing
Intercom's pricing is more complicated than some similar apps. The idea is to provide a highly professional service that tailors to each unique business. Because of this, Intercom offers memberships and costs on an individual quote basis.
The more agents that need the use of the program, the higher the price. Additionally, how many monthly consumers you expect is taken into account. There is also a $65 a month set plan for eligible startup companies.
Who Is It For?
Intercom takes customer data and service seriously, so it is best suited to operations striving for excellence. E-commerce companies with large-scale operations are in good hands with intercom.
4. Callbell
Callbell is all about improving client experience and building business connections. The platform is simple compared to some others on this list and is certainly not the most advanced. However, it has perfected simple, easy live chatting between consumers, owners, employees, and buyers.
Key Features
Analytical reporting
Brand management and customization
Streamlined live chatting
Fuss-free customer service
Pros and Cons
Pros
Messenger plugin for website-based chatting
Easy to set up
Great interface
Fast integrations
Cons
Overall a basic offering
Several key features for business are missing
Pricing
There are three subscription options available:
Callbell Widget
Callbell Chat Management
Callbell Enterprise
Widget is the free version, which is basically just a chat widget set up for one agent.
Callbell Chat Management is the main program. It costs $12 per person per month and grants you access to all the essential features. Enterprise is an advanced tier, and prices are available by personal quote only.

Who Is It For?
Overall, Callbell is a decent option for companies purely looking for an easy way to chat with customers that don't cost a lot of money. It is predominantly marketed towards B2B websites looking for a better way to communicate.
5. HelloBox
HelloBox is all about communication. The idea behind it is to make the most of the channels that already exist and bring them together for optimal impact. This program is about the empowerment to brand ambassadors and consumers who want to be heard and stand out.
Companies who use HelloBox for their free chatting value client comfort and service above all.
Key Features
Offline forms
Intuitive chatbox with simple application
Brand editing and implementation
Omni-channel chat platform
10 major plugins
Pros and Cons
Pros
Fast and easy setup
Supports all the main social media platforms
Plenty of customization options
Quick load times
Free trial available without card details
Online training provided
Cons
Needs more focus on the user experience from the business side
Only works via the cloud
Pricing
HelloBox pricing is pretty simple. The flat rate for the main program starts at $8 per user per month. You gain access to all the features and can use the program effectively. There is limited information about the higher tiers, although team discounts and enhanced capabilities are hinted toward.
Unfortunately, HelloBox does not offer a free version, but you can try it for a month before you pay.
Who Is It For?
We believe that HelloBox is best for independent companies and brands that like to get personal in business. If your website is still very much in your hands and you want to best represent the business through excellent service and dedication to real-time solutions, HelloBox is a top choice.
Because all the integrations are social media focused, this program is best suited to brands that use these platforms as a leading element in their marketing strategies.
6. LiveChat Unlimited
LiveChat Unlimited is a WordPress plugin. It works with any WordPress website on either HTML or PHP. The plugin provides an active chat widget to add to your site, letting you connect with your consumers directly via live chat. Customer service has never been easier.
Key Features
Unlimited domain installation
250MB of storage for chat history and relevant files
Email notifications
Simple chat widget
Real-time updates
Pros and Cons
Pros
Download free for WordPress users
Works all around the world
Fully compliant with GDPR
Ultra-fast reaction speeds
Customer support in various languages
20,000 monthly views limit without charge
Cons
No integrations with social media
Limited analysis functions
Only allows up to 5 operators
Pricing
The LiveChat Unlimited WordPress plugin is available to download for free if you are already a member. It allows you to invite four teammates, open 5,000 chats every month, and welcome 20,000 visitors. Businesses with greater needs must request an extension. There are some paid add-ons available.
Who Is It For?
Obviously, this is a fantastic option for existing WordPress users. Other than that, it is best suited to small teams or independently run companies. The two main reasons we say it is best for mini-companies are:
The max team size is five.
It does not provide the data management and in-depth tracking a large-scale operation needs.
Summary
Chat apps are excellent tools to engage with your customers and take your business to the next level. Service is one of the first things people look for and one of the main reasons clients either stick with you or move on. Trengo- and all five of these Trengo alternatives- have the software you need to kick things up a notch.
Overall, our top pick is Chaty. In our opinion, it is the best program of its kind, even edging out Trengo. It is versatile, affordable, service-focused, and always evolving.
Sign up for Chaty today for free to test it out for yourself.