The wait has come to an end. The Chaty app that you can use on any platform is finally coming to life and we're super excited to share this milestone with you. 
After months of development, we are releasing Chaty as an app that can be used on any platform so that businesses of any kind can benefit from a fully customizable, easy multi-channel click-to-contact tool that will speed up and improve your customer service.
Chaty is already trusted by thousands of users across various platforms such as WordPress, Shopify, and Ecwid with a total of over 150.000+ active installations and 600+ five-star reviews.
How did we start?
As a start, we feel like it's the right thing to do to give you some more details on why we built Chaty as an app for any platform.
Some of you may already know that – or, if you're new, this can serve as a little backstory – a couple of years ago we started Chaty as a plug-in for WordPress with one main goal – to help business owners communicate with their customers better and easier.
Over time, we also brought Chaty to the Shopify and Ecwid markets, thus increasing our client base to thousands of new people.
And, as your support and interest in the product continued to grow, we knew we needed to keep improving and adapting Chaty to as many different platforms as possible, so we decided to develop a standalone version that users can install and use on any site, on any platform and what's most importantly – with zero coding experience. You can manage your widget and keep track of your performance from your all-in-one dashboard.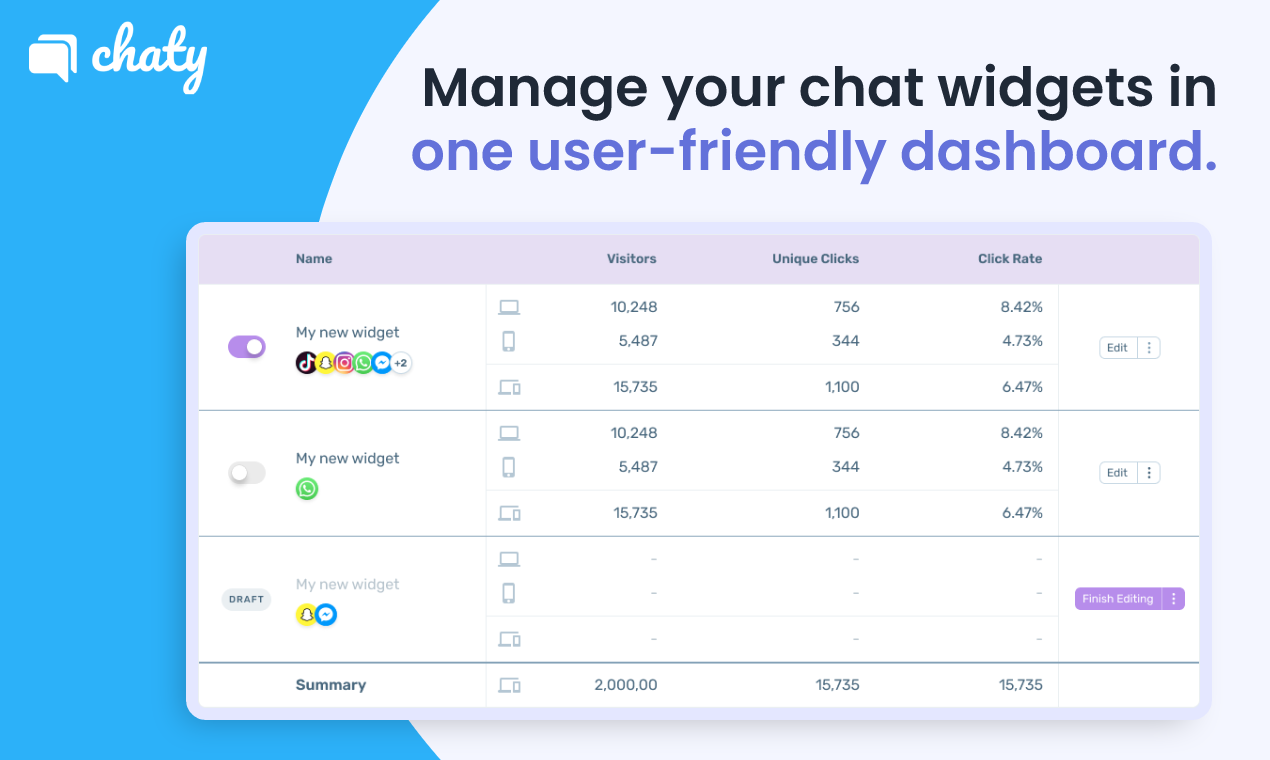 So what exactly does Chaty do?
Looking for ways to improve your customer engagement and communication on your website? Chaty will be perfect for you.
Chaty offers your customers easy access to all the platforms you're available on, improving your customer experience and increasing your chances of conversion and sale.
The way it works, Chaty allows you to integrate multiple communication channels within a single widget so your website visitors can choose the most convenient platform to reach you through.
You can connect 20+ popular and widely used channels like such as phone, email, WhatsApp, Facebook Messenger, Instagram, Telegram, Twitter, TikTok, Slack, Skype, Vkontakt, Viber, SMS, LinkedIn, Google Maps, Line, WeChat, Snapchat, Waze, Poptin and a contact form or even add a custom channel.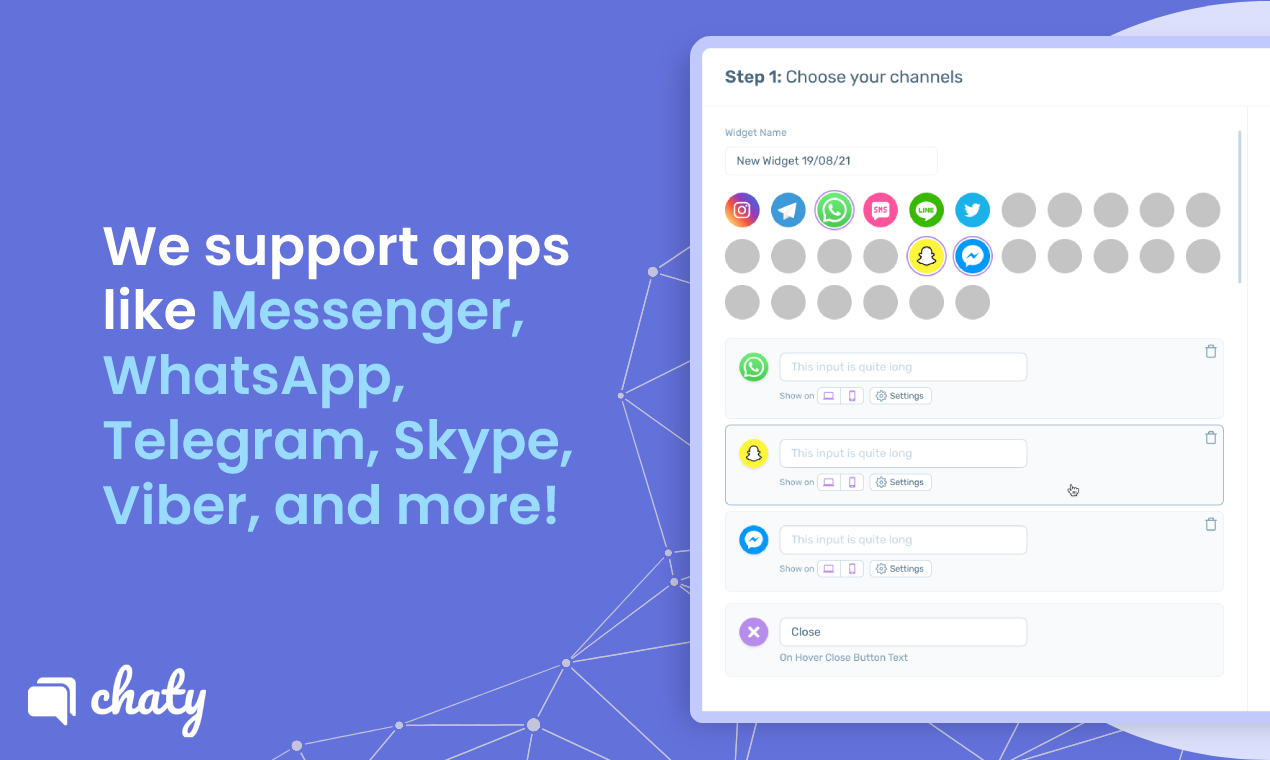 How exactly does Chaty work?
When a customer clicks on any of the channels you add to Chaty, a chatbot that goes straight to the selected channel opens so users can connect with you directly through that platform and you can reply through the platform, allowing faster communication.
And we have made sure that setting up Chaty on your website is as frictionless as possible – it's literally a two-step process that requires no technical knowledge or experience.
What is unique about Chaty?
Chaty is easy and convenient to use for your customers and also looks great on your site because we offer you to show as many communication platforms as you want in a single widget.
That way, you won't end up having numerous buttons on your website and customers won't waste time trying to find your contacts. You can simply focus on providing speedy customer service across various channels.
Everyone can use Chaty without spending a large amount of time digging through complicated help desk articles or setup guides.
We offer seamless integration with any website and limitless customization options. If there's anything you extra you want to customize, you can easily achieve it with custom CSS in the built-in custom CSS box.
What are the Chaty main features?
Chaty offers 20+ built-in social and communication channels including a customizable contact form and it also supports custom channels, meaning even if a platform you want to add is not present in the settings, you can still add it to your widget.
Chaty is lightweight and super fast. It offers a beautiful user interface and full customization of each channel (colors, texts, icons) and widget (attention effect, size, call-to-action).
It has an integration with Google Analytics – so you can stay on top of your performance. Plus, you can enjoy various triggers and targeting rules – for example, to show your widget with a time delay instead of on page load, show the widget on exit intent, schedule it in advanced for specific periods of time, display it on specific days and in specific hours or on specific pages only, display the widget to users coming from specific traffic sources or from specific countries and so on.
You can also create different widgets with different criteria for maximum customization according to your client base behavior.
How to get started?
Setting up your Chaty widget is literally a two-step process.
First, you create your Chaty widget in the Chaty app dashboard and add the desired channels.
Then, you add our one-line JavaScript code in your site and you're ready.
You are now easily reachable through every channel you are present at, ensuring the best experience for both your team and your customers. A win-win!
You can also keep track of your performance at any time in your Chaty dashboard.
Click on the button below to sign up and start creating your first Chaty widget for free!
And now what?
We can't wait to hear your feedback on Chaty and we're looking forward to releasing even more features to help you get more leads and sales. You can also check Chaty on Product Hunt.