The world was already threading on digital grounds, and the pandemic fastened up the process even further. Most businesses want to connect with their consumers in many shapes or forms.
As studies reveal, retail sales through digital channels, including mobile sales, increased by a whopping 23% – suggesting that businesses using omnichannel have a better chance of reaping benefits by becoming high performing in key customer experience metrics (CX), including fast response time and higher customer satisfaction score.
More and more businesses should, therefore, lean towards incorporating omnichannel strategies in their businesses as a competitive edge and a way to restore the economic value of their businesses.
Success starts by understanding what omnichannel is, and how customer-based strategies influence a better experience for customers, support agents, and other team members in an organization.
What is Omnichannel Customer Service?
Omnichannel customer strategy is among the many customer experience strategies that help companies connect and ensure consistent customer interactions across many channels.
Businesses that have embraced omnichannel steps for customer experience have seen the end of siloed conversations. This is done by consolidating channels and context into a single source of truth.
A good example is when a customer contacts your business via live chat concerning an issue; if the issue takes way longer than expected to resolve, you can inform the consumer to wait for an email response to tackle their queries.
The chatbot may also direct the customer to a live agent who already has been updated about their issue and would tackle them without the customer having to repeat themselves.
Moving customer interactions seamlessly from one channel to the other is what truly defines omnichannel customer service.
Omnichannel vs. Multichannel Customer Support
Many businesses confuse omnichannel customer service with multichannel customer support. It's only right to differentiate the two customer support strategies.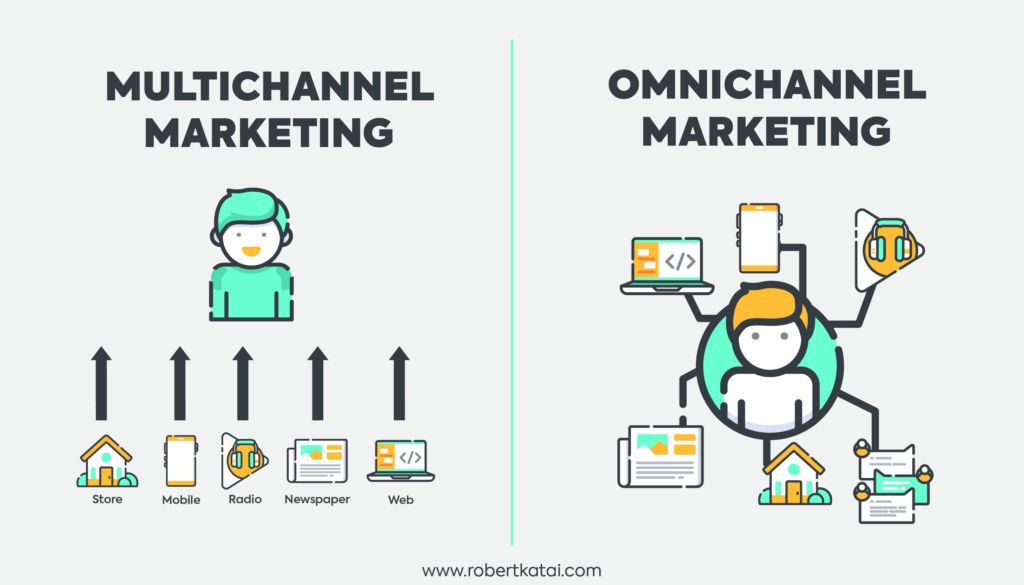 Omnichannel Customer Service
This strategy is one step further toward providing a consistent communication journey to consumers.
Usually, it's where businesses can move previous conversations and context from one channel of communication to the other, ensuring live agents provide better-personalized services.
Context is crucial when giving customers personalized services they're accustomed to.
It's, however, important to note that context can be difficult to maintain in a world of disconnected channels.
Most prospects and consumers like to contact businesses through live chats and chat apps like WhatsApp, Facebook Messenger, SMS, and emails, among other forms of communication.
Multichannel Live Chat Customer Support
This is another great asset that every business should have. It simply allows businesses to be everywhere their customers are.
A good example is Chaty. You'll be able to provide multiple communication channels where consumers can reach you on their preferred social platform.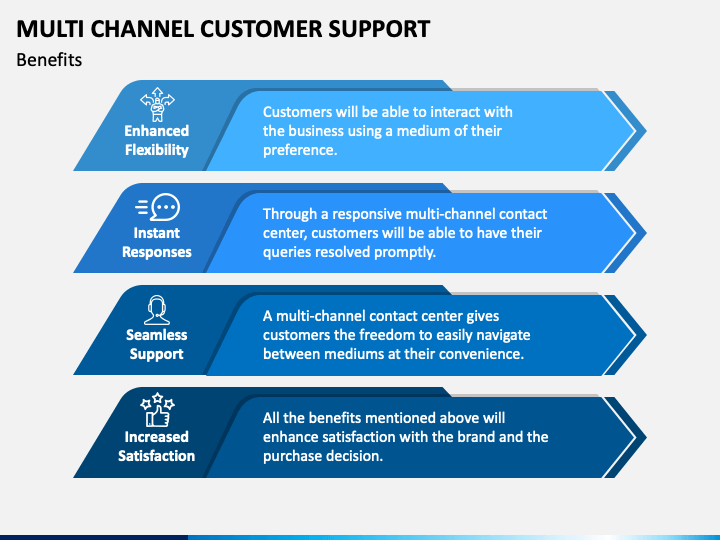 However, this does not mean connecting consumers seamlessly over different communication channels.
It ensures that consumers can talk to customer support on the phone, through SMS, or live chat but not continue previous conversations along different customer service channels.
Benefits of Omnichannel Customer Services
If a business is able to identify the customer they're talking to, and the context of the problem that the customer has already shared, it's able to:
Resolve customer problems a lot faster.
It reduces churn to increase revenue.
Delivering personalized services.
It's able to identify opportunities to satisfy its customers better.
Most companies have the appropriate tools to facilitate omnichannel customer service to create a better experience for everyone involved.
It can easily post links to invite prospects or customers to move to a more secure channel where the two parties can talk effectively, ensuring more convenience for the consumer.
Moreover, businesses can give consumers a set of alternatives where they'll like to continue the conversation or get a reply.
When the conversation moves, the context and conversation also move along with it. This ensures the business and consumer benefit from continuous cross-channel communications.
Additionally, the consumer's identity is unified throughout the multiple channels, allowing businesses to give a more personalized experience.
When Does a Business Require Omnichannel Customer Service?
It's easy to imagine why businesses need seamless conversations across various channels, but it's difficult to understand why they move conversations from one channel to the other.
Here are a few scenarios where businesses need this service:
1. Identifying the Authenticity of a Customer
Consumer chat apps are accessible to customers, but companies sometimes need to have private conversations with their consumers for security reasons.
Sometimes, the conservations involve transferring sensitive information.
Using links or call to action, businesses invite customers to chat privately in their mobile app to continue the conversation from where they left off.
2. Customers Wanting to Get Notified That Their Queries Have Been Replied
Sometimes, a consumer can browse through your website and ask a couple of questions, which your bot can't answer.
Furthermore, a live chat agent is not available at the moment to get down to the root of the problem.
Instead of the said customer going back to your website to check on their queries' status, they'll prefer getting notified via a communication channel like Facebook messenger, SMS, or phone once a live agent replies to them.
3. Providing Better User Experience
Customers are the VIPs of companies and should be treated as such; you'll want them to receive the best service wherever they're and the channel of communication they're using.
Chat apps and live chat like Chaty offer a better user experience than SMS and are free of charge.
Emails beat phone calls by a long hall with rich messaging experiences; however, sometimes, the best environment for fruitful conversations is through a brand's mobile apps or website.
4. No Third-Party Eavesdropping on Conversations
Talking through Facebook Messenger, WeChat, and WhatsApp chat apps are great as they're accessible, but at the end of the day, they're third parties, making most businesses wary of sharing conversations with these big tech companies.
The great news is that a business can start the conversation on such platforms and then move to a business mobile app for a more private chat.
How to Build an Omnichannel Customer Service – Plus Best Practices
After selecting omnichannel customer service as strategies to improve customer engagement in your business, it's equally important to understand how to implement the said strategy to strengthen the customer experience.
Here are comprehensive omnichannel strategies and their best practices.
1. Understanding Your Consumer's Expectations
To understand the customer expectations of your consumers, you'll need to actually know them. A business must learn the lifecycle journey of a consumer.
They expect contextualized interactions and seamless moves from one channel to the other.
When you understand your customers' needs, you can deliver personalized services increasing customer user experience scores.
After learning how customers mingle with your brand across various platforms, you can optimize your business processes to reduce customer frustration, bridge gaps, and steer customers towards conversions.
Therefore, businesses should focus on an omnichannel strategy framework with the following components:
Knowing your customer's needs and wants
Identifying customer's most preferred channel of communication
Mapping customer's journey
Best Practice:
Collect customer feedback on your customer support operation to see if they're satisfied or not. It will help you improve customer support, thereby exceeding customer expectations.
These strategies help businesses reduce customer touchpoints by reaching them on various channels.
2. Providing Self-Service for Consumers
Reliable self-service can improve brand image, allowing them to stay ahead and adapt to new ways of communication.
These self-service portals may provide instant access to information, allow personalization, and save resources and valuable time. Usually, customers prefer these portals over talking to representatives.
You can build a portal for information through tutorials, videos, and manuals to help customers resolve problems.
They'll increase customer engagement in the following ways:
Improving agent productivity
Reducing consumer service costs
Increasing customer recommendation
Educating customers
Best Practice:
Businesses must create self-service portals that'll provide the best customer experience. Go for portals that integrate seven existing and 35+ web services into a single platform for more than 50,000 members.
3. Respond Promptly to Customers with Live Chats
Customers don't like waiting for long hours when they reach out to a business support team. One bad experience can demotivate a customer from ever associating with your brand.
More and more customers can make a purchase decision in minutes when the business responds promptly to their queries.
Live chats are an easy way to combat this frustration. It reduces long queues by providing actual-time sales and support assistance to consumers.
Businesses that offer live chats have seen an increase in customer satisfaction scores.
Chaty provides the best real-time chat support platform that has various engagement tools. Live chats improve omnichannel support customer service in the following ways:
Providing instant customer service
Increasing brand awareness
Prompting customer recommendation by word of mouth.
Best Practices:
Mind your tone while chatting with prospects and customers. Make it conversational.
You should be fast while responding to customer messages across social channels.
Incorporate live chat that allow you to chat with customers on their preferred social channels. It should have other tools to help you to manage customer interactions.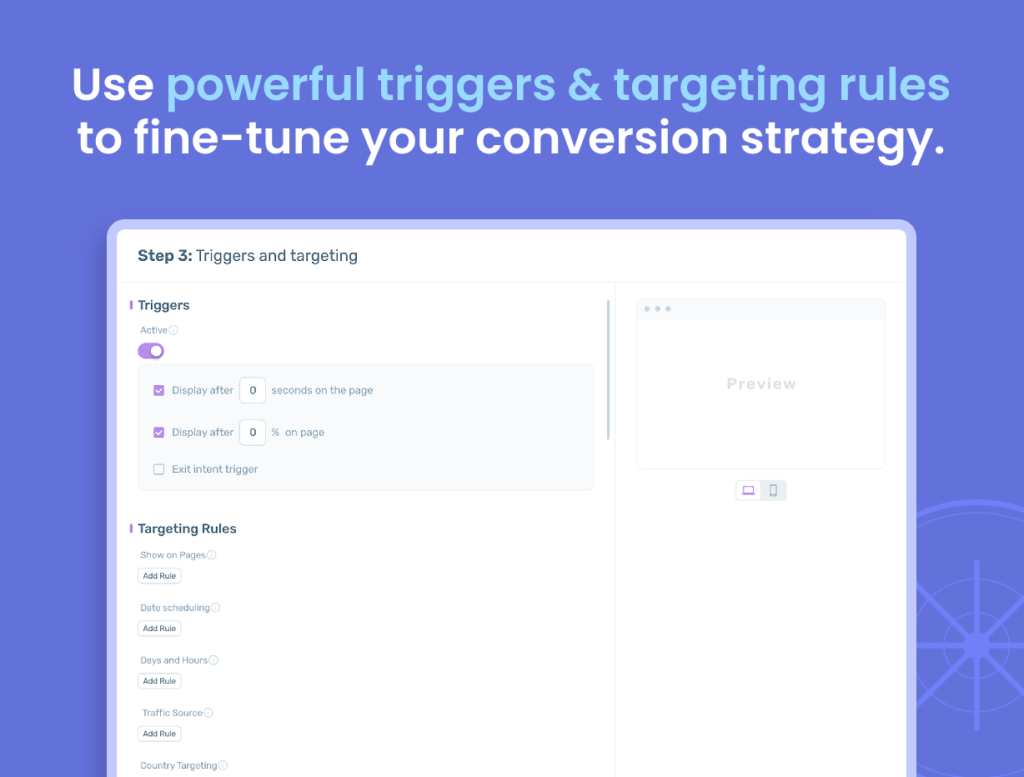 Wrapping Up!
Omnichannel customer service is a strategic plan rather than a tactical one.
Having such strategies at your fingertips is not enough to enhance a greater customer experience.
Businesses must devise other means like training their support team on how best to handle customers.
The team must learn to determine data points from various customer interactions for optimal customer experience.