You'd be hard-pressed to go anywhere where people are not acutely aware of WhatsApp. Studies show that since 2020, WhatsApp has been registering around one million users daily. It is only the second non-Google app to pass the five billion install milestone.
If that wasn't enough for you, the average user checks WhatsApp chats no less than 20 times a day. Wouldn't businesses have a lot to gain by implementing a WhatsApp plugin on a website with all this information? After all, a convenient chat button has been enough to set many lead qualification processes in action.
Today, it's all about shining a light on why WhatsApp should be a core element of your sales funnel if it isn't already one.
Why Use WhatsApp as a Business Channel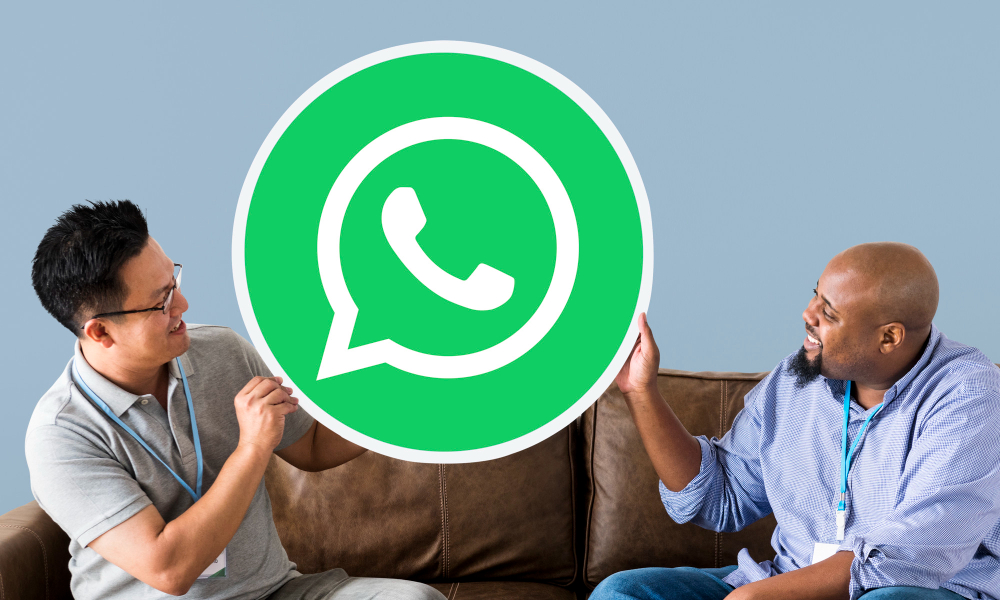 Your customers are some of the most important elements of your business' success. Existing customers are great, especially when they become repeats. Additionally, adding to your pool with new people can only take your business to new strengths.
However, you need to reach your new and existing customers where they are. Considering that so many people see such immense value in WhatsApp that it becomes a central part of their lives, wouldn't it make sense for you to tailor your business' communication methods to accommodate this?
This is where you need to think about what kind of sales and marketing strategies you can design around the technology. Of course, the goal is to get people to consume your product or service offerings, but the way you reach out and facilitate communication can make or break this process.
The main takeaway from this section is that you want to use WhatsApp as a business channel because of its convenience and the fact that it houses potentially your entire customer base.
WhatsApp Features That We Love
There's a lot WhatsApp has to offer that would make it a suitable Shopify chat plugin, for example. This section is all about bringing your focus to some of the features that can allow you to make things more engaging for your leads.
First, there's the status feature. this is a perfect reason to save the contact information for leads. Once they save your business' contact number as well, you can post text and media messages with a 24-hour life span that anyone can see at will.
Some people cannot help but check every status that their contacts post. It's a great place for you to get eyes on your offerings and demonstrate the value that you can bring to your customers.
Voice notes make for another outstanding feature. These allow audio messages to be recorded instead of text. While typing is great, it is usually devoid of tone, which leaves interpretation to pick up the slack. Imagine the simple statement "we want you to be a part of our family." Now say that sentence aloud while emphasizing the word "you."
It's not hard to see that the effect created is much different with the emphasis. Voice notes allow representatives to use inflections and other cues to ensure smooth communication.
Welcome messages are another great feature for business accounts. The moment potential leads send an initial message, what's up can automatically provide a business greeting on your behalf. Of course, this is completely customizable.
Broadcast messages and groups also bring high usability. With broadcast messages, you can easily send a single message to a selected crop of recipients. Similarly, if you ever have to facilitate a setting in which a group of persons can send queries and interact with each other and the business, the group feature allows this.
The final feature that you may want to make use of is media sharing. This is very important, as informational videos or advertisement graphics can easily be sent to your leads. Additionally, if a customer is trying to find your business' location, you can simply send it using Google Maps, which works perfectly with a GPS.
How to Create a WhatsApp Sales Funnel
So, now you have an idea of what makes this chat application so special. The question is what you do to base your whole sales funnel around it. Yes, you could create a WhatsApp WordPress plugin, but it doesn't do much beyond allowing an exchange of text messages unless you plan well. That's why this section is dedicated to helping you use the chat app to effectively foster an entire process.
Generate Traffic to Your Website
Technically speaking, WhatsApp can be present from the get-go. You could theoretically focus on generating traffic using social media platforms. However, simply putting the company's WhatsApp number out there allows you to open a convenient line of communication.
Some people have gotten so used to using the free chatting up that they would much rather interact via a chat than have to call in. You can then use the line of communication to direct people to the optimal areas of your website.
Of course, your typical traffic generation media can still be present to supplement this from online space.
Install a WhatsApp Button on Your Page
it's always good to know that site visitors can get some attention by simply clicking on a button. That's the kind of thing that makes a messenger plugin for a website so essential.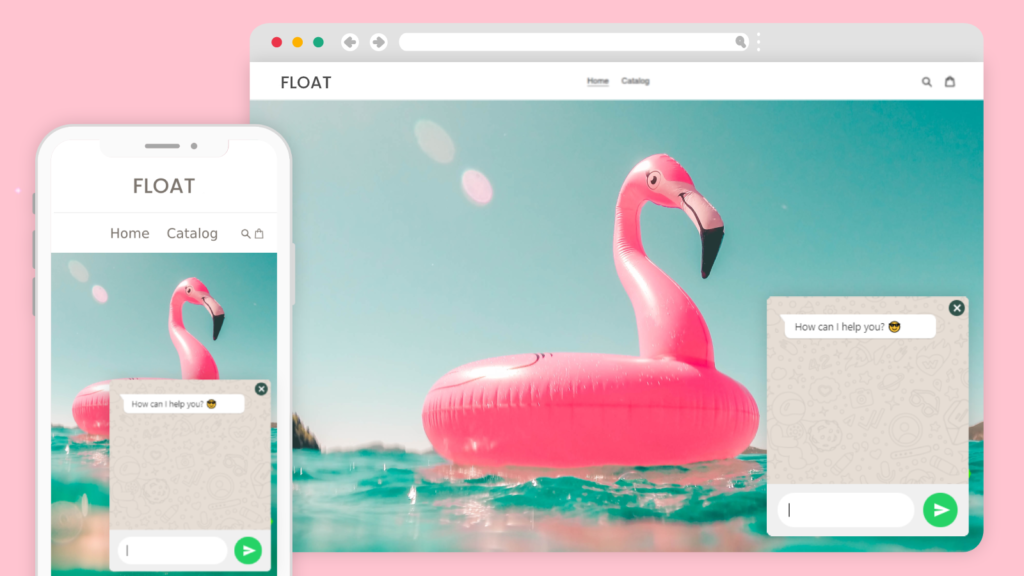 This is especially true, considering that WhatsApp web and desktop versions are now being so widely used. It's an easy option to start a free chat on a website that helps to eliminate doubts and respond to customer queries quickly.
Just ensure that your internal team understands the expected workflow when site visitors click on the button.
Write a Welcome Message for Your Visitors
This comes from the welcome message feature highlighted above. It would be very difficult to customize this message on a per-person basis. However, what you don't want to do is to create something that sounds too mundane or robotic.
You want the marketing team to brainstorm on this one. Even beyond WhatsApp, the chat options are available on numerous platforms start by giving you an automated message. Depending on the amount of thought that goes into its design, it encourages you to remain engaged until an agent is with you. You want to create a similar effect with your chat widget.
If Possible, Add Links to Your Help Center or Create a Form to Fill out
This is a great way to help people access information that's relevant to their specific needs. Your help center may be fully resourced with information that is perfect to tackle certain frequently asked questions and other concerns.
Alternatively, you may want to consider designing a form that is brief and gathers the required customer contact details, as well as the query or concern that a potential lead may have. By doing so, your team can be adequately prepared to respond to the said concerns when it's time to reach out to the customer.
Delegate Your Chat Tickets
This is another important point. Yes, your chat button is working, and people are remaining engaged with the business. However, proper chat ticket delegation is tantamount to high satisfaction.
The marketing and sales teams are meant to focus on marketing and sales. Identify what the customers need is and which functional area should be taken care of it, instead of having the public face of the business play the middle man. From there, delegate the tickets so they can be handled appropriately.
Segment Your Database on WhatsApp
By default, your WhatsApp contact database is nothing more than a series of people, arranged in alphabetic order. The kinds of campaigns that you may use to qualify your leads or create repeat customers often defer.
Varying demographics and needs create differing levels of relevance. for example, if you sell printers and you are offering a discount to any customer that purchases 10 or more, it may not be very useful to send that campaign to a customer that owns a single room office, since that person would have no use for 10 printers.
By compartmentalizing your database, you create a better system of targeting.
Monitor Your Chats
Introducing WhatsApp is not enough to capitalize on its effectiveness. Remember that this communication process can make or break sales for you. Therefore, active, and efficient monitoring of your chats is a non-negotiable requirement.
Maintain activity in the conversations and keep up to date with the responses. A lack of responsiveness is enough to turn off someone who may have been a potential customer.
Close the Sale or Save Your New Lead
This is where you wrap things up, and you must do so correctly. The basic workflow is that you want to gauge the level of interest and build it if necessary. The moment you realize that there is interest in a product or service you have is the moment that you start working on getting the person to buy almost immediately.
Your sales professionals already know that there is almost no asset more valuable than time in this regard. You need to capitalize on your opportunities and customer interest to close sales quickly, or you may end up losing them together. If you allow that to happen, all the time you spent in communication would have been wasted.
How to Generate Leads or Close Sales on WhatsApp
WhatsApp is tremendous, and the information that you have gotten so far certainly reinforces this. However, the process of generating leads and closing sales can be optimized even more if it has the required additional support.
After all, the way WhatsApp is designed is more conducive to a single person maintaining contact with a series of acquaintances. Things can get out of hand and disorganized quickly for a business load.
However, with a tool such as Chaty, things begin to look up almost immediately. Why should you be interested in Chaty though? 
First, it seamlessly integrates with just about any website. Apps, such as telegram, Skype, Viber, Messenger, and WhatsApp are supported. In fact, it spans over twenty of the most popular platforms.
The idea is that it helps you to be more easily accessible to customers than ever. They can get to you in one click, and you can get back to them from a centralized platform.
Chaty is all about standardizing the communication flow while allowing customers to communicate with you where they are most comfortable. You end up improving the quality of your support, and you can take advantage of stunning visual elements with the customizable user interface that Chaty offers.
Remember the greeting messages? Well, Chaty allows for customizable WhatsApp presets, with tags that can automatically allow you to know where a certain visitor is from.
It works out of the box, which is probably important if you want something that has a plug-and-play type design.
Triggers and targeting also allow you to fine-tune things even further. For example, you can take advantage of traffic source targeting, displaying Chaty only when certain conditions are met, etc.
Finally, you get to understand how engaging your strategy is, which helps you to adjust where necessary. With Chaty you can track clicks, traffic sources, opens, etc. All of this is facilitated by an incredible Google Analytics integration.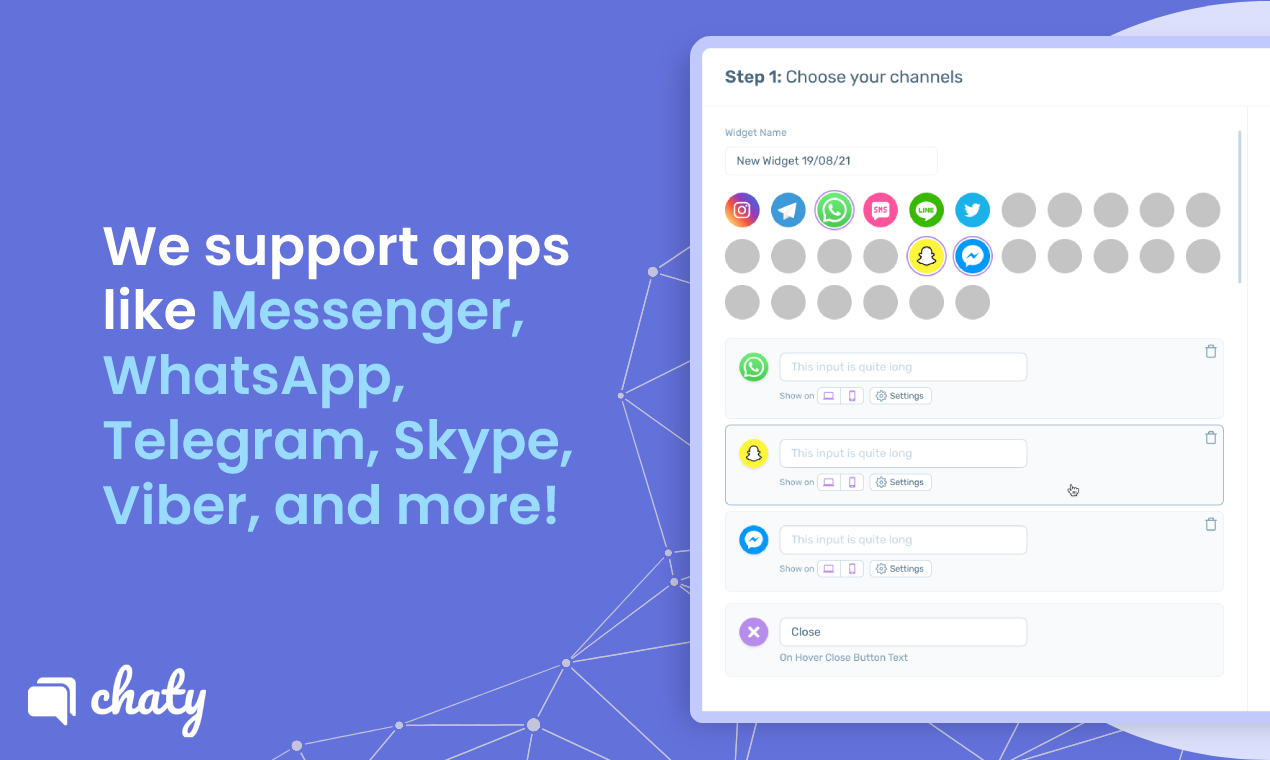 There's a reason Chaty is trusted by a host of WordPress and Shopify users around the world with an average five-star rating!
How to Get Started with Your Chat Widget
You can use WhatsApp in a couple of different ways to improve your lead generation and sale closure rates. The power lies in its incredible convenience, allowing you to inject your marketing rhetoric into the daily lives of potential leads.
However, the main takeaway here is to encourage you to rely on WhatsApp supplemented by the incredible Chaty tool. Based on its capability and reviews, you can generate up to three times the number of leads and increase your customer happiness by 14%.
Remember that though this whole piece is about WhatsApp and the sales funnel that it can help you to develop, Chaty does not stop there. Therefore, the same kind of workflow you apply to WhatsApp, you can apply it to over 20 other social platforms, while centrally managing it all from the Chaty dashboard. You can try Chaty here for free.