We understand that trusting any chat platform you come across online is difficult. After all, it's a financial investment. That's why companies are hesitant to switch between their tools.
Considering your concerns, we've put together a list of tools that can assist your company in making the switch to the finest Zendesk Chat alternative.
What Is Zendesk Chat?
Zendesk chat refers to any program that enables clients to interact with your customer service team in real-time. This app's live chat is enabled by a variety of different service providers, including Ada's AI chatbot.
Traditional Zendesk Chat, formerly Zopim, is a live chat platform purchased by Zendesk, an American software firm. Customers can communicate with support agents in real-time through live chat, which is an Internet-based communication tool. Clients can have live interactions with agents right within their web browser instead of calling customer service personnel.
Zendesk Chat Alternatives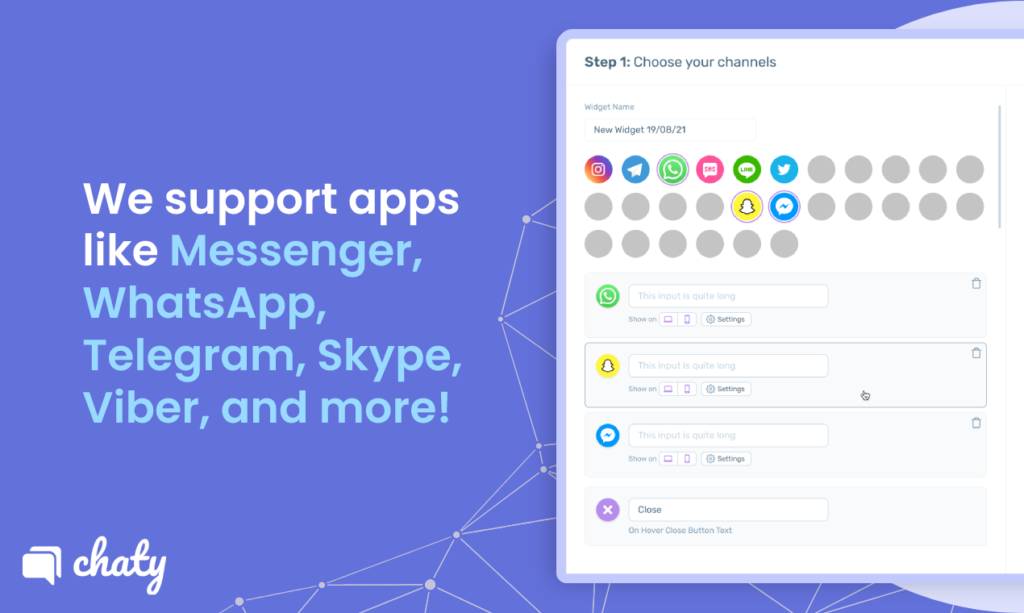 You can use Chaty, a WordPress chat plugin, to create floating action buttons. Visitors to your website can use these buttons to interact with you using their favorite apps.
Chaty may be used to make buttons for a WhatsApp WordPress plugin, Skype, Facebook Messenger WordPress plugin, Snapchat, phone, Telegram, Instagram, and a variety of other messaging apps.
You can use the Messenger plugin for the website to generate chat buttons for various communication channels. On the same page, you may, for example, set up WhatsApp buttons for English speakers and Vkontakte buttons for Russian speakers. You'll be able to reach a larger audience this way.
Set up customizable widgets in Chaty and determine where they should appear on the page. Each button can be linked to Google Analytics to determine how effective it is.
Chaty can be used by any company that is trying to increase its customer interaction.
Features
Triggers
Styling
Insights
Animations
Filters
On-click actions
Customizations
Pros
Immediate access to customers
Affordable
Easy to use
Cons
Not open-source service
Lacks features
Pricing
Starting Price – Chaty is FREE to use. Basic costs $39 per year and is limited to one website.
Other Prices – Plus costs $89 per year for up to five websites, while Agency costs $149 per year for up to 50 websites.
HelloBox
When users can use a channel that they already use, they are 80 percent more likely to contact you (according to Entrepreneur.com). Every page of your website gets an omnichannel contact widget from HelloBox.
The app offers a variety of communication channels to allow customers to choose the medium that they are most comfortable with in order to contact as many people as possible.
Essentially, HelloBox is for everyone who wants to be their own brand ambassador. We believe that real estate agents, coaches and trainers, and local business owners have a high potential.
Features:
Below is a list of the app's features:
Auto-response
Customizable branding
Mobile access
Offline form
Proactive Chat
Reports
Pros
Innovative features
Easy to use
Great customer support
Cons
Needs more customer personnel
UX is a bit unpleasant to use
Pricing
Starting price: $8.00 per month per user
Free Version: available
Free Trial: available
CallBell
Direct Messaging Applications are becoming the new big customer service paradigm as we reach the "now" era. Callbell enables B2C organizations to provide a better service to their customers by allowing them to chat live in their preferred channels.
Additionally, Callbell centralizes all communications in one place, allowing CS and Sales teams to connect with customers across channels, thanks to an easy-to-set-up cloud platform and a customizable chat widget WhatsApp plugin for your website.
Callbell assists any B2C firm that needs to sell products/services or provide customer support via a DMA (Direct Messaging Application) like WhatsApp, Facebook Messenger, or Instagram Direct.
Features
Auto-response
Customizable branding
Third-party integrations
Chat history
Offline form
Proactive chat
Real-time consumer-facing chat
Reports
Pros
Simple and easy to use
Quick and intuitive setting
Customer support
Personalized messages
Cons
Too many requests for permission
Pricing
Free Plan – Widget statistics, create your chat widget
Chat Management – €14 per user per month. You can connect Facebook Messenger, connect Telegram, connect Instagram (€20 per month).
Enterprise – Includes dedicated support, 15+ agents, and multiple teams.
PureChat
Pure Chat is a free chat website software solution for small and medium-sized businesses. Likewise, PureChat may be integrated with your WordPress or eCommerce site to allow you to chat with consumers in real-time. PureChat is designed for high-traffic websites and allows you to collect leads while also customizing your platform to meet your specific needs.
This live chat software is free for businesses to use and can handle an unlimited number of chats and users. Companies can use a budget-friendly pro version in addition to the free online chat option to obtain certain additional features. PureChat offers a wide range of features regardless of your company's plan.
Limitless free chatting on at least one website, as well as unlimited chat history transcripts, are some of the primary features provided. The engagement hub allows firms to define security responsibilities for employees and allows for comprehensive customization. Chat alerts, scripted responses, and top SSL security are all available on the powerful dashboard to keep both customers and company personnel safe online.
PureChat's pro version includes an analytical and contact history report to help your business keep track of recurring chat client behaviors so you can better engage and address each person with great customer service. Companies that want a dependable live chat solution for their clients use Pure Chat.
Features
Knowledge database
Offline form
Transfers
Shortcuts
Agent scheduling
Continuous chat
Pros
Free tier
Simple to use
Notifications
Customization
Automatic responses
Cons
Cannot attach a document or image to a conversation
Pricing
Growth – $39/user/month. Additional users: $13 per month billed yearly
Pro – $79/user/month
Formilla Live Chat
Formilla.com is a prominent provider of marketing, sales, and support customer messaging software. Over 12,000 firms use the product for lead generation, marketing automation, and improving customer service because it combines Email, Live Chat, and in-app messaging tools into one powerful platform.
Customers from many industries, including professional services (e.g., medical, legal, real estate, etc.), eCommerce, and small-to-medium-sized businesses use Formilla.com.
Features
Installs in seconds – You may start live chat right away using the Formilla Live Chat as a chat plugin for websites. When you install this software, a live chat button will show on your website.
Real-time viewing of visitors – Know who's on your site, where they're from, and what page they're on, request chats with them directly from the chat app.
Mobile apps for iPhone and Android – Chat with consumers from anywhere in the globe and receive push notifications when they have inquiries.
Send live chat messages to visitors on your website automatically to boost interaction and sales.
Pros
Intuitive to use
Great customer support
Affordable
CRM tools
Phone app available
Cons
Pricing
Premium – $29.99 / month
Growth – $69.99 / month
Professional – $49.99/month
Why Look at Zendesk Alternatives?
As of now, Zendesk has over 2,700 evaluations on G2 and 30 heated customer disputes. It has a 4.2 out of 5-star rating, with many users complimenting it on its dependable and feature-rich ticketing system.
There is, however, some dissatisfaction. The following five concerns account for most of the complaints:
Chats, emails, and other communication channels are all controlled independently – The most significant disadvantage is that Zendesk splits chats and email tickets, making it impossible to respond to customer requests in a single queue.

Functionality for email automation is limited – Only if you acquire two different memberships will you be able to send automated email sequences and provide support.

It can be quite costly – Zendesk has a lot of tools and features for customer service, but it's pricey if you want to use it to its fullest capacity.
Conclusion
When the founders of Zendesk started their company in 2007, they were forerunners. Since then, they've developed a fantastic 360° customer support platform that's much more than just a ticketing system.
Chaty and Zendesk are opposites in terms of functionality. Furthermore, Chaty is based on messaging, whereas Zendesk is based on emails and ticketing tools, implying two distinct cultures. Nonetheless, product orientation is nearly identical, albeit with distinct outcomes.
Zendesk's long history does not necessarily imply that it is the best customer service software for your company.
There are many Zendesk alternatives to choose from; all you have to do is decide what you want, consider the benefits and drawbacks, and make sure it's scalable and inexpensive. Before you buy anything, make sure to read the reviews and test the WordPress, Messenger, or Shopify chat plugins.
However, if you're considering Chaty as a replacement for Zendesk, you're on the right track. You can try Chaty here for free!