In this guide we'll show you how to install the Chaty app on a BigCartel website.
Are you new to Chaty? You can read below in order to learn more about how Chaty works and how it can be beneficial for you.

Chaty offers your website visitors an easy click-to-chat connection to the different platforms that you're available on, all within a single widget. Having a single widget with multiple channels can be helpful in improving your customer service and increasing your possibilities for conversions and sales.

You can use the Chaty app with more than 20 common channels such as phone, email, WhatsApp, Facebook Messenger, Instagram, Telegram, Twitter, TikTok, Slack, Skype, Vkontakt, Viber, SMS, LinkedIn, Google Maps, Line, WeChat, Snapchat, Waze, Poptin, a contact form or you can even add custom channels.
Step 1: Let's dive in! First you need to install the Chaty app from the BigCartel app store. Read below how you can do this:
Login to your BigCartel account and click on "Account", as shown below:
Next, scroll down to Apps at the bottom of the page:
Click on "Marketing and Promotions apps"
Step 4: Find "Chaty" there and install it
Step 5: Click on "Get Started"
Sign up if you don't have an account on Chaty.app and continue with the steps below
Follow the same steps below if you already have an account with Chaty.
(After Step 5 you will be redirected to the Chaty Dashboard).
Step 6: Click here in order to proceed with the Chaty app installation:
https://my.bigcartel.com/account/design/code
Step 7: Now, go to Layout
Note!
This Big Cartel option is not available for "Big Cartel Free Plan" members. Please note, this limitation is not from Chaty.
Step 8: Now go to your Chaty Account and copy the installation code snippet from the top.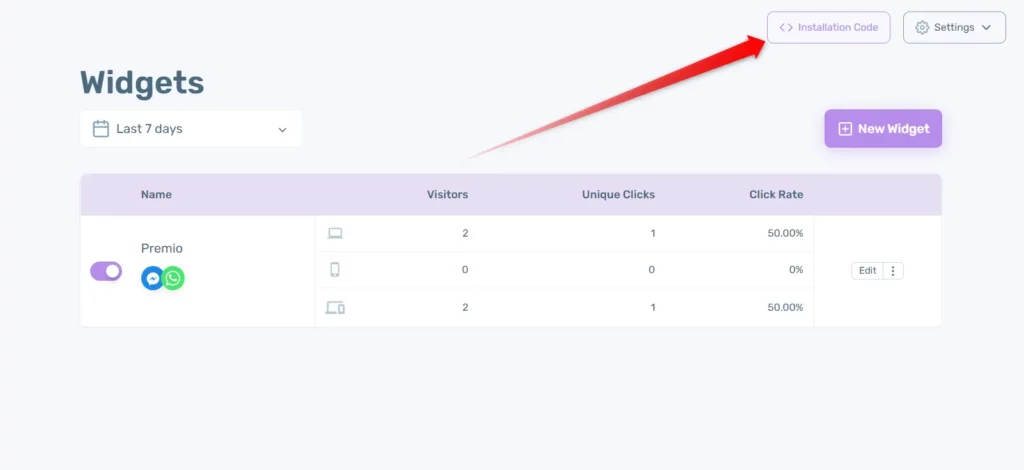 Step 9: Now go back to your BigCartel Account and paste the snippet above the </head>
Note!
We have used the Full Screen view of layout to show you the how the code may look in its entirety.
Step 10: Once you have Pasted the code correctly, Click on DONE.
Step 11: And then finally click on PUBLISH to fully integrate Chaty with BigCartel.
In the end, based on your settings, the widget may look like this – a user-friendly widget featuring your customer's favourite and most used channels like Instagram, Messenger, WhatsApp, SMS:
If you need any assistance with configuring this, please don't hesitate to reach out to our support team!