Over the last few years, customers have started using chat apps and other messaging tools to request information from businesses. When customers need assistance, companies should be where their clients are.
In 2020, roughly 74% of clients messaged a company for the first time through a chat widget, and most of them say they plan to continue dealing with businesses in this way.
From 2020 to 2022, chat app growth has spread across multiple platforms, including WhatsApp, Facebook Messenger, SMS/text, and Twitter/Instagram direct messages.
With a chat button on a website, customers can get the answer they want within a reasonable time. Support teams can customize their chat widget, such as the Chaty app, to respond to client queries in a timeous manner.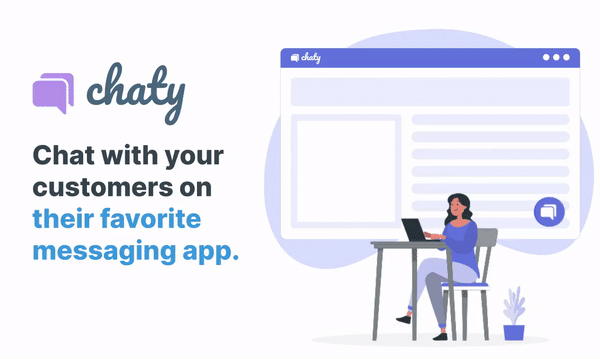 The software allows service teams to scale up due to the asynchronous nature of messaging! It helps relieve the pressure of agents and lets the client get the response they are after. With Chaty, teams can also personalize the welcome messages to get the most out of the chat app.
Is It Worth It to Add A Chat Widget to a Website?
Customers want to feel as comfortable as possible when messaging your support staff for assistance. By adding a live chat to your website, you can meet that client's expectations and deliver above them. 
If you want more loyal customers that buy more often, making sure they are comfortable is of the utmost importance. However, it's good to note that adding chat widge to a website is more than just about customer preferences.
When a chat button is used within a centralized workspace, quickly deployed, and operated flexibly, these website tools can provide you with:
Personal: Customer's back and forth conversations with support agents through chat apps allow clients to feel similar to chatting with friends and family.
Fast: Self-service options and automated workflows enable clients to solve their issues (i.e., changing or tracking an order, checking a balance or status, etc.)
Scalable: Multiple customers can be served when using live chat apps for your business.
It is easy and quick to implement chat widget to your website, meaning you don't need to be technically minded.
However, one thing to note is that to get the most from your chat software, you are required to set it up with the tools, processes, and people your support employees already deal with.
Mobile Chat App
Responsive mobile chat on an Android or iPhone allows customer service agents to reply immediately to your client's queries. If you would like to prompt customers to complete a purchase, you can proactively start a chat using mobile chat software.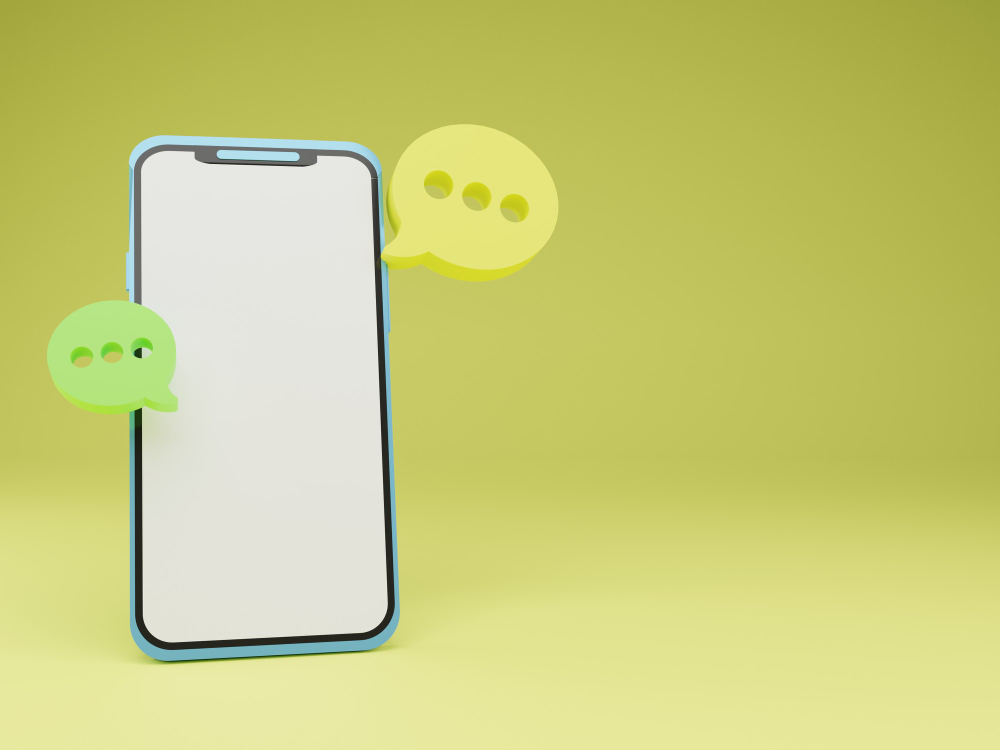 Research has shown that prospects are more likely to purchase if you approach them through a chatbox.
The customer's actions can be tracked through mobile live chat software so that you can determine the perfect time to engage them. Think of it as your well-informed and friendly sales executive who appears when you need them most.
Now you must know some of the benefits on offer from live chat software, and in the following few paragraphs, you will learn so much more. We show you essential chat features to help you make an informed decision if an app like Chaty can work for your business.
What is a Chat Software?
A company's client support team can communicate with prospects and customers through a chat software. This technology has the same power as instant messaging apps like Facebook, Instagram, Twitter, and WhatsApp.
Brand's support agents can use chat software to perform asynchronous real-time conversations through websites or other social media channels. It all depends on how you want your company to engage with the client.
Help desk software, knowledge bases, messaging apps, analytics, CRMs, automation platforms, and chatbots are often integrated into chat widgets or applications. These tools are generally connected through third-party platforms, native integration, or APIs.
By using the above integrations, you can use chat apps to do the following:
Build a solid reputation between customers and your company by speaking to them through channels they are already familiar with, such as Twitter Business, Instagram Direct, WhatsApp for Business, and Facebook Messenger for Business.
Enables online businesses to pull relevant data from analytic software and CRMs for use by live agents or chatbots, plus enables a faster, more personalized service for clients.
Chat apps reduce operating costs and save service agents' time by letting chatbots handle the most common client requests and allowing live agents to take more complicated queries.
Chat buttons can be connected across social apps, mobile, and the web to deliver a rich conversational experience to your customers. It's fast to scale and easy to automate no matter your customer's requirements.
Another great thing about chat apps is that most are mobile-friendly, meaning when your agents are on the move, they can attend to the client's needs via their iPhone or Android device.
How Does A Chat App Work?
A few different forms of chat software exist, but the primary way to communicate is through a chat window. If you want to start a conversation, you need to type inside the chatbox.
Customers can also initiate the conversation by connecting with an agent when clicking a button many websites include (usually on the bottom right of the home page.)
Creating a ticket that a human agent can resolve, collecting key customer information upfront, and responding to customer requests are reasons why your company should incorporate a chat app into its client support strategy.
Who Uses Chat Apps?
Many companies across industries can improve customer experience by using chat software. E-Commerce startups love using chat software to keep customers informed of the latest deals and help them with their requests.
B2B SaaS enterprises also can benefit from using a chat app to boost communication with businesses that purchase or deal with them.
The primary purpose of this technology is to provide prospects or customers with direct one-on-one support without disturbing their browsing flow. Research has shown that many clients are now turning to live chat and social messaging apps for customer support.
During the pandemic, the use of live chat increased significantly, sending support tickets surging to almost 50%.
It's good to remember that most organizations also use chat apps for online forms, lead generation, automation, and more.
Your business can receive the following benefits with the power of live chat:
Offer to help customers as soon as they need it and anticipate their requirements
Boost satisfaction and help more customers in less time
Engage with more customers on a website and proactively increase sales
Poweful chat plugins like Chaty can also improve your company's digital service offerings. The great thing about the application is that it can be used as a WhatsApp plugin for your website or even as a Shopify chat plugin.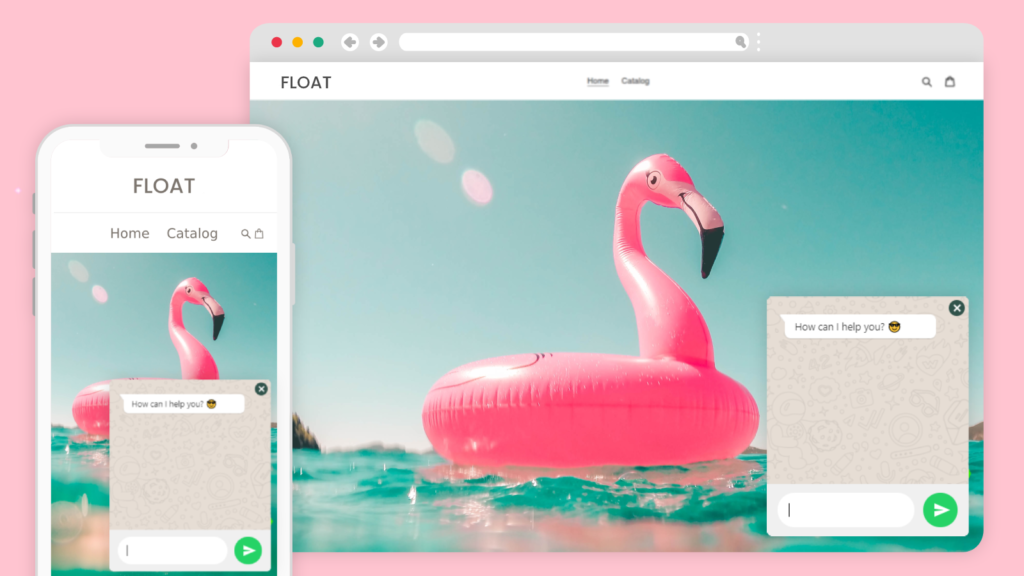 Here are some reasons why businesses like to use live chat over phone support:
Support staff can help many customers at once
It's easier to scale
Live chat is more efficient
It's easier to analyze chat transcripts
With the help of an AI-powered chatbot, teams can provide customer support around the clock
Keeping up with the back and forth of an email thread or taking the extra step of making a phone is not always what the customer wants. A best practice is to add new channels that are convenient options for your customer, and at the same time, make your business more adaptable.
Now is the time to get serious about conversational business and follow the lead of digital-first companies.
What Are the Common Features of Chat Software?
Most modern WordPress chat plugins come with a few high-level features for your customer support team to use. It is crucial to keep in mind that some chat app options may be significantly more advanced than each other.
Here we are listing some of the most common features included with live chat apps:
Smart Triggers or Proactive Chat
Suppose you want to initiate a chat in real-time with a website visitor. In that case, proactive chat allows your salespeople or support agents to do that! Encouraging and facilitating sales through the check-out process can also be done by setting up a trigger that proactively initiates a chat with a customer.
Canned Responses
Predetermined situations can use prewritten sections of text known as canned responses to answer your client's queries. Use canned responses to automatically respond to the most frequently asked questions that your agents experience.
Below are some of the most common responses of a canned message to clients:
Answer common questions
Transfer a chat to another agent
Offer a discount
Greet a returning customer by name
Queue Management
Queue management allows you to prioritize waiting customers and select how to communicate with them when all your agents are occupied. There are a few capabilities that are most often included with queue management, and these are as follows:
Setting queue limits to control the size of an agent's waiting line
Chatbot messaging for waiting customers
Automatic or manual chat routing
KPIs and Performance Metrics
Generate a treasure trove of business intelligence and data using a chat app on your website. Your customers' engagement with your company can allow you to gain deeper insights into their site behavior and willingness to buy.
The essential KPIs and metrics to look for include:
Missed chats
Average wait time
Customer satisfaction score (CSAT)
First contact resolution rate (FCR)
Chat to conversion rate
Average resolution time (ART)
First response time (FRT)
What Are the Benefits of Using Chat Apps?
Supports Customer and Prospects at Their Convenience
Customer convenience is quintessential for any business that predominately uses a website to promote and sell its products. Live chat website technology allows your client support team to help your customer when they require it most.
With the right messenger plugin for your website, your company can provide the following to its customers:
Continue conversations from where they left off
Leave a message from customer service
Request to be transferred to a live agent
Let's clients find their answers (self-serve) with relevant knowledge base content delivered by a chatbot
Companies with support teams worldwide can also offer help to customers 24/7 through either chatbot, self-serve options, or a diverse client service team. What is the result of all of this?
A support team can scale to serve more customers more effectively and have a higher CSAT score than ever before.
Increase Agent and Customer Value
On average, clients who use Chaty to speak with a company's agent are three times more likely to convert to a sale than those who don't. Compared to customers who don't chat with a company, live chat clients tend to buy 10-15% more from the business.
These figures directly reflect how a chat button can improve the lifetime value of clients. Your customer is not the only one to benefit from a chat widget, but your agent can get value out of it too! When correctly implemented within your live chat strategy, these widgets can:
Filter out easy questions with self-service options and chatbots
Deliver relevant insights with chat analytics
Handle repetitive logistical tasks automatically with a chat app
By segmenting simple questions and filtering them out to a chat app service, a live customer support representative can deliver a personalized service to your clients. That engenders brand loyalty that results in greater sales volume and larger purchases.
Conclusion
A chat app can change how your customer receives support when visiting your website or landing page. It allows your agents to answer questions in a timeous manner and lets your clients chat with someone on a familiar platform.
By installing Chaty, you can be one step ahead of the competition and provide your customer with the service they have always wanted. Sign up to Chaty to get started!