Effective communication with website visitors is no longer optional in today's digital world – it's essential. While many businesses lean on Jivochat for this purpose, there's a vast sea of alternatives to live chat options out there.
In this article, we'll talk about 10 remarkable Jivochat alternatives. Each one comes packed with its own set of features, spanning from user-friendly chat plugins for WordPress to an easily accessible Facebook button.
Whether you're just starting out or looking for a change, join us on this journey to find the ideal chat solution to boost your website's communication game.
What Is Jivochat?
Jivochat is like a Swiss Army knife for online communication. Imagine a chat app where you can talk with visitors on your website and connect with them on popular platforms such as Facebook Messenger, WhatsApp, and even Apple Business Chat.
It's not just about messaging, either. You get voice and video calls for managing your customers (like a simplified digital address book) and even a system to help with customer support issues.
Many businesses, big and small, love Jivochat because it feels familiar, kind of like using Slack or Trello. Plus, over 250,000 websites have added this chat widget to their pages, so it's safe to say it's a big deal in the world of communication!
Best Chat Tools Besides Jivochat
Are you looking for other chat options for your website? While Jivochat is excellent, there are loads of different tools out there as well. Let's dive in and check out some of the top live chat platforms that businesses love just as much!
Chaty: A Leading Example in the Customer Service World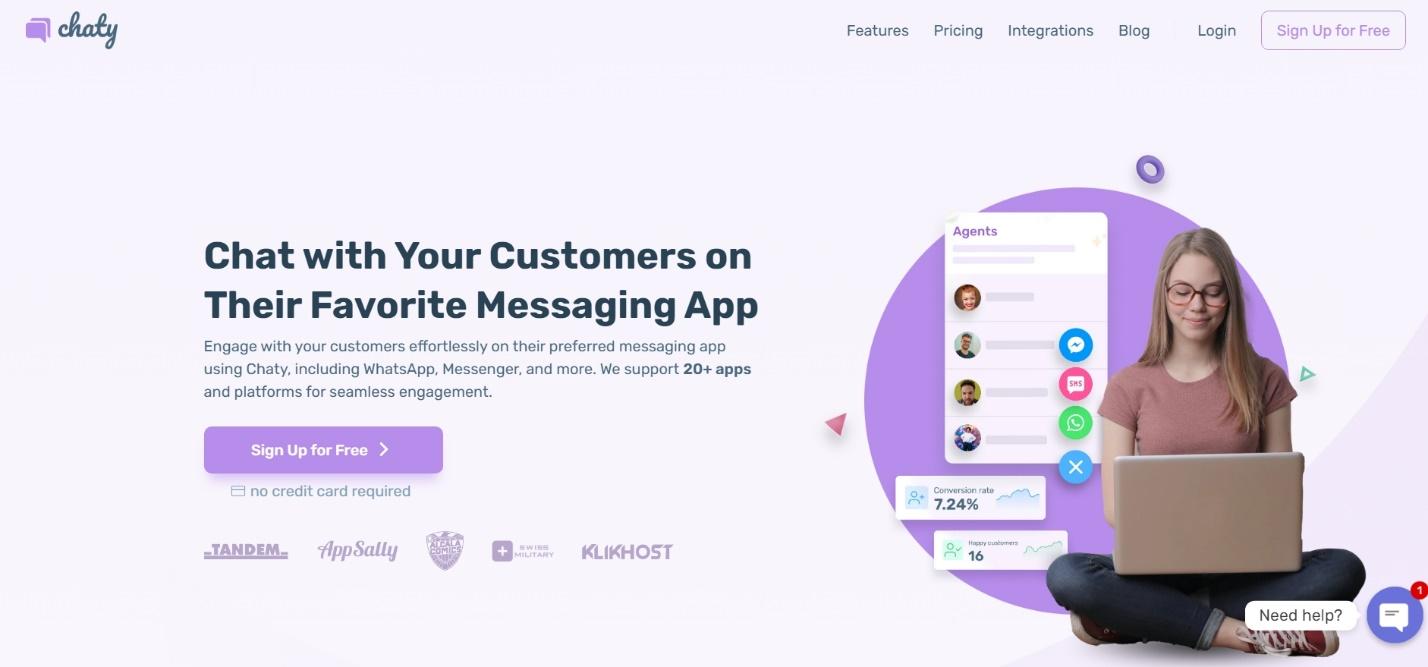 Chaty is a nifty chat widget for website owners. It lets you chat with site visitors on various popular messaging apps such as WhatsApp and Messenger. Moreover, it can help you boost engagement, is easy to set up, and comes packed with features.
Features:
Supports 20+ apps
Custom chat designs
Multiple agents
Country & traffic targeting
WhatsApp preset messages
Pros:
User-friendly interface
Flexible customization
Multiple platform support
Plenty of integration options
Detailed analytics
Cons:
It might be too basic for bigger businesses
Limited features in the free version
Pricing: The app's pricing options are tiered based on monthly visitors. It's free for up to 500 visitors, but more features come with paid plans starting from $15/month up to $79/month.
Chatway: Your Messaging Gateway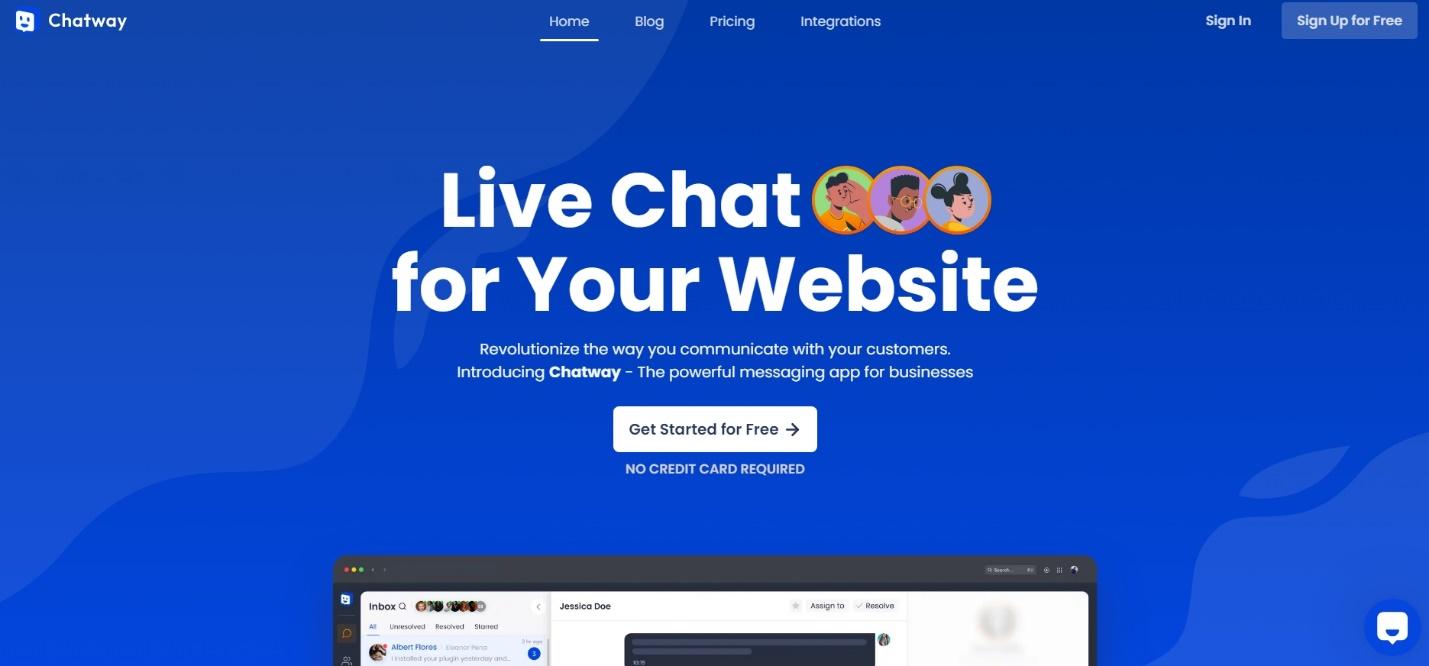 Chatway has become a game-changer for many people and businesses, acting as an impressive live chat widget for website users. Moreover, it's simple to use, ideal for business communication, and perfect for keeping teams connected.
Features:
Multi-app integration
Task management
Real-time messaging
File sharing capabilities
Automation tools
Pros:
Seamless communication
Centralized messaging hub
Efficient team collaboration
Versatile for various business sizes
Cons:
Limited voice functionality
A slight learning curve for beginners
Pricing: Currently, all of Chatway's features are accessible for free. Try it here.
Tidio
Tidio is a handy chat widget that helps small and medium businesses interact with their customers seamlessly. It's a reliable tool for boosting sales through enhanced customer service.
Features:
Real-time chat with typing-view
Integration with platforms such as Shopify
Visual chatbot designer
Email and chat ticketing
Analytics for chat performance
Pros:
User-friendly interface
Competitive pricing
Free plan available
Quick setup
Cons:
Some integration challenges (e.g., Hubspot)
No Twitter or WhatsApp support
Pricing: Tidio offers multiple plans. The starting price is $29/month, but there's also a free version.
Tawk.to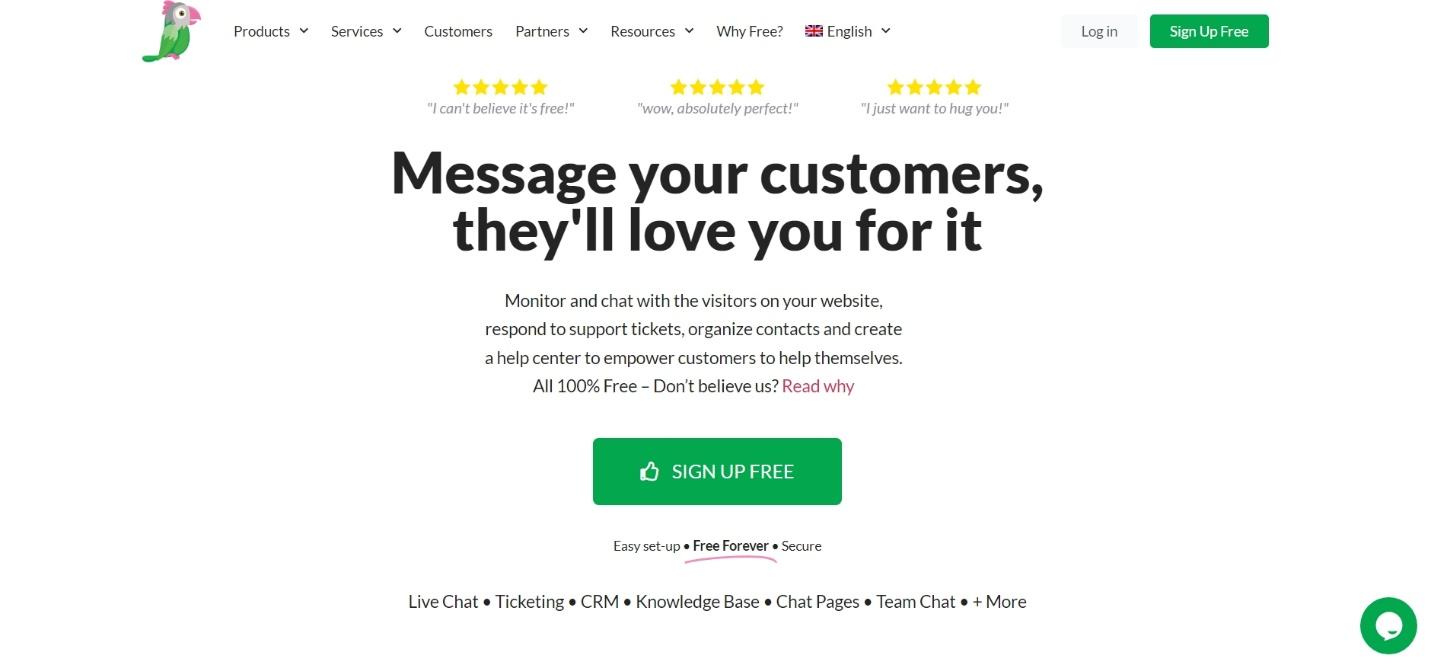 Tawk.to is an easy-to-use chat app, perfect for businesses of all sizes. It's popular because of its free price tag and does much more than you'd expect without asking for a penny.
Features:
Real-time typing-view
Mobile app access
Customizable widget design
Over 45 language options
Instant notification system
Pros:
Totally free
User-friendly
Fast setup
It supports plenty of languages
Cons:
Branding removal costs money
Outsourcing chats can be expensive
Pricing: While Tawk.to is entirely free, if you want to hide its branding, it'll cost $19 a month. There's also an option to have the company manage your chats for $1 an hour.
Freshchat
Freshchat, by Freshworks, is a user-friendly messaging tool designed to enhance communication between businesses and their customers. Whether it's for customer service, sales, or marketing, this platform brings a range of features to the table.
Features
Unified messaging
Custom widgets, such as a chat button
AI chatbot
Engagement tools
Analytics dashboard
Pros
Connects multiple messaging platforms
AI bot support
Unified agent space
Track agent performance
Cons
It could be overwhelming
Some features are unavailable for the free plan
Pricing: Freshchat offers varied plans to suit businesses of all sizes. The basic plan is free for up to 10 agents, while premium features are available in the paid plans, starting at $19 per agent/month.
ProProfs Chat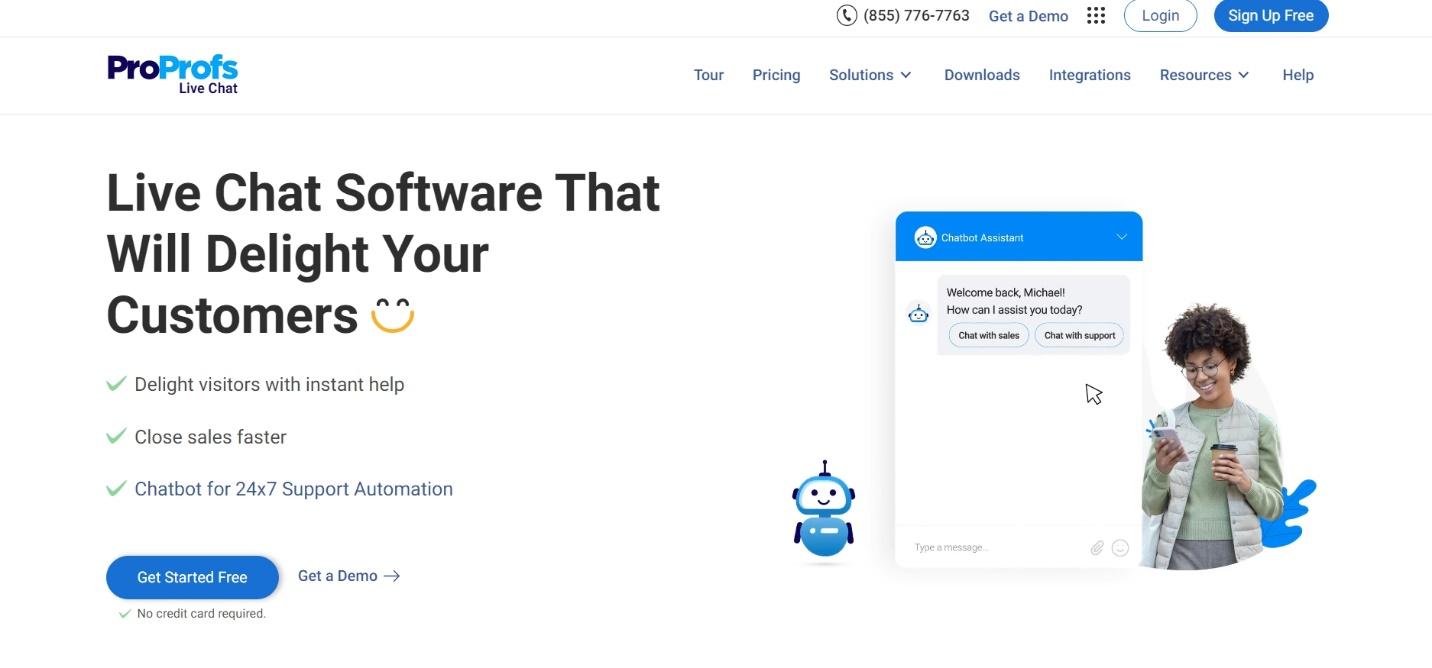 ProProfs Chat is an online messaging solution designed to boost website user interaction. It's like having a friendly shop assistant on your webpage, ready to help visitors anytime.
Features:
Proactive chat messages
Event announcements
Chatbot setup
Third-party integrations
Performance reports
Pros:
Engages visitors actively
Versatile for many industries
User-friendly interface
Effective automation
Cons:
It might require a technical setup
A learning curve for some features
Pricing: ProProfs Chat offers a free single-operator plan. The chat app also allows businesses to have a team of two or more operators for $29.99/month.
Intercom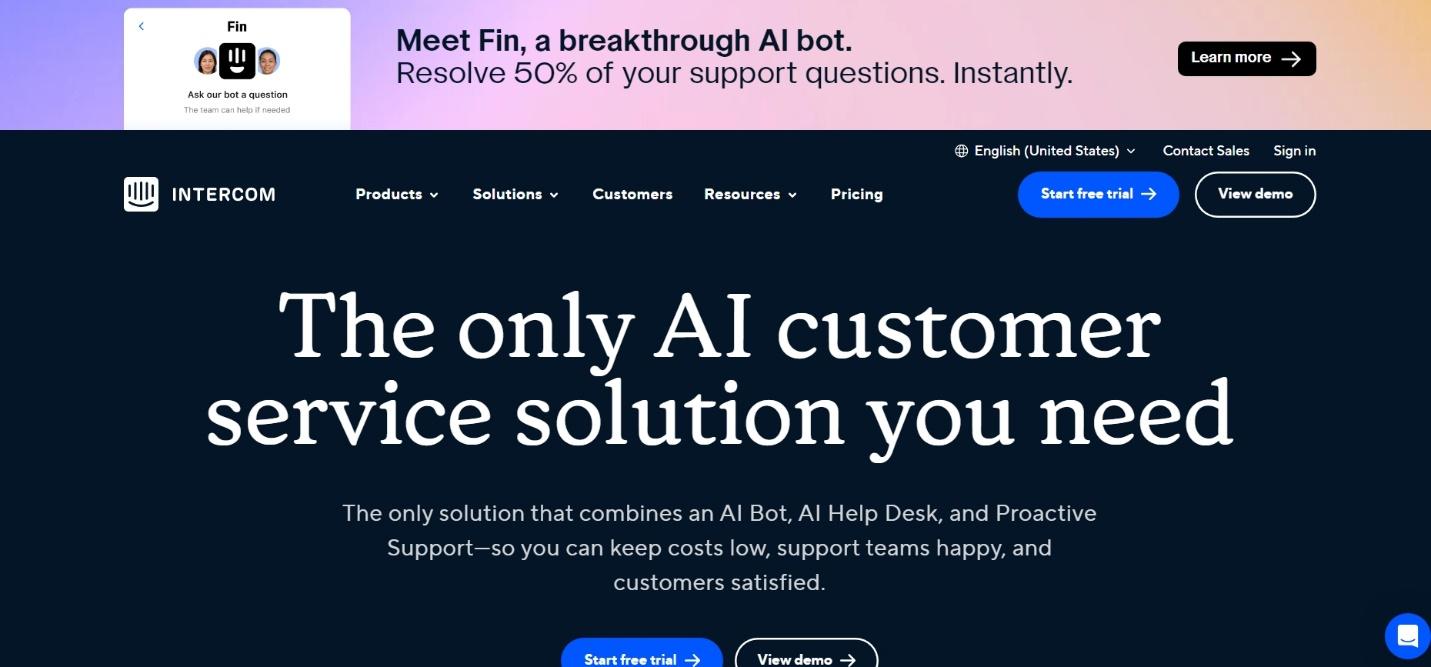 Intercom is a fantastic tool for businesses that want to chat with visitors on their site. Whether you're selling stuff or offering services, this tool makes it easier to chat, help, and connect. You can even set it up to look just like your brand.
Features:
Brand matching
Easy customization
Fast response time
Connects through multiple channels
It comes with a help center
Pros:
All-in-one tool
User-friendly
Quick support team
Team chat option
Cons:
Quite pricey
No free plan
Pricing: It's pricing options start at $74 monthly for basic chat, but if you want all the cool features, it will cost you much more!
Pure Chat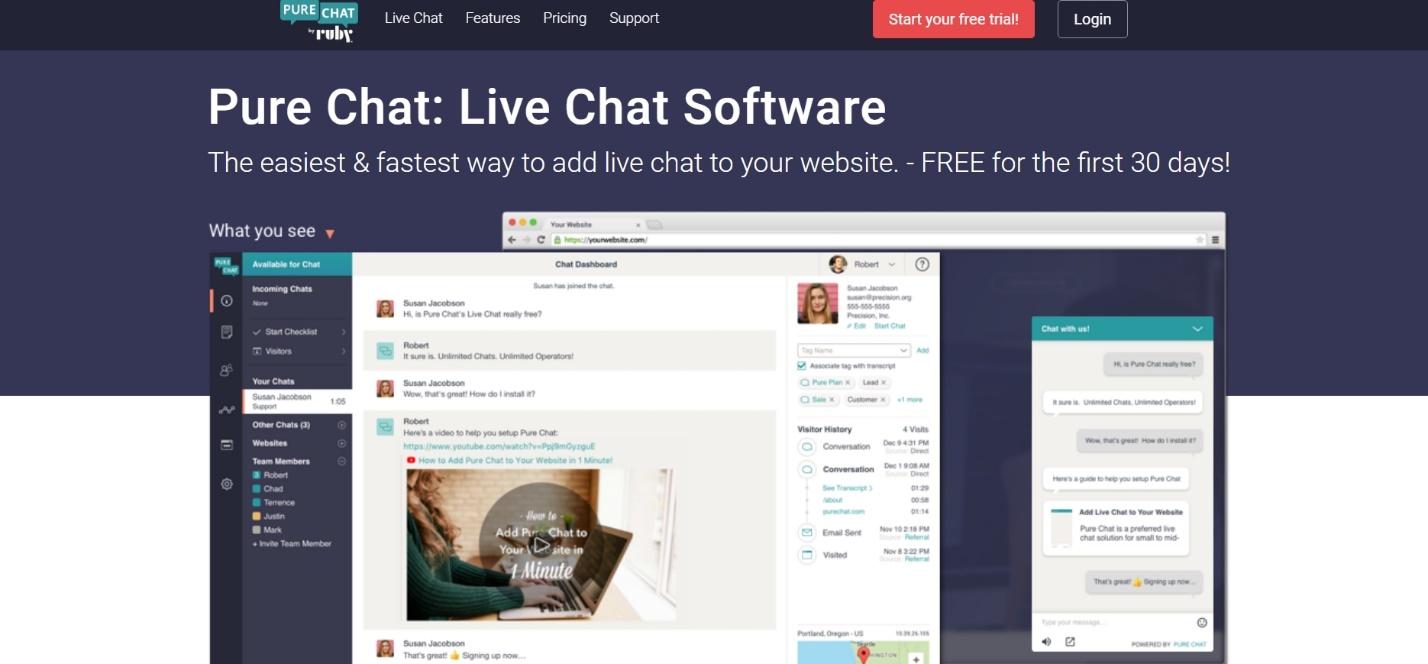 Pure Chat is a chat tool that businesses can easily integrate into their websites. Originating from Arizona, it's been in the industry since 2012 and is well-known for its user-friendly features. This tool allows companies to interact with site visitors, enhancing customer experience and possibly boosting sales.
Features:
Live chat widget
Real-time visitor data
User history insights
Mobile-friendly
Customizable design
Pros:
Simple pricing
User-friendly
Offers live data
Quick setup
Cons:
Limited advanced tools
Not multilingual-friendly
Pricing: Pure Chat offers two main plans, the Growth, and the Pro. The Growth plan is available at $49 per month, catering to up to four users. On the other hand, the Pro plan is at $99 per month, serving up to 10 users with more features.
Chatwoot
Chatwoot is a digital helper designed for businesses to juggle multiple communication channels seamlessly. From live chats on websites to social media messaging, this platform ensures you're always there for your customers.
Features:
Omnichannel support
Team collaboration
Automation rules
Dashboard apps
Customizable live chat widget
Pros:
Integrates multiple platforms
User-friendly interface
Efficient team collaboration
Open-source alternative
Cons:
Limited chat widget configuration
Some features still need refinement
Pricing: Chatwoot offers a free plan for up to two agents. Moreover, pricing ranges from $19 to $99 per agent per month for extended features and more agents.
Drift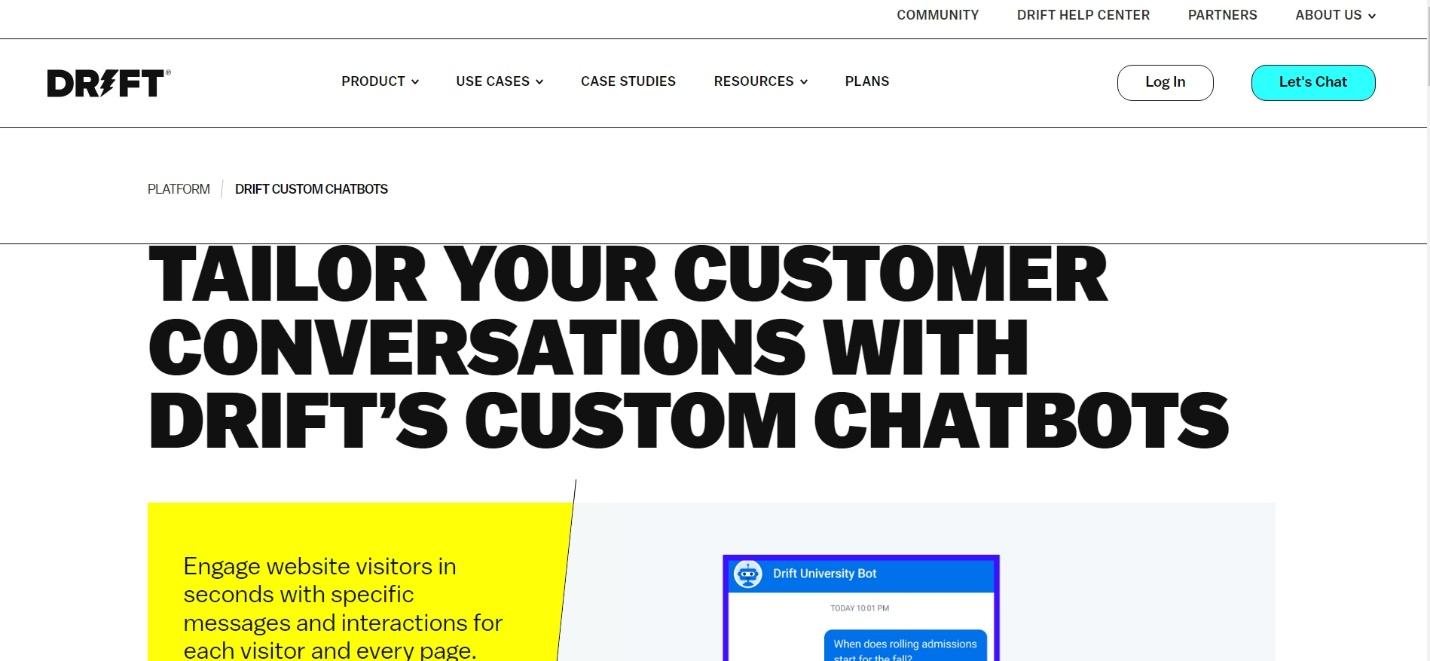 This chatbot tool helps businesses instantly chat with their website visitors. Drift guarantees that every website visitor receives the appropriate message. It's like having a 24/7 digital receptionist for your site!
Features:
Instant visitor engagement
A/B testing for messages
AI-powered chats
Real-time customer interactions
Schedule sales meetings
Pros:
Boosts sales via targeted chats
Provides optimization data
Schedules meetings easily
Personalizes visitor chats
Cons:
It can be a bit complex to set up
Advanced features require higher plans
Pricing: The Drift chatbot costs $2,500 per month for small businesses. However, the price is custom-based on requirements for advanced and enterprise-level features.
Final Thoughts
Communication is the cornerstone of any business, and finding the right chatting platform is essential to ensure seamless interaction with clients. While Jivochat has set a benchmark, these alternatives provide a diversified range of features, catering to varied business needs.
Waiting is not beneficial for your business. Hence, add a chat button to your website and enhance the experience of your visitors and customers.
Make sure to make an informed choice based on your specific requirements and budget. Also, if you are ready to take the plunge, make sure to try Chaty and elevate your online communication today!