Small businesses often struggle to gain visibility online. However, there are some plugins that can help improve the functionality and user experience of their website. In this blog post, we'll discuss the top must-have plugins for small business websites.
Top Must-have WordPress Plugins for Small Business Websites
Here are some of the best WordPress plugins for small businesses you can consider.
Security Plugins
WordPress is one of the most susceptible content management systems. Not because the developers overlooked the security but because of its popularity. 
When you think about it, why would hackers target a system no one knows? To prevent your site from being hacked, it's a good idea to invest in a security plugin.
Most people would only realize the importance of a security plugin once they experience a security breach. However, you know that it's already too late when it happens.
Small businesses in particular often overlook the security of their websites to focus on other things. Security plugins might be costly, but you can consider them insurance or an alarm system. You won't feel the benefits of health insurance after you're sick, right? Only after something bad happens, you'll be thankful that you have one.
Security plugins for small businesses provide various services to secure your website's safety, including firewall protection, malware protection, security audits, and uptime monitoring. Each feature operates differently. The functionality you have may vary depending on the plugin you use. 
These are some of the top website security plugins for your WordPress site.
Wordfence
Wordfence is one of the most well-known and reputable security plugins. It is available in both free and premium versions. This plugin has various key features, such as a firewall, virus protection, login security, and centralized management.
When the Wordfence team discovers a new vulnerability, it updates its firewall in real-time, which lowers the user's vulnerability. With this plugin, you will also have login security that is reinforced by two-factor authentication and CAPTCHA. They provide dual protection against automated cyber-attacks.
Sucuri

Sucuri is also regarded as one of the most effective cloud-based security plugins. Among its features are threat detection, protection, performance analysis, and a backup service.
This plugin will run a comprehensive monitor and scan your site for dangers. It will also update the real-time accessibility of your site. That way, you can take instant action if there's something wrong with your CMS.
It also provides a website backup solution that may restore your already-hacked website safely.
SEO Plugins
When you first launch a new company website, the chance of it being known by the general public is quite small. Making your site rank higher in the search engine is one way to increase the visibility of your digital business. If you manage to do that, your site may be one of the first to be clicked when consumers type a term related to your products.
This is when an SEO plugin comes in handy. SEO (Search Engine Optimization) plugins will help you decide what steps to take to improve your site's SEO. Using SEO for small businesses will raise your authority, search rank, and, eventually, organic traffic.
These plugins will be especially useful if you are new to SEO. Even without an advanced understanding, you can improve your sites effortlessly, thanks to their organized recommendations and suggestions.
Keyword optimization, XML sitemap building, title and meta description optimization, and content analysis are all characteristics of SEO plugins. They will assist you in improving the ranking of your website. There are two recommendations for SEO plugins you can use.
Yoast SEO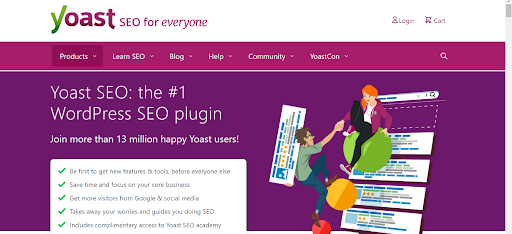 Yoast SEO, one of the top SEO plugins available, has an abundance of functions that may help your website. These features include XML sitemaps development, content analysis, SERP previews, meta description ratings, and more.
You don't have to memorize every step of SEO-recommended practices with this plugin. It informs you of everything you missed or need to perform. The plugin will also recommend keywords, meta descriptions, titles, and URLs. It tells you whether you utilized the keywords frequently enough.
SEOPress
This plugin is available in both free and paid versions. The free features are already comprehensive enough. It allows you to perform content analysis, on-page SEO, and XML sitemap production, among other things.
Nevertheless, the premium edition includes additional features such as content improvement, spam screening, redirects, and AMP (Accelerated Mobile Page) integration.
Contact Form Plugins
Adding a contact form option on your website will make it easier for your consumers to reach you. It will also help you comprehend their problems better.
Aside from that, another key reason for you to have a contact form is its 24/7 availability. Your company may not have access to reply to clients all the time. When you have a form plugin, customers can utilize it when they need to contact you outside of office hours.
Another reason to use this plugin is to improve security and avoid spam. Rather than giving your consumers your email address, you should let them reach you via a contact form. This reduces the risk of spam.
Making yourself available to your consumers will increase their faith in your firm. That will result in a positive reputation. A satisfied consumer is a satisfied business owner. Here are two contact form plugins you can consider.
WPForms
WPForms has been utilized by more than 5 million individuals globally. The plugin has a drag-and-drop form builder. With this key feature, you can modify any sort of form without any code needed.
Poptin
Poptin also lets you create a large range of form kinds. The plugin is completely free. With the available features, you can customize your forms with any way type of input you like, including an email field for verified email addresses, a radio button for multiple selections, a checkbox, a text field, and many more.
Moreover, Poptin provides a pop up and an autoresponder in addition to contact forms. The A/B testing function also allows you to test several versions of their pop-ups and forms before publishing them to see which ones are more beneficial for you.
Poptin is a flexible plugin for company owners out there. Small company owners can benefit from it being free since it doesn't incur additional fees.
Social Media Plugins
You've probably encountered this sort of plugin on several websites. Some social plugins might look simple, for example, the logo that enables you to share a blog post to your social network. Other plugins may be more sophisticated than others. It may, for example, display a section of its social network profile.
Some more advanced social media plugins allow you to integrate your social media chatting system into your website. Customers can quickly contact you via social media by just leaving a message on your website.
Social media plugins allow you to boost your social media engagement as well as your website traffic. When someone shares anything from your website on social media, the possibility of your website being seen more frequently through organic traffic increases.
Additionally, by using a social media plugin, you'll boost the website's users' experience. It will also provide you with more brand credibility, SEO benefits, and analytics. Here are some social media plugins to consider.
Chaty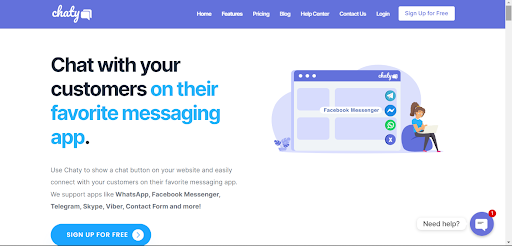 This platform's main feature might look ordinary. It provides you with a live chat window that lets your visitors chat with your business' administrators. However, unlike any other live chat app, the site' chatting system is directly connected to your social media chatting system.
Chaty supports more than 20+ social communication channels. The issue with the standard chat panel is that when visitors leave the site, they can no longer get responses from you.
If the chat links to a communication channel such as Whatsapp, Facebook Messenger, Instagram Direct, or any other message platform, you'll be able to carry on the conversation from anywhere and at any time.
This makes communication for you and your customers simple, accessible, and convenient. The user interface is customizable. It integrates with Google Analytics and has other features. Chaty also has several plans with ranging features.
Smash Balloon
Smash Balloon allows you to show social network feeds on your WordPress blog. It is compatible with four different social networking platforms: Facebook, Twitter, YouTube, and Instagram. Also, the plugin has a configurable feed display, filtering, real-time updates, and moderation.
Performance Optimization Plugins
Try to put yourself in your customers' shoes. Would you like to return to a slow and unresponsive website without becoming frustrated? No matter how amazing your products are, you will lose those prospective customers if they cannot simply access your site.
Instead, having a speedy and responsive website will give your customers a good user experience. This will either directly or indirectly affect your search engine ranking.
WP Rocket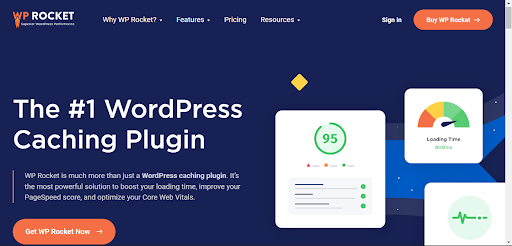 This is one of the most popular WordPress performance enhancement plugins. It has a number of features to increase website speed and performance, including caching, minification, and lazy loading.
WP Optimize
This plugin optimizes the WordPress database to increase website speed. To keep the database working smoothly, it clears away unnecessary data, optimizes speed, and schedules automatic cleanups.
Final Thoughts
Installing plugins to your small business website will give you countless benefits. Not only will they make your site look better, but they will also improve its security and user experience.