It may be obvious to this point, but customer service is one of the most critical parts of any eCommerce business. Regardless of what product or service you're selling, clients are much more likely to come back in the future if you have excellent customer service.
Many businesses have transitioned into the online era to sell their products. For good reason; the internet is much more accessible than it was before, making it easier for people to get what they want without going out of their homes.
Overall, good customer service can lead to more sales, warmer leads, and many more benefits for your business. Today, we're going to give you our top five customer service tools for eCommerce websites so that you can stay on top of the live chat software trends!
Using Tools to Improve Customer Support
Unfortunately, many business owners don't pay attention to improving their business's customer support; these people primarily focus on selling. While that could have been a strategy that worked years ago, eCommerce websites need a bit more than that.
In essence, even having free chat on the website can help potential clients get in touch with someone from the company much faster. Remember that people buy things on the internet for convenience, and if you take that away from them, they may not have much of a reason to say on your website.
Thankfully, there are currently many tools to start including chat into your website. A WordPress chat plugin, for example, may offer you several options, such as a WhatsApp WordPress plugin or a Messenger WordPress plugin. If you use WordPress, make sure to integrate a cloud hosting for WordPress as well so that your website is secure.
Even if you don't work with WordPress, there are many tools that allow you to set up different free chatting widgets, such as a Shopify chat plugin or a WhatsApp plugin for your website.
Now that you know how having chat for websites can help you, here's a list of our top five chat button apps for your website. If you're looking to optimize your customer experience through a chat widget, this is your sign!
Chaty has been a fan-favorite for quite some time now and for good reason! It's one of the simplest chat plugin websites to use. Overall, Chaty works for anyone who may want to make the user experience much more comfortable.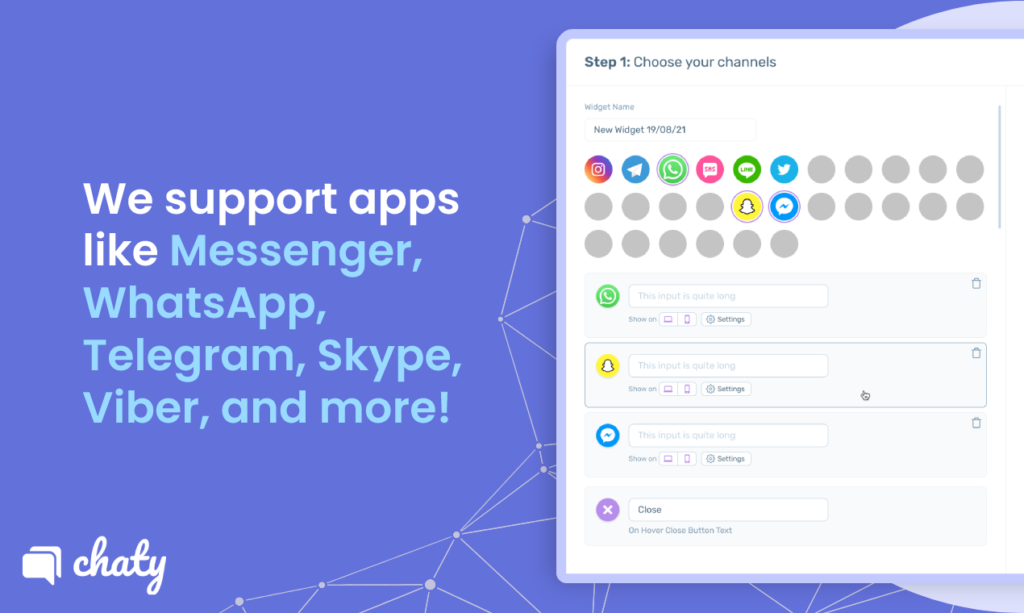 Overview
Generally speaking, Chaty is a chat plugin available on almost all website platforms such as WordPress, Shopify, Ecwid, and more. This is used by business owners to set up action buttons. These action buttons allow any visitor to chat with you or any employee you decide to put in there.
One of the best things about Chaty is that you can create a chat button or widget for several communication apps, including WhatsApp, Facebook Messenger, Snapchat, Instagram, Skype, and more!
According to Chaty's official product website, you can do all of the following things:
Improve your customer support
Get more calls or leads
Direct your potential customers to your store's physical location
Moreover, if you upgrade to a paid plan, you can get many more features, such as the ones we're going to mention below.
Features
When it comes to Chaty, there are a lot of different features to use. In the most basic plan, you get support for one website, unlimited communication channels, widget customization, live chat analytics through Google Analytics, and so on. 
However, as you upgrade to more advanced plans, here's what you can also get:
More than five websites
Advanced customization for your widgets and channels
Upload your own chat button designs
Remove 'Get Widget' watermarks
Show your button on specific pages
Show all your channels simultaneously
Pricing
Overall, Chaty's pricing has one free plan and three paid plans:
Free Plan: $0
Basic: $39
Plus: $89
Agency: $149
It's vital to note that each plan is paid annually instead of monthly. There are also discounts for those who get the service for more than one year.
2. HubSpot Service Hub
HubSpot is another popular marketing tool provider worldwide. Whether you have a small or big business, there are a lot of things you can start doing today to boost your customer service.
Overview
To put it simply, HubSpot Service Hub is an all-in-one tool for customer support software. The beauty of this software relies in that the dashboard shows you everything you may need to track your analytics and make decisions based on that data.
Moreover, you can set up chat buttons without any problems, making it a reliable tool for even beginners to use.
Features
Some of the best features from HubSpot Service Hub include the following:
Team Inbox
Ticketing Automation
Customer Data Collection
ChatBots
Pricing
HubSpot Service Hub has four different plans:
Free Plan: $0
Starter Plan: $50 per month.
Professional Plan: $400 per month.
Enterprise Plan: $1,200 per month.
There's also a free trial for those who may be interested.
3. Zendesk Customer Service Tool
Zendesk is used by some major brands worldwide such as Uber, Shopify, and more, so you don't have to worry about it not being reliable.
Overview
A great thing about Zendesk is that it goes beyond offering live chat widgets. It also offers CRM, analytics, and reporting features, and the ability to create your customized knowledge base, which is something that many business owners look for.
If you're looking for something that has everything and that is considerably popular, Zendesk may be another excellent choice to consider.
Features
Some of the primary features for Zendesk include the following:
Calls and Texts
Custom Knowledge Base
Analytics
Ticketing System
Live Chat
Pricing
Zendesk has two types of pricing plans: for everyone and enterprises.
Everyone
Suite Team: $49 per agent per month.
Suite Growth: $79 per agent per month.
Suite Professional: $99 per agent per month.
Enterprises
Suite Enterprise: $150 per agent per month.
Additional Plans: Starting at $215 per agent per month.
4. Salesforce Service Cloud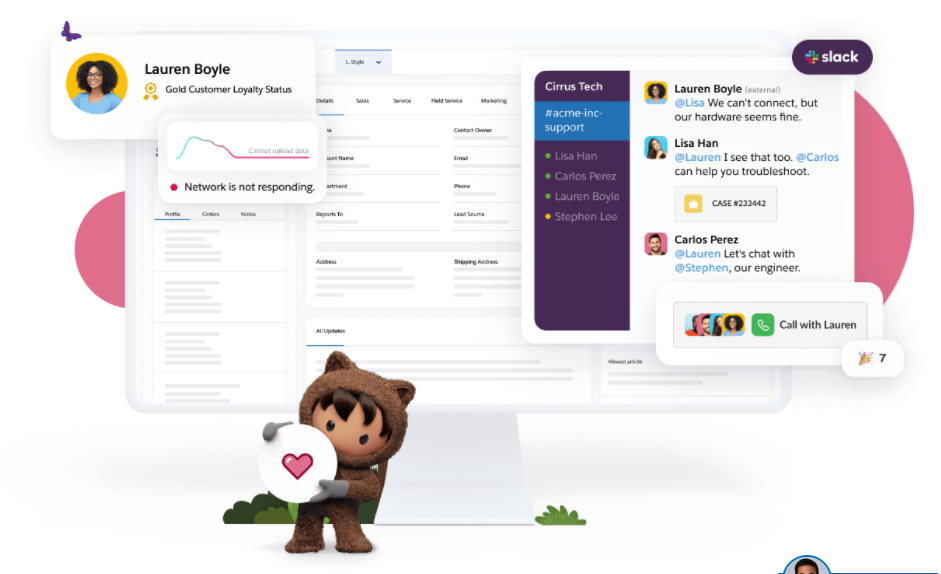 Interestingly enough, Salesforce is powered by AI, making it a good option for those who want to address a wider range of customer needs with no additional effort.
Overview
As with the previous tools, Salesforce offers you a single solution for all your marketing-related needs. Moreover, Salesforce provides many integration options if you want, but you may not need that since it already comes with everything you need to start working.
Features
Salesforce Service Cloud's most remarkable features include:
Multi-Channel Customer Support
Calls and Texts
Customer Analytics and Feedback
Integrated Customer Data
Live Chat
Pricing
Salesforce Service Cloud currently has four paid plans and a free trial for each. You may check more in-depth information about the pricing below:
Essentials Plan: $25 per user per month.
Professional Plan: $75 per user per month.
Enterprise Plan: $150 per user per month.
Unlimited Plan: $300 per user per month.
5. Groove Customer Service Software
Although it's the last one on the list, it's also powerful enough to address all your customer support needs. The beauty of Groove relies on that it offers a universal plan for everyone, making things much easier.
Overview
Groove markets itself as a functional and intuitive ticketing system, although it does much more than that. Even if you don't pay for the add-ons, you still get a plethora of different tools to use.
Features
You can expect the following features from Groove (and many more!):
Intuitive and Modern Design
Free Knowledge Base
Email Client Integration
Chat
Pricing
Groove has a 30-day trial for those who aren't convinced yet. If you want to enjoy Groove's full features, you must contact the company to get your 'universal quote,' although the paid version starts at $15 per month and the price may vary according to your company's needs.
Find What Fits Your Needs
In the end, the choice of which customer service tool you use for your business is up to you since not all of them may comply with your needs or budget. If you're still unsure of what may work for you, keep in mind that Chaty has a free version you can try out today.

Get to know the full potential of your eCommerce business with a messenger plugin for your website, and sign up for Chaty today!