Online review platforms for businesses and service providers are usually packed with comments from irate customers, bemoaning their bad experiences when reaching out for customer support.
This has made customer representatives very unpopular, and many times, customers would rather forgo calling the help desk for assistance, even if it means their issue may remain unresolved.
In fact, recent studies claim that about 41% of customers would rather use a live chat app as the primary means of communication. In response to this, 85% of businesses are expected to switch to a live chat support system.
A bad attitude toward customer service can be very detrimental to any business, especially in a world where people are quick to share their experiences on social media.
Investment in a good live chat solution goes a long way to allowing businesses to connect better with their customers, and help foster a solid online reputation.
What is a live chat?
Live chat refers to one of the many forms of messaging, and support software, that companies utilize for effective communication between customers and business representatives. The messaging platform is usually accessed via a pop-up chat button that initiates a free chat on the company website.
Initiating the chat may be left to the customer's discretion, or the chat widget may pop up automatically as a way to encourage the customer to engage in conversation with the company representatives.
What are the benefits of using a live chat app?
Purchasing, installing, and maintaining a live chat plugin for websites may represent a significant investment on the part of the business. As such, it is important to understand what kind of benefits you can expect. Here are some of them:
Research suggests it is the preferred communication channel used by most customers
Provides a connected customer experience appreciated by most people
Makes solving problems at first communication much easier
Builds trust between customers and support teams
Drives sales by offering another avenue for promotions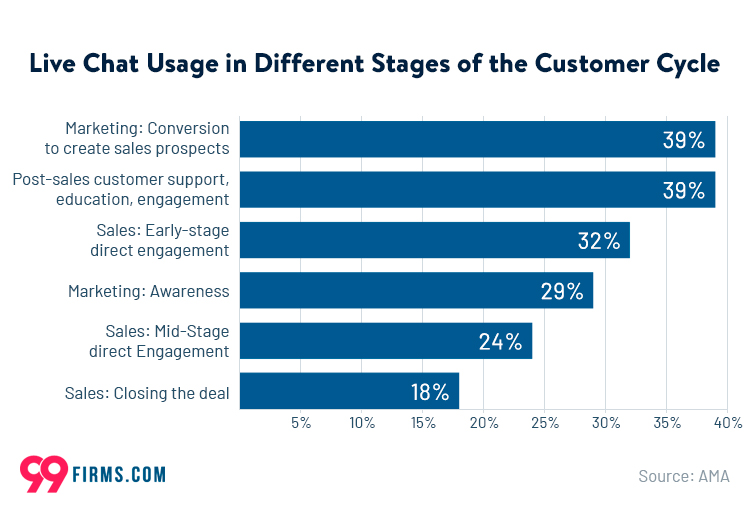 3 Major Uses of a Live Chat Software
The versatility of most live chat apps means that they can be used for a lot more than simply responding to customer complaints. Indeed, many live chat software systems come equipped with a veritable list of tools and chat button features, which if used correctly, can create new opportunities for companies to exploit.
Three popular uses for live chat apps are:
1. For Customer Support
Looking at live chat software, and how it is designed and implemented, it is immediately apparent that the major role it plays is that of providing great customer support options.
The majority of live chat software features are geared towards opening effective communication channels between support teams and customers.
Features, such as canned responses, chat archives, sneak peek messaging, and notifications, all serve to make the chat experience more rewarding, and more likely to achieve the desired results.
Most chat apps are also easily integrated with social media platforms, from which customers can reach the support team using their preferred means of communication.
Without proper customer support features, live chat apps would not be able to fulfill the fundamental role for which they were created, and in the ever-changing digital landscape, would soon become obsolete.
2. To Drive Sales
The primary objective of any business is to make profits, and driving sales is the way to achieve that. Any, and all, means of boosting sales revenue should be exploited, and making use of live chat apps is one way of doing that.
Live chat apps are particularly effective for businesses that have an uncomplicated business model and sales strategy. Items that do not require things such as paperwork, and can be shipped easily to customers, are easy to sell through live chat platforms.
A lot of success has also been seen when using live chat widgets to provide services such as insurance cover, software updates, and other such products that only require an internet connection to complete the transaction.
Using chat apps for sales is still a relatively new concept, and as such, not many strategies are as yet available on how best to utilize this tool. Nevertheless, with the growing popularity of this kind of support system, we will no doubt see a lot of progress in this sector soon.
3. As a Marketing Strategy
One of the most important aspects of a good marketing strategy is having an effective visual impact on the consumer. Live chat apps that have pleasing, eye-catching appearances, and are supported by user-friendly software interfaces, can usually be very successful marketing tools.
Open any website which has live chat support integration, and the first thing likely to attract your attention is the colorful, animated chat widget offering you a friendly greeting. Combine this with a few hints and suggestions about specific products, and you have the makings of a great advertisement.
Support teams that are kept up to date on any products on special offer, can casually mention these to customers while they are handling their queries and complaints. A bit of sales training for support teams will go a long way in boosting productivity.
10 Live Chat Hacks You Need to Know
When all is said and done, the effectiveness of live chat apps as a means to communicate with customers, and boost sales revenue, will ultimately depend on how well the app is used.
With this in mind, here are a few tips and tricks that you can utilize:
1. Use Canned Responses
The purpose of a live chat system is to improve customer service through a more efficient platform. This means you, and your support team, need to be able to handle multiple problems in as short a time as possible. One way to save a lot of time is to use canned responses.
A canned response is a prewritten reply which has been saved to answer common queries. Let's say, for example, there is a service interruption affecting internet connectivity in a certain area.
A lot of customers are going to call, asking the same question, regarding what happened and when services will be restored.
Canned responses will save you a lot of time going through the same questions.
2. Friendly Tone and Greeting
At times, support teams fail to appreciate just how nervous some of their customers can be when seeking help over an issue that is troubling them.
Low confidence, language barrier, and concern over the problem at hand, all contribute to making a lot of customers nervous, and in cases like this, you have to make them feel at ease.
The use of a friendly tone of voice, or well-written conversation, goes a long way to making the customer more comfortable.
Not only will this shed a good light on the company, but it will also make your job a lot easier, because a comfortable customer is easier to understand, which significantly decreases the amount of time needed to solve a single issue.
Good read: 10 Live Chat Etiquettes For A More Courteous Communication with Customers
3. Accept Responsibility
Dealing with customers can be difficult, especially when you come across the more unreasonable ones. At times, the difficulty the customer has faced due to the problem at hand will make them impatient, rude, and downright impossible to reason with.
In such cases, difficult as it may be, it is important to remember the golden rule that says, "The customer is always right." Accepting responsibility from the get-go will go a long way in pleasing the customer.
4. Apologize Sincerely
Same as taking responsibility, offering a sincere apology is something that most customers will appreciate, regardless of the severity of the issue. A customer support chat room is not the right place to suddenly rediscover the virtues of fairness.
After dealing with customers for some time, you will realize that the majority of them invariably respond positively to an honest apology, and after that, become more than willing to listen to any possible solutions you might offer.
Once a customer senses a lack of empathy or hints of sarcasm in your apology, it will only compound the problem.
5. Address All queries, Big and Small
It can be easy to brush off a customer's concern because you think the solution is obvious and does not warrant the time it takes to talk about it. This is common when dealing with a problem in an area you have a lot of knowledge about.
However, at such times, it is prudent to remember that the problem is not necessarily the issue at hand; the problem is the fact that the customer is unhappy.
Solving the issue, big or small, is only a means to bring customer satisfaction. Once you develop this attitude, then it will make dealing with small issues much less of a task.
6. When in Doubt Seek Assistance
One of the great things about using a chat app is that you are not only connected to the customer, but also to the rest of your team members. If a customer has a problem that requires a lot of technical knowledge, then the best course of action is to seek help.
You can choose to either place a customer on hold while you approach a knowledgeable team member, or you can transfer the customer to someone else, along with the entire transcript of the progress made in trying to solve that issue.
The thing you should never do is try to bluff, or charm your way out, without giving any practical solution.
7. Let the Customer Know Before Transferring Them
It can be very frustrating for customers to be constantly bounced from one service rep to another, especially if no explanation is being offered beforehand. Always make sure you communicate everything clearly before taking any action, be it placing them on hold or transferring them to another handler.
To make the situation less annoying, make sure whoever is taking charge of the problem is well appraised of the situation and any progress that has been made.
8. Ensure That the Problem Is Solved to Completion
At times, you might think that an issue has been successfully resolved, whereas the customer still has some problems they need to address. It is wise to go through the problem step by step with the customer and ensure that they are satisfied.
Invite them to air any outstanding issues before you can declare the problem solved. It is a good idea to ask them if they are fully satisfied with the way you handled their issue. When you remember that customer satisfaction is the main goal, then this becomes obvious.
9. Don't Make Small Talk
When customers approach you with an issue, they are only interested in one thing only, which is finding a quick and practical solution. They are probably already frustrated with the situation, and will not respond well to small talk.
After a polite greeting, get down to the business of understanding what the problem is, and deciding how best to solve it.
10. Learn a Few Sales Tricks
It is usually not easy to have the full attention of a customer at any given time, but one of the few exceptions is during a customer support chat. Learning a few handy tips and tricks on how to make sales can greatly boost the sales potential of the business.
The thousands of daily chats between customers and company representatives, offer opportunities to engage in conversations about products or services you wish to bring to the customer's attention.
As with all things though, timing is very important. It does not do, to interrupt a customer while they are trying to explain something so that you can talk about the awesome product you are marketing.
Final Thought
The possibilities are limitless when you have the right chat app for your business, and one app that you should strongly consider is Chaty.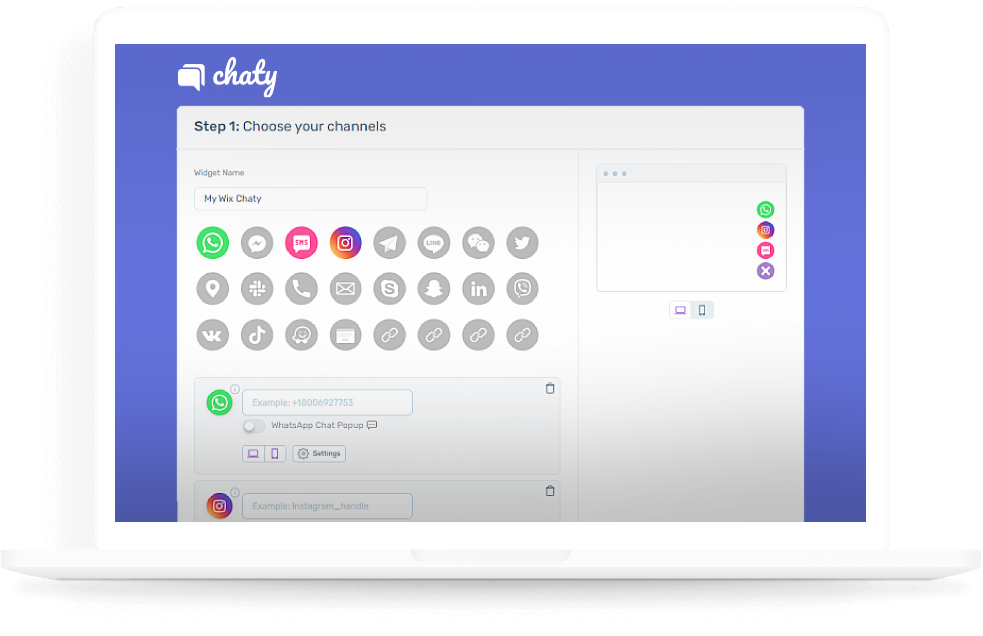 Packed with all the great features needed to boost customer service, sales, and marketing, Chaty app can be just the tool you need to take your business to the next level. You can even communicate with your customers through different messaging platforms they prefer.
Register now for free and watch as your business begins to grow and flourish.