Successful businesses are always looking for ways to optimize the demands of their customers. Most consumers are aligning with businesses that offer quicker and more convenient shopping experiences, especially for online retailers.
According to Forbes, there has been a paradigm shift in businesses incorporating live chat features on their website as a whopping 54% of retailers were able to use live chat features as of 2017.
Additionally, a survey conducted by Idealo found businesses that use live chat features had a higher percentage of customer satisfaction levels at 73% for live chats, 61% for email, and 44% for the phone, as consumers found live chat features to be more appealing.
It's, therefore, crucial for any business to start building long-lasting customer relationships with the help of a live chat.
What is a Live Chat?
Live chat is a software that powers instant messaging platforms allowing company customer agents to communicate with customers and other prospects.
It allows customer agents to talk to customers in real-time and asynchronous conversations through social media channels, text messages, or the company mobile app.
Moreover, it integrates chatbots, CRMs, messaging apps, help desk software, knowledge bases, analytics, and automation platforms, among other things through APIs and third-party integration.
The good thing about these integrations is that they will allow the live chat app to:
Save time and costs as chatbots are deployed to deal with repetitive customer requests, leaving room for customer agents to deal with complicated requests.
Ensures faster and customized services by pulling out vital data from CRMs and analytics software that offset workflows and is used by chatbots and agents.
Building great relationships between customers and businesses as they can have conservation on the messaging channels that customers are most comfortable with.
In a nutshell, live chat allows organizations to have rich conversations with customers over their website, mobile, or social platforms.
Users can easily automate and scale it to their preferred customer needs.
Additionally, mobile live chat apps keep the support going by allowing agents to reply to customer requests while on the move.
Want to learn more? Read All You Need to Know About Chat Apps
3 Key Reasons Why Using Live Chat in a Business Is Important
Having a live chat app allows businesses to be efficient and improve customer experience throughout the lifecycle of a customer.
Businesses can engage prospects the minute they visit your website and also ensure they've handled any customer issues.
Here's how businesses benefit from using a live chat plugin for a website:
Marketing
Live chat plays a key role in marketing as businesses can have marketing conversations on their websites, which serve as lead generation machines.
Most companies spend tons of resources driving prospective customers to their website, and for some reason, while the prospect is on the website, they fail to convert.
When you add a chat plugin to your website, businesses shift their marketing strategies from focusing on passively collecting data of a lead's contact to actively engaging prospects with targeted inbound messages.
Leaving businesses to throw out audacious static marketing strategies that might not bear fruits to engaging with potential leads in real-time through human to human or automated chatbots aimed at sparking an interest.
Having a chat widget allows businesses to engage with prospective customers who are thinking of buying from your website at that exact opportune moment.
Sales
Most customers have product options on the market to choose from, which gives them control over the sale processes.
Businesses that provide quick, on-demand services are the ones that have the upper hand in driving sales.
These enterprises have realized that creating authentic and impactful chat live solutions can positively influence inbound sales.
Customer Support
Traditionally, companies view customer support as a rising cost sector and try to minimize these costs with basic ticketing concepts to help handle customer issues.
Today, that's not good enough and leaves a sour taste in the customer's mouth as far as customer experience is concerned.
Customer experience can make or break your business. Going for a chat app will provide a platform for a conversational customer experience that goes hand in hand with what customers require today.
Customers don't like to feel objectified as tickets.
They need a quick and easy way to feel human. A free chat on a website is not only good for customer support, but it's also great for the growth of the business. It definitely pays to put your customers first.
Live Chat Best Practices
Adopting a new system of live chat management may bring some challenges.
Live chats require an instant response, and some companies may be a bit worried about how they're going to handle the massive volume of messages coming in from the installed live chat.
It can really become a daunting task to ensure 1:1 conversation, plus it's expensive.
Luckily, you don't have to go through this route. The biggest takeaway from this is that you use live chat alongside automation and bots to make teamwork efficient.
With these basic live chat best practices, you'll be a step closer to working effectively.
1. Don't Act Like a Robot
Remember the clunky chat experience you've had, and think of how you would have loved to be spoken to as a customer; bet it's with a human touch? Even robots are being taught how to mimic humans.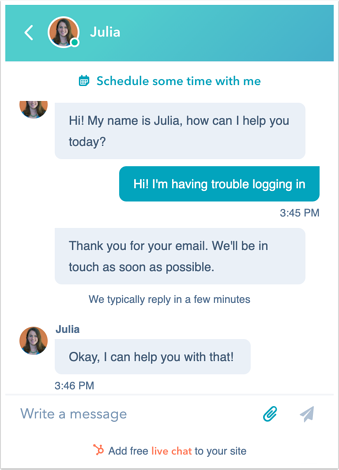 The goal is to sound natural and deliver supremely personal human experience. Don't know where to start? You can easily model your chat style to mimic your email support style.
2. Choose the Right Places to Provide Chat Support
Yes; you don't have to offer a chat widget on every platform. Choose the places that'll have the most impact on your business in terms of sales and growth.
Most live chat tools enable users to have a chat button at specific pages or locations. It can be on your website, application, or contact page.
3. Don't Make Promises You Can't Keep
Live chat implies almost instant response from chatbots or agents. A delayed live chat reply can reflect poorly on the company than a delayed email reply.
Therefore, you need to set achievable live chat hours, and they should be visibly outlined on your website.
Reviewing the transcripts can help you look for great connection examples that you can share with your team. You can always change the hours at any time to fit your script.
4. Biting More than You Can Chew Turns to Chaos
As stated earlier, customers expect an instant response to chats; therefore, quantity does not equate to quality in this scenario. Speaking through a chat app does not minimize a customer's problem size.
The gravity of a problem will influence the amount of time and attention you give a particular client. It's important to consider this factor before adding such additional customers to a queue.
5. Use Your Live Chat Profile to Establish Trust
Before anything is said, your chat profile will give clients a first impression of your business. Make it count by having a complete live chat profile with a picture.
Putting a face to a name will establish trust.
6. Train Your Team
Chat apps are a different medium from phone and email and will require different skills. Taking your team for training will help them grasp vital aspects of operating a live chat to work effectively.
They'll learn how to greet customers on chat, breaking down longer posts into separate pieces for easy understanding, among other things.
7. Watch, Learn, Then Tweak
After using the chat app for a while, you can get information from live chat analytics to determine areas you're thriving at and areas you put extra effort in.
The analytics can showcase the rate of customer satisfaction from all channels.
Talk to your team to determine the areas you can tweak to attain maximum customer experience.
8. Don't Leave Customers Hanging
Once you start talking to a client, you must stay the course until the problem is resolved or the next cause of action taken. Therefore, setting realistic expectations is essential.
The number of chat hours available on your website tells your clients when you're ready for business.
Try overlapping your team, so the person ending the day can write off chats 30 minutes beforehand.
9. Using a Simple Chatbot to Segment and Qualify Leads
The chatbot can automate information collected so that when an agent comes to the rescue, they can grasp everything as they have the relevant information needed to resolve a problem.
Make it clear from the jump that the customer will talk to a bot first before you secure an agent.
You can do this by putting the avatar profiles and chatbot names in a precise manner.
10. Take Breaks
While in tune chatting away with clients to resolve their problems, you can easily feel you can't stop at any moment.
However, breaks are crucial to staying energized and refreshed. You'll give the best customer support when you're at your best.
5 Best Live Chat Examples
Finding the right live chat to go for that aligns with your business needs is important. It should help you meet specific needs in sales marketing and customer support. Here are some examples of effective live chats for 2022:
Using Live Chat to Engage Website Visitors Instantly
A quick greeting from the homepage will go a long way in encouraging visitors to engage and have more conversations. The minute they send a message, your customer support team can redirect it to the correct department.
Chaty has targeting and trigger features from automated bots that help ask small sets of questions so that a visitor is directed in the right direction.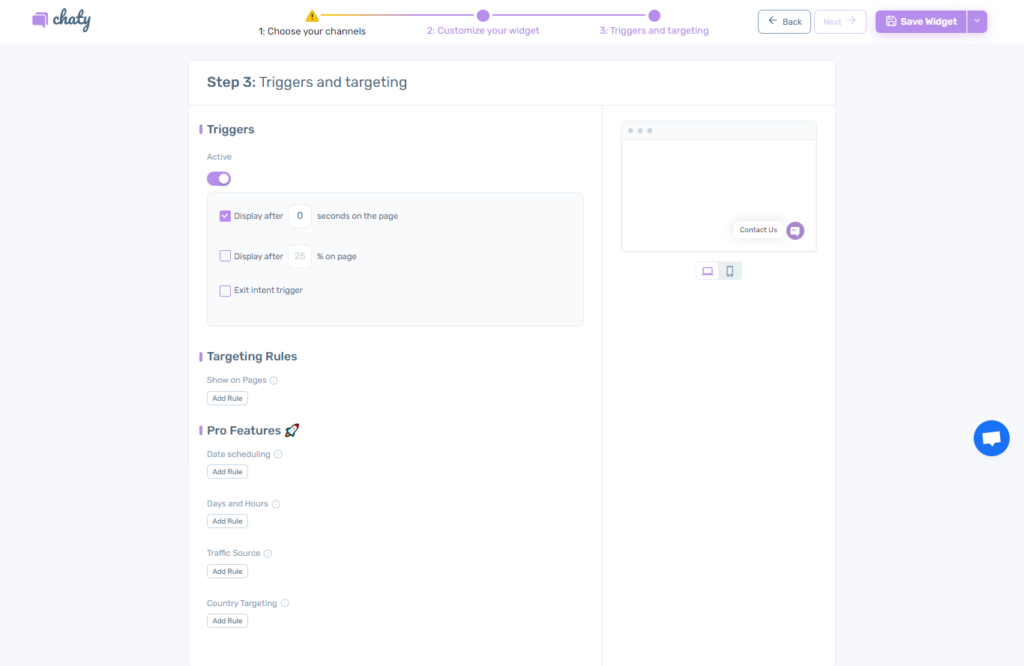 Sending Targeted Messages to VIP Website Visitors with the Help of a Live Chat
When VIP visitors come from a specific destination, you can easily create a personalized message with Chaty. Going for the basic one size fits all messages.
By integrating the live chat tool with an intelligent product, one can identify these prospects.
Reaching out to Frequent Visitors Through Live Chat
When a visitor constantly visits your site and spends an incredible amount of time there, you can safely assume they are interested in buying your products or are trying to get in touch with customer support.
You, therefore, need to reach out to them with a message indicating you can help with any questions they have. If you notice that the said visitor has been on a particular page for a long time – let's say pricing-, you can trigger a message based on pricing.
It can be something like: 'Hi there, do you have questions on the best plan that properly fits your needs?'
Encouraging Visitors to Complete a Task Using Live Chat
Most online shopping is usually abandoned at the cart, as most of these online shoppers didn't intend to buy in the first place.
Encouraging shoppers to complete their shopping all through to the checkouts is somewhat important.
This can scale sales up to three times; therefore, using live chat to encourage visitors is essential.
Increase Customer Agent Productivity with Live Chat
Live chat brings a sense of ownership from the beginning to the end compared to other mediums like emails.
These other mediums make customer agents unproductive as there's always time lost between teammates sharing tickets, context shifting between each reply, and gathering information.
While live chat is instant, it gives a better experience to workers and customers alike.
Live chat reduces the response time while increasing contact per agent to maintain a high CSAT score.
Try implementing multiple agents to efficiently delegate tickets to the right department.
Bottom Line
The invention of smartphones, AI, and other groundbreaking high-tech has put customer expectations at an all-time high.
Consumers want to talk to businesses at their preferred social platform and time.
Therefore, businesses must align with such demands to make more sales and stand out.
Chaty helps businesses to foster such experiences at scale.
Whether it's human-to-human conversations or automated chatbots, using a chat support is the best way to engage consumers and prospects in their moment of interest in real-time the minute they visit your website.
Want to know the best live chat options for you? Here are some helpful resources: