Customer support is the backbone of excellent service delivery. Not showing your customers that they have your full and undivided attention when they need it most is one sure way to risk losing them to a competitor.
However, achieving this is not always easy in such a busy business climate. You need something to give you the edge, which is where website chat apps like Chaport come in.
What is Chaport?
Chaport is the answer to the question of how best to address your customers' needs in the most efficient way possible. It is a chat plugin for website users who want to be available 24/7 to respond to their customers' queries.
This software platform has various tools that make solving problems easier and quicker. Features like the group chat option will bring your team together when everyone needs to pitch in to help solve a customer's problem.
The user interface is also designed to be as easy to use as possible so that the customer and the support person can understand each other better and solve essential issues.
While Chaport is definitely a good free chat on website option, it is by no means the only one. There are other chat options to consider.
Best Chaport Alternatives
In this world of aggressive advertising and maximum use of social media platforms, you need a chat app that can keep up with current business demands and customer requests and adapt as the trends in customer support change.
One such app, which is an alternative to Chaport, is Chaty. This website chat plugin for website users has proven to be so useful that it rivals other apps, such as Chaport. In fact, 150,000 users (and counting) have decided to put their faith in Chaty and now use it exclusively for all their customer interactions.
There is no way your business can remain competitive if you do not master the best way to use social media. Chaty supports well-known platforms like Facebook Messenger, WhatsApp, and Instagram. You will be able to reach your customers on their preferred platforms without the need to force them to use your chat button to communicate.
A good Chaport alternative has to be easy to use and customize, which is true for Chaty. You can adjust the appearance of the chat button by changing the design and colors so that they are more representative of your particular organization.
The pricing structure is another area where Chaty can go toe-to-toe with Chaport. The first 50 visits are free; even when those have been exhausted, the subscriptions are not that expensive.
When you integrate Chaty into your workplace, you do not have to worry about conducting long training sessions for your team members or having to hire someone to come and install the system for you. This is because Chaty comes ready to use out of the box, with a very simple installation process that can be done in minutes.
Key Features
Very affordable even for small businesses
Easy to set up and install out of the box
Supports 20+ social media platforms
Customizable to suit your company's design and colors
The interface is easy to use and understand
Awesome triggers and targeting features
Supports Whatsapp plugin for website
Pricing: Free up to 50 visitors then starts at $9/month
It is a great Chaport alternative because: It makes reaching customers on social media very easy, allowing better interaction between the support team and your clients.
2. Chatwoot
These days, the internet is full of chatbots that run various useful programs, and if you can use them, you will be given access to a whole new market of potential clients. Chatwoot is a live chat plugin for website users who wish to better integrate with these chatbots.
Connecting the Chatwoot platform to these useful chatbots can significantly reduce the time it takes for a customer to receive proper feedback on any issues they may have. Time is everything regarding customer service, so your customers will appreciate the quick response time you can achieve using Chatwoot.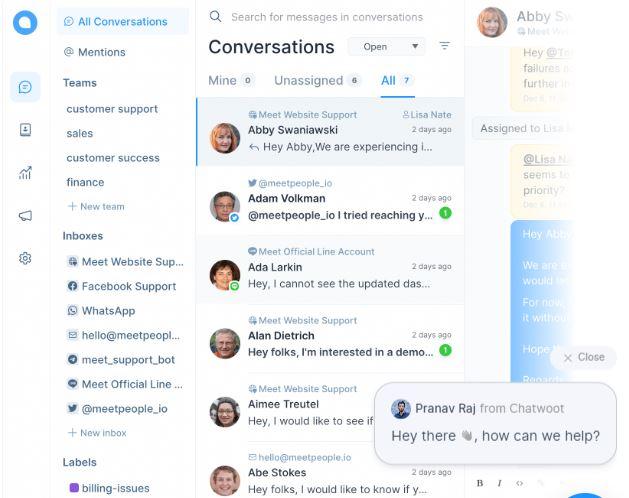 Another feature worth mentioning is the shared inbox. With this tool, you can help each other solve customer issues by sharing them with the rest of the group. It is easy to keep up with various situations as long as they are added to the shared inbox.
Key Features
Chatbot integration
User-friendly interface
Shared inbox
Mobile app for on-the-go access
Omnichannel access for quick problem resolution
Pricing: Free for the first two agents, with limited features
It is a great Chaport alternative because: The shared inbox puts Chatwoot on the same level as some of the best website chat apps in the industry.
Tidio has been in the game for quite some time now, and it has continued to grow from one level to another. It is now recognized as one of the top 10 website chat alternatives to Chaport. 
One area where Tidio has always excelled is its email and website integration platform. Rather than having to deal with messages from different sources, such as email, Facebook, and Twitter, you can consolidate everything under one Tidio platform.
You can also improve lead generation and target customers more likely to do business with you. This makes Tidio an effective marketing tool and a customer support platform.
Key Features
Email integration
Shared team inbox
Multichannel capability
Preview of visitors
Instagram Integration
Pricing: From $39 per month
It is a great Chaport alternative because: The website, and email integration on the Tidio platform is top-notch and will greatly improve efficiency in customer support.
4. Hubspot Live Chat
Even though doing business with you is the common denominator in all your customers, they do have different preferences in other things, such as their favorite social media platform. This is why they will do so from multiple sites, which can quickly become overwhelming when it comes to interacting with you.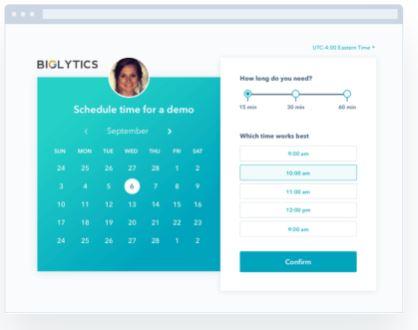 With Hubspot, you do not need to continuously jump from one platform to another because you can bring all those messages under one roof and respond to them via the Hubspot chat app.
Hubspot Live Chat has a ticketing feature that will allow you to defer the issue when you are faced with particularly difficult problems that may take several hours or even days to solve. Your customer will be given a ticket to help when you return to the problem and wish to know where you left off.
Key Features
High-quality VoIP calling 
Ticketing feature
Customer Portal
Pricing: From $45 per month
It is a great Chaport alternative because: The ticketing feature is a very useful tool for keeping track of customer queries and is one area where Hubspot excels.
5. Olark
One of the best ways to keep customers happy is to make them feel like they are being listened to. The variety of features on the Olark live chat app makes it a great Chaport alternative to meeting the customer's needs.
The triggered messages feature, for example, will allow you to send the perfect response to customers at the right time. These responses are triggered by certain questions or keywords in the customer's request. 
Even when you are too busy to attend to customer queries, Olark will send off-line messages on your behalf, asking customers to leave a message for you to attend late.
Key Features
Triggered messages
Off-line responses
Canned responses
Social media Integration
Pricing: From $29 per month
It is a great Chaport alternative because: The off-line messaging tool allows customers to feel valued even when they cannot reach you.
Customers facing problems can be very impatient, so you need a live chat app like Trengo to help you deal with issues quickly. By using features such as canned responses and real-time chatting, you can quickly attend to all your customers' needs. 
Trengo also excels in lead generation, allowing you to focus your time and energy on specific people likely to benefit your business.
Key Features
Canned responses
Targeted responses and lead generation
Team inbox
Omnichannel
Pricing: From $18 per month
It is a great Chaport alternative because: The lead generation capabilities of Trengo are very beneficial if you want to use your marketing skills effectively.
Conclusion
With the right website chat app, you can grow your business in leaps and bounds by creating a bigger customer base and building a reputation for having excellent customer support services.
Out of the many Chaport alternatives out there, the one that stands out the most has to be Chaty. Its long list of useful features and great pricing model attracts over 150,000 users to this app daily.