Live chat has become one of the support channels with the quickest growth over the past few years. There's a compelling reason for that: It's efficient in time, convenience and money.
Marketing teams must have come across the HubSpot Chat at least once for their marketing strategies for customer satisfaction. It is a popular name in the customer service industry for a chat plug-in.
However, if you are looking for other chat plugins that suit your needs better, there are several HubSpot chat alternatives on the market. You will find the best chat apps in this article.
What is HubSpot Chat?
HubSpot Chat is a configurable live chat and chatbot builder. You can use it to immediately engage website visitors in real-time communication without writing any code.
You can create welcome messages that appear on your website pages to speak to unique visitors while they are already engaged with your content. This will increase the likelihood that they will convert to leads.
Use this tool to install a chat button that can qualify leads, respond to frequently asked questions, and schedule appointments. The chatbots can have customized conversations with your visitors by obtaining contact information from your HubSpot Contact Database.
Pricing
The starting price for using HubSpot chat is $45/month, including 1,000 marketing contacts.
If you are still looking for a better alternative to HubSpot chat for support, then one of the following options will help you narrow down your search:
HubSpot Chat Alternatives
1. Chatway
Chatway stands as a remarkable alternative to HubSpot's live chat, surpassing the competition by offering a wealth of features that seamlessly enhance customer service and streamline business-to-customer connections. With its contemporary and user-friendly live chat interface, Chatway ensures an effortless experience right from the start.
Empowering support agents, Chatway enables them to effortlessly transform each customer interaction into a personalized journey.
When inquiries are received, support agents respond promptly, addressing individual needs with precision. Whether customers seek information or solutions, support agents can efficiently direct interactions to the appropriate department, be it sales, technical, or product-related, ensuring specialized assistance.
Key Features
Real-time messaging for quick responses
Customizable chat widgets that give a professional look
Chat transcripts that offer a context-rich support experience
Canned responses for providing consistent answers and speeding up resolution
File and image sharing
Agent availability status that sets clear expectations
Pricing: Chatway is available for free. Try it here!
Chaty is the SaaS version of Premio's Chaty plugin and is developed to offer your visitors the best customer experience on any website.
Potential customers can contact you using Chaty from their preferred platforms, including Facebook Messenger, Viber, WhatsApp, Slack, and Telegram.
Why Is Chaty the Best HubSpot Alternative?
This live chat widget lets you show different buttons, such as email and Google Maps, inside the chat box.
If your company provides a phone number that customers can click to call, a phone symbol will appear on your website for them to contact you directly.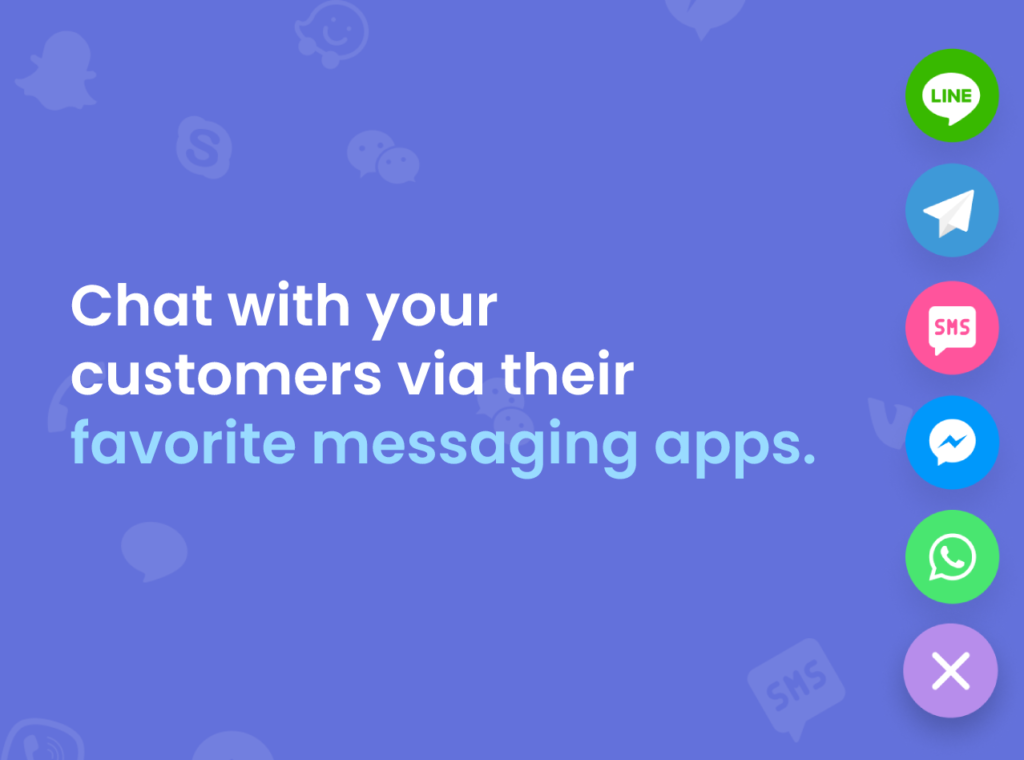 Chaty recommends placing a personalized call-to-action message close to the chat box to improve engagement rates. Additionally, you get to choose the display frequency to guarantee that it effectively draws in customers.
You get a quick guide that will walk you through installing the app on a website to save you time.
The live chat box of Chaty can be completely customized. You can modify the chat's text effects, colors, and icons. In addition, you can decide whether to display the chat buttons horizontally or vertically and where the chat window will appear.
Ease of Use: Chaty is simple to set up and use. You can find the answers to all of your questions in the FAQ section of each Premio plug-in.
Customer Service: If you subscribe to one of the paid plans, you will start receiving updates and can contact support with any questions.
Features:
Unlimited channels
Widget customization
Google Analytics tracking
Channels customization
Custom location
Page Targeting
Pricing
There are three packages that Chaty offers with infinite feature options and a free version with restricted edition features. The Basic Package starts at $9/month with unlimited widgets and channels. Moreover, the Pro Package at $25/month with up to 50K visitors/month. Finally, the Growth Package starts at $49/month with 150K visitors.
3. Wise Chat
Wise Chat is a WordPress live chat plug-in that offers single sign-on, anonymous user interaction, and multilingual localization. There are four pre-configured live chat widgets available from Wise Chat.
Why Is Wise Chat a Good Alternative to HubSpot?
Wise Chat allows you to completely customize the aesthetic appearance of your website by altering the text size, displaying interface elements, and editing the colors.
Additionally, it creates unique usernames for anonymous visitors and offers flood control to find and stop spammers in real-time.
The profanity filter, which helps to keep the chat box's conversations polite, is another noteworthy feature.
Wise Chat archives all messages and lets you download them as CSV files.
You can receive features like private one-on-one texting between users and the ability to talk with offline users if you upgrade to the premium version.
Features
Voice chats: Publish voice messages
Facebook-like mode
Private one-to-one messages
Voice messages
Multi-site support
BuddyPress integration
Pricing
Wise Chat is free to use and offers a Pro plan at $60 per month.
4. Tawk.to Live Chat
Tawk.to, as the name suggests, is a platform that helps businesses add a Live Chat option to their website. The best part is that this chat support app is free.
Why Is Tawk.to Live Chat a Good Alternative to HubSpot?
You can alter the chat box's appearance, content, location, and border-radius by configuring it.
Moreover, you can upload a unique bubble design that properly represents your company.
Tawk.to features over 1,000 unique emojis. You can use 45 dialects to translate, allowing you to add a more distinctive touch and appeal to a broader audience.
Features
Adds an infinite number of agents
Automated translation
In-chat payments
Supports Windows, macOS, iOS, and Android
Pricing
5. Tidio
Tidio is a digital marketing and communication tool for companies looking to integrate live chat into their websites. It provides Facebook Messenger integration with its WordPress live chat support, chatbots, and email campaigns.
HubSpot Chat Alternatives: The Best Chat Apps for Your Website
Why Is Tidio a Good Alternative to HubSpot?
Tidio Live Chat is available for free and interacts with PrestaShop, Google Analytics, BigCommerce, and WordPress.
The chat widget can be customized to match your brand. You can choose from various color schemes and move the chat box to your preferred location.
Tidio Live Chat keeps track of who visits your website and discovers who they are. If you want to reconnect with past consumers to promote a new product, this information can help.
Features
Customizable live chat widget
AI-powered chatbot templates
Shared multichannel inbox
Integrations with e-commerce platforms
Pricing
Tidio can be used for free, and it offers three subscription plans that start from $15.83/month and go up to $240.83/month.
6. Getbutton.io
GetButton.io's chat button widget enables web users to start a conversation with you by taking them directly to a chat service like Facebook Messenger or WhatsApp. GetButton can give your customers a quick and convenient way to contact you.
Why Is Getbutton.Io a Good Alternative to HubSpot?
You can add a contact button to your website using the GetButton widget so that visitors may get in touch with you right away.
In addition to WhatsApp, it supports several other messaging apps, including Snapchat, LINE, Instagram, and more.
The setup process for GetButton.io is straightforward; it takes just 3 easy steps to get your customized button.
Features
Tracks activity with Google Analytics
Removable branding
Allows users to add up to 10 buttons
WhatsApp automation flows
Pricing
7. Buttonizer
Buttonizer is a chat support platform that allows users to add sticky floating buttons to their websites. You can share content on social media, add a WhatsApp chat button, make phone calls, and more by selecting from more than 30 click options and chat buttons.
Why Is Buttonizer a Good Alternative to HubSpot?
With Buttonizer, you can design triggers and pop-ups to display the button to your viewer after a predetermined time on your page.
Buttonizer has many customization possibilities for your chat widget and doesn't require code experience.
All your changes will be instantly saved, and you can also go back and undo them.
Features
Multiple communication channels
Adds social sharing buttons
Create triggers and motions
Provides insights about user activities
Pricing
8. Formilla Live Chat
Formilla enables you to provide various live chat widgets, which is helpful if you support many languages. Their website claims that 12,000 businesses already use their live chat software. Thirty talks are included in their free plan for one chat each month.
Why Is Buttonizer a Good Alternative to HubSpot?
Formilla offers canned messages, automatic messaging, and real-time visitor monitoring.
A feature of Formilla Edge that you generally wouldn't anticipate in a live chat program is its ability to assist you in building your mailing list via pop-up notifications and hello bars.
The multichannel feature of Buttonizer allows users receive messages from several channels like Whatsapp, Facebook, and Instagram.
Features
Easy setup
Customization options
Set button text
Integrates with Google Analytics
Pricing
Starts at $34.99 per month.
9. Gorgias Live Chat
Gorgias is a comprehensive helpdesk platform that offers live chat, chatbots, a self-service webpage, a ticketing system, and data analytics for e-commerce companies.
Why Is Gorgias a Good Alternative to HubSpot?
Its live chat solution has an outstanding selection of automation tools to speed up and customize the customer support experience for your clients and support staff.
You can centralize your tickets in one place by integrating with popular e-commerce systems like Shopify, BigCommerce, and Magento.
Features
Machine learning capabilities
Chat campaigns
Custom auto-responses
Track support agent metrics
Pricing
Starts at $10 per month and goes up to $900 per month for custom features.
Wrapping Up
If you are running a business, you must have realized the importance of adding a chatbot to your website. It helps you communicate with your visitors on a more personal level and helps generate leads.
Chat support widgets like Chaty can help your business generate multiple channels of communication with your audience that develop unhindered leads. You can also track your visitors' activities and behavior to improve their experience.
We hope this article has helped you learn more about some of the most reputable apps!